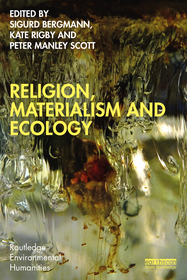 Religion, Materialism and Ecology
Date of Publication:
31 May 2023
---
Publisher's listprice:
GBP 34.99
Estimated price in HUF:
16 055
HUF (15 290
HUF
+ 5% VAT)
Why estimated?
---
12 844 (12 232 HUF + 5% VAT )
discount is: 20% (approx 3 211 HUF off)
Discount is valid until: 31 December 2023
---
---
ISBN13:

9781032341408

ISBN10:
1032341408
Binding:
Paperback
No. of pages:

222

pages
Size:
234x156 mm
Weight:
408 g
Language:

English

Illustrations:
4 Illustrations, black & white; 3 Halftones, black & white; 1 Line drawings, black & white
760
Category:
Short description:
This volume by leading international scholars across religious studies and the environmental humanities advances a discussion on materialism in its many forms. For postgraduate students, researchers and scholars in religious studies, cultural anthropology, literary studies, philosophy and environmental studies.
Long description:
This timely collection of essays by leading international scholars across religious studies and the environmental humanities advances a lively discussion on materialism in its many forms. While there is little agreement on what ?materialism? means, it is evident that there is a resurgence in thinking about matter in more animated and active ways.
The volume explores how debates concerning the new materialisms impinge on religious traditions and the extent to which religions, with their material culture and beliefs in the Divine within the material, can make a creative contribution to debates about ecological materialisms. Spanning a broad range of themes, including politics, architecture, hermeneutics, literature and religion, the book brings together a series of discussions on materialism in the context of diverse methodologies and approaches. The volume investigates a range of issues including space and place, hierarchy and relationality, the relationship between nature and society, human and other agencies, and worldviews and cultural values.
Drawing on literary and critical theory, and queer, philosophical, theological and social theoretical approaches, this ground-breaking book will make an important contribution to the environmental humanities. It will be a key read for postgraduate students, researchers and scholars in religious studies, cultural anthropology, literary studies, philosophy and environmental studies.
"This provocative collection of essays firmly establishes the vital importance of religion and ecology to broader conversations in the environmental humanities. Religion and spirituality are key sites and sources of material and bodily practices that, for better and for worse, shape human interaction with the natural world. Deploying a range of methodological lenses and narrative forms, these essays demonstrate that an inexorable thingness pervades religion, and that matter matters, religiously and ethically."
Lisa H. Sideris, Environmental Studies, University of California, Santa Barbara, USA
"This timely publication provides the field of environmental humanities with the essential contribution studies in religion and ecology can bring to the critical conversation that addresses the healing of our planet. Its diverse authors provide the reader with important new insights into the nature of matter, materiality, and materialism. Together, they articulate the relational ontology necessary for human engagement with the more than human world to ensure a viable future for all planetary existence."
Roberto Chiotti, Founding Principal, Larkin Architect Limited, Toronto, Canada
"The editors of this volume, all key figures in the field, have given readers an excellent introduction to the intersection of religion as ecology, as well as the more recent developments in new materialism. The book gathers contributions from authors writing from the Northern hemisphere, from US and European contexts. The essays engage a variety of approaches to religion, nature and spirituality, and give examples on how to develop material practices for religious and spiritual retraditioning. Through case studies, poetics and narratives, readers learn of ways to engage new materialism to reconnect to the sacred stories, places and beings around them. This volume comes at a time when we most crucially need to take these teachings and practices to heart, mind and body."
Marion Grau, Professor of Constructive Theology, Missiology and Ecumenism, MF Norwegian School of Theology, Religion and Society
"In the past there was a dual temptation to subsume matter under spirit or to reduce spirit to mere matter. By recognising that there is a religious dimension to materialism and by exploring this in novel ways, this volume breaks new ground ? both for discourse on new materialism in the humanities and for discourse on religion and ecology."
Ernst M. Conradie, Senior Professor, Department of Religion and Theology, University of the Western Cape, South Africa
"In times of planetary suffering, one wonders why religions have not raised their voices louder and more prominently so far. This book finally addresses the intersection of religion and ecology, politics, ethics, epistemologies and ontologies ? not just from a multi-religious and multi-ethnic but also global perspective. A must-read for all of us who see or seek the relevance of religion for a planet in peril."
Julia Enxing, Professor of Systematic Theology, TU Dresden, Germany
"Important subject matter creatively handled. Solid contributions from a stellar group of thinkers. Valuable reading for anyone seeking cutting edge reflections on what the environmental crisis demands of philosophy, religious studies or environmental humanities."
Roger S. Gottlieb, William B. Smith Dean?s Professor of Philosophy, Worcester Polytechnic Institute, USA
"Religion, Materialism and Ecology provides an important contribution to the fields of religion and ecology, and its partnerships with the transdisciplinary fields within Environmental Humanities. Seasoned and well-respected scholars present a range of ?material entanglements disclosed by ecological unravelling? in this collection. The book addresses ecological degradations related to material, philosophical and religious dimensions, with both theoretical approaches and illustrative case studies. It is rich with new and relevant insights. This is a most welcomed collaborative contribution by scholars trying to address various ecological crises in their many dimensions."?
Heather Eaton, Full Professor / Professeure titulaire in the School of Ethics, Social Justice and Public Service, Saint Paul University, Canada
"Materialism has outgrown predictable mechanics and embraced messy relationality. Religion, Materialism and Ecology wonderfully nourishes the flourishing of multi-disciplinary engagements with a vibrant world that never justified a separation of ?natural? and ?social? sciences. Situating religion and ecology debates at the heart of the larger environmental humanities field, it shatters illusions, acknowledges vulnerability, and obligates better scholarly engagement." ?
Graham Harvey, Professor of Religious Studies, The Open University, UK
Table of Contents:
Introduction 1. Developing a Critical Planetary Romanticism: Re
-Attuning to the Earth 2. Architecting Zoë: On Haunting Homes and Sacred Ecomateriality 3. Planetary Technics, Earthly Spirits 4. Panexperiential Materialism? On the Contribution of Bruno Latour and Alfred N. Whitehead to Understanding the Encyclical Laudato Si 5. Binding the Wounds of Mother Earth: Christian Animism, New Materialism, and the Politics of Nonhuman Personhood Today 6. Spirit Possession as Focal Point in the Constellation of Religion, Materialism, and Ecology 7. Autothanatography and Terminal Relationality in the Time of the Anthropocene 8. A Poetics of Nature: Religious Naturalism, Multiplicities, and Affinities 9. Queering Stories of Religious Materialism: Plural Practices of (Earth) Care and Repair 10. The Matter of Oil: Extraction Vitalisms and Enchantment 11. Fiction?s Double
-Helix: Incarnate Process and the Capacity for Transformation in Charles Dickens? A Christmas Carol Afterword