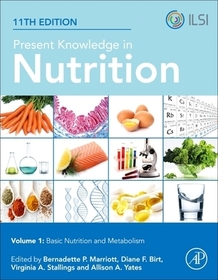 Present Knowledge in Nutrition
Basic Nutrition and Metabolism
Publisher:
Academic Press
Date of Publication:
20 July 2020
---
Publisher's listprice:
EUR 132.00
Estimated price in HUF:
54 192
HUF (51 612
HUF
+ 5% VAT)
Why estimated?
---
43 354 (41 290 HUF + 5% VAT )
discount is: 20% (approx 10 838 HUF off)
Discount is valid until: 30 June 2023
---
---
ISBN13:

9780323661621

ISBN10:
0323661629
Binding:
Paperback
No. of pages:

678

pages
Size:
276x216 mm
Weight:
1790 g
Language:

English

733
Category:
Long description:
Present Knowledge in Nutrition: Basic Nutrition and Metabolism, Eleventh Edition, provides an accessible, referenced source on the most current information in the broad field of nutrition. Now broken into two volumes and updated to reflect scientific advancements since the publication of the last edition, the book includes expanded coverage on basic nutrition, metabolism and clinical and applied topics. This volume provides coverage of macronutrients, vitamins, minerals and other dietary components and concludes with new approaches in nutrition science that apply to many, if not all, of the nutrients and dietary components presented throughout the reference.
Advanced undergraduate, graduate and postgraduate students in nutrition, public health, medicine and related fields will find this resource useful. In addition, professionals in academia and medicine, including clinicians, dietitians, physicians, health professionals, academics and industrial and government researchers will find the content extremely useful.
The book was produced in cooperation with the International Life Sciences Institute (https://ilsi.org/).
Provides an accessible source of the most current, reliable and comprehensive information in the broad field of nutrition
Features new chapters on topics of emerging importance, including the microbiome, eating disorders, nutrition in extreme environments, and the role of nutrition and cognition in mental status
Covers topics of clinical relevance, including the role of nutrition in cancer support, ICU nutrition, supporting patients with burns, and wasting, deconditioning and hypermetabolic conditions
Table of Contents:
Contents of Volume 1 Editor Biographies Contributors to Volume 1 Foreword Preface Acknowledgments
Section A. Macronutrients
1. Energy metabolism KLAAS R. WESTERTERP 2. Protein and amino acids YONG-MING YU AND NAOMI K. FUKAGAWA 3. Carbohydrates RYLEE T. AHNEN, RACHEL MOTTET, MORRINE OMOLO, AND JOANNE SLAVIN 4. Lipids PETER J.H. JONES AND ALICE H. LICHTENSTEIN
Section B. Vitamins
5. Vitamin A and provitamin A carotenoids WILLIAM S. BLANER 6. Vitamin D JAMES C. FLEET AND SUE A. SHAPSES 7. Vitamin E MARET G. TRABER AND RICHARD S. BRUNO 8. Vitamin K GUYLAINE FERLAND 9. Vitamin C CAROL S. JOHNSTON 10. Thiamine LUCIEN BETTENDORFF 11. Riboflavin ALFRED H. MERRILL AND DONALD B. MCCORMICK 12. Niacin WILLIAM TODD PENBERTHY AND JAMES B. KIRKLAND 13. Vitamin B6 VANESSA R. DA SILVA AND JESSE F. GREGORY III 14. Folate ALLYSON A. WEST, MARIE A. CAUDILL, AND LYNN B. BAILEY 15. Vitamin B12 SALLY P. STABLER 16. Pantothenic acid JOSHUA W. MILLER AND ROBERT B. RUCKER 17. Biotin WILLIAM TODD PENBERTHY, MAHROU SADRI, AND JANOS ZEMPLENI 18. Choline ISIS TRUJILLO-GONZALEZ AND STEVEN H. ZEISEL
Section C. Minerals
19. Calcium CONNIE M. WEAVER 20. Phosphorus ORLANDO M. GUTIE´ RREZ 21. Magnesium REBECCA B. COSTELLO AND A. ROSANOFF 22. Iron PETER J. AGGETT 23. Zinc MOON-SUHN RYU AND TOLUNAY BEKER AYDEMIR 24. Copper JAMES F. COLLINS 25. Iodine and the iodine deficiency disorders MICHAEL B. ZIMMERMANN 26. Selenium LENNY K. HONG AND ALAN MARK DIAMOND 27. Chromium JOHN B. VINCENT 28. Sodium, chloride, and potassium HARRY G. PREUSS 29. Manganese, molybdenum, boron, silicon, and other trace elements FORREST H. NIELSEN
Section D. Other Dietary Components
30. Water SAMUEL N. CHEUVRONT, ROBERT W. KENEFICK, SCOTT J. MONTAIN, AND MICHAEL N. SAWKA 31. Fiber IAN T. JOHNSON 32. Carotenoids JOHANNES VON LINTIG 33. Carnitine PEGGY R. BORUM 34. Dietary flavonoids GARY WILLIAMSON 35. Dietary supplements PAUL R. THOMAS, PAUL M. COATES, AND CAROL J. HAGGANS
Section E. Cross Discipline Topics
36. Systems biology and nutrition MARK TOMA´ S MC AULEY 37. The microbiome and health JOSEPH F. PIERRE AND VANESSA A. LEONE 38. Nutrient regulation of the immune response PHILIP C. CALDER AND PARVEEN YAQOOB Index