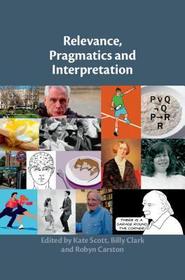 Relevance, Pragmatics and Interpretation
Pragmatics and Interpretation
Kiadó:
Cambridge University Press
Megjelenés dátuma:
2019. július 18.
---
Kiadói listaár:
GBP 85.00
---
31 568 (30 065 Ft + 5% áfa )
Kedvezmény(ek): 10% (kb. 3 508 Ft)
A kedvezmény érvényes eddig: 2020. december 31.
---
Becsült beszerzési idő: 2-3 hét általában, de jelenleg a járványhelyzet miatt kissé bizonytalan.
A Prosperónál jelenleg nincsen raktáron.
Nem tudnak pontosabbat?
---
ISBN13:

9781108418638

ISBN10:
1108418635
Kötéstípus:
Keménykötés
Terjedelem:

326

oldal
Méret:
235x156x22 mm
Súly:
610 g
Nyelv:

angol

Illusztrációk:
1 b/w illus. 6 tables
704
Témakör:
Rövid leírás:
Showcases recent research by leading scholars working within the relevance-theoretic pragmatics framework.
Hosszú leírás:
Bringing together work by leading scholars in relevance theory, this volume showcases cutting-edge research within the theory, and demonstrates its influence across a range of fields including linguistics, pragmatics, philosophy of language, literary studies, developmental psychology and cognitive science. Organised into broad thematic strands that represent the latest research and debates, the volume shows the depth of analysis now possible after nearly forty years of intensive work in developing and applying the principles of relevance theory. The breadth of influence of the framework is reflected in the chapters of the volume, in some cases moving beyond the traditional realms of semantics and pragmatics to include discourse analysis, language acquisition, media and education. The volume will be essential reading for researchers in these fields, as well as for those already working within relevance theory or with other pragmatic theories.

'Three decades ago, relevance theory promised an exciting approach to the intricate relation between the linguistic and the extralinguistic. Putting pragmatics centre stage, the theory soon moved beyond Grice to develop into a whole new research programme. This volume provides rich evidence that relevance theory has made good on its promise.' Mira Ariel, Tel Aviv University
Tartalomjegyzék:
Introduction Robyn Carston, Billy Clark and Kate Scott; Reflections on the development of relevance theory; Personal notes on a shared trajectory Dan Sperber; The source of relevance Neil Smith; Part I. Relevance Theory and Cognitive Communicative Issues: 1. Scientific tractability and relevance theory Nicholas Allott; 2. Language processing, relevance and questions Richard Breheny; 3. Quasi-factives and cognitive efficiency Axel Barcel&&&243; and Robert J. Stainton; 4. Evidential explicatures and mismatch resolution Victoria Escandell-Vidal; 5. Representation and metarepresentation in negation Jacques Moeschler; 6. Pronouns in free indirect discourse: a relevance-theoretic account Anne Reboul; 7. The development of pragmatic abilities Myrto Grigoroglou and Anna Papafragou; Part II. Pragmatics and Linguistic Issues: 8. Mood and the analysis of imperative sentences Mark Jary and Mikhail Kissine; 9. The Korean sentence-final Suffix ci as a metarepresentational marker Eun-Ju Noh; 10. Expressive epithets and expressive small clauses Diane Blakemore; 11. Ad Hoc concepts, polysemy and the lexicon Robyn Carston; 12. The polysemy of a Norwegian modal adverb Thorstein Fretheim; 13. Noun-noun compounds from the perspective of relevance theory Anne Bezuidenhout; 14. Procedural syntax Eleni Gregoromichelaki and Ruth Kempson; Part III. Figurative Language and Layered Interpretations: 15. Metaphor and metonymy in acquisition: a relevance-theoretic perspective Ingrid Lossius Falkum; 16. Relevance and metaphor understanding in a second language Elly Ifantidou; 17. Component processes of irony comprehension in children: epistemic vigilance, mind-reading and the search for relevance Tomoko Matsui; 18. Allegory in relation to metaphor and irony Christoph Unger; 19. Slave of the passions: making emotions relevant Tim Wharton and Claudia Strey; 20. Adaptations as communicative acts: a relevance-theoretic perspective Anne Furlong.