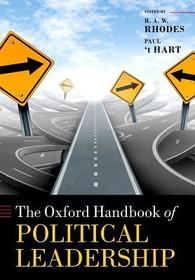 The Oxford Handbook of Political Leadership
Megjelenés dátuma:
2016. június 2.
---
Kiadói listaár:
GBP 30.00
---
11 340 (10 800 Ft + 5% áfa )
Kedvezmény(ek): 10% (kb. 1 260 Ft)
---
Bizonytalan a beszerezhetőség. Érdemes még egyszer keresni szerzővel és címmel. Ha nem talál másik, kapható kiadást, forduljon ügyfélszolgálatunkhoz!
Nem tudnak pontosabbat?
---
ISBN13:

9780198778516

ISBN10:
0198778511
Kötéstípus:
Puhakötés
Terjedelem:

798

oldal
Méret:
244x170x40 mm
Súly:
1332 g
Nyelv:

angol

0
Témakör:
Rövid leírás:
Political leadership has returned to the forefront of research in political science in recent years, after several years of neglect. This Handbook provides a broad-ranging and cohesive examination of the study of political leadership.
Hosszú leírás:
Political leadership has made a comeback. It was studied intensively not only by political scientists but also by political sociologists and psychologists, Sovietologists, political anthropologists, and by scholars in comparative and development studies from the 1940s to the 1970s. Thereafter, the field lost its way with the rise of structuralism, neo-institutionalism, and rational choice approaches to the study of politics, government, and governance. Recently,
however, students of politics have returned to studying the role of individual leaders and the exercise of leadership to explain political outcomes. The list of topics is nigh endless: elections, conflict management, public policy, government popularity, development, governance networks, and regional
integration. In the media age, leaders are presented and stage-managed?spun?DDLas the solution to almost every social problem. Through the mass media and the Internet, citizens and professional observers follow the rise, impact, and fall of senior political officeholders at closer quarters than ever before.

This Handbook encapsulates the resurgence by asking, where are we today? It orders the multidisciplinary field by identifying the distinct and distinctive contributions of the disciplines. It meets the urgent need to take stock. It brings together scholars from around the world, encouraging a comparative perspective, to provide a comprehensive coverage of all the major disciplines, methods, and regions. It showcases both the normative and empirical traditions in political leadership
studies, and juxtaposes behavioural, institutional, and interpretive approaches. It covers formal, office-based as well as informal, emergent political leadership, and in both democratic and undemocratic polities.

The book is written in a smooth but nonetheless rigorous way, and even non-specialists of particular disciplines can fruitfully read all the chapters ... everyone who wants to approach the topic for one reason or another will find an extremely rich picture of the state of the art and an outstanding source of information, thought-provoking debates, and suggestions for further studies. In sum, the editors have packaged together a piece which is well worth reading and
which succeeds in answering the question posed.
Tartalomjegyzék:
Puzzles of political leadership
Part I. Thinking about political leadership: traditions and disciplines
Leadership in Western political thought
Theory of democratic leadership in action
Confucianism and political leadership
Feminism
Political science
Administrative leadership
Political psychology and the study of political leadership
Psychoanalytic perspectives on political leaders and leadership
The social psychological study of leadership
Whimpers from a dog that doesn't bark: rational choice approaches to leadership
Anthropology and political leadership
Part II. Studying political leadership: analytical and methodological perspectives
Institutional analysis
Contextual analysis
Political leadership and decision analysis
Leaders as story-tellers: social constructionist approaches to political leadership
Rhetorical and performative analysis
Experimental analysis
Observational analysis
At-a-distance analysis
Biographical analysis
Political personality profiling
Part III. Political leadership at work
Civic leadership
Party and electoral leadership
Populism and political leadership
It's the singer, not the song: understanding leadership as performance
Political leadership in networks
Political leadership in times of crisis
Part IV. Executive leadership in the West
Presidential leadership: the United States and beyond
Leadership and the American presidency
Presidential communication from Hustings to Twitter
Executive leadership in semi-presidential systems
Prime ministerial leadership: Westminster and beyond
The variability of prime ministers
The contingencies of prime ministerial power in the UK
The mortal temples of the king: prime ministers and their advisers in parliamentary democracies
Cabinet ministers: leaders, team players, followers?
Part V. Political leadership below and beyond the national level
Local political leaders
Regional political leadership
Leadership and international cooperation
Leadership of international organizations
Part VI. Political leadership beyond the West
Political leadership in China
Latin American leadership
Post-communist leadership
A leadership renaissance, revolution or reversion? Probing the emerging study and scholarship on African political leadership
Part VII. Debating political leadership
Training and development for political leadership
Does gender matter?
What have we learned?