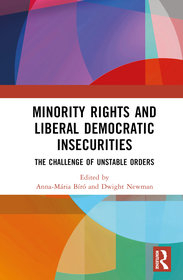 Minority Rights and Liberal Democratic Insecurities
The Challenge of Unstable Orders
Date of Publication:
11 November 2022
---
Publisher's listprice:
GBP 120.00
Estimated price in HUF:
55 062
HUF (52 440
HUF
+ 5% VAT)
Why estimated?
---
44 050 (41 952 HUF + 5% VAT )
discount is: 20% (approx 11 012 HUF off)
Discount is valid until: 30 June 2023
---
---
ISBN13:

9781032145464

ISBN10:
1032145463
Binding:
Hardback
No. of pages:

278

pages
Size:
234x156 mm
Weight:
508 g
Language:

English

Illustrations:
10 Illustrations, black & white; 10 Line drawings, black & white; 3 Tables, black & white
753
Category:
Short description:
This book addresses the impact of a range of destabilising issues on minority rights in Europe and North America.
Long description:
This book addresses the impact of a range of destabilising issues on minority rights in Europe and North America.
This collection stems from the fact that liberal democracy did not bring about the ?end of history? but rather that the transatlantic region of Europe and North America has encountered a new era of instability, particularly since the global financial crisis. The transatlantic region may have appeared to be entering a period of stability, but terrorist attacks on the soil of Euro-Atlantic states, the financial crisis itself and other changes, including mass migration, the rise of populism, changes in fundamental political conceptions, technological change, and most recently the Covid pandemic, have brought increasing uncertainties and instabilities in existing orders. In these contexts, the book investigates the resulting difficulties and opportunities for minority rights. Bringing together scholars from a range of disciplines who are engaged in work on various unstable orders, the book provides a unique and largely neglected perspective on present developments as well as addressing the pressing issue of the future of the minority rights regime at global, regional and national levels.
This book will appeal to those with interests in minority rights, human rights, nationalism, law and politics.
Table of Contents:
Introduction
ANNA
-MARIA BIRO AND DWIGHT NEWMAN
PART I: Interdisciplinary Perspectives on Minority Rights Within the Changing International Order
1 International Order, Diversity Regimes and Minority Rights: A Longue Durée Perspective
ANNA
-MARIA BIRO AND CORINNE LENNOX
2 Prefatory Remarks: An Inside Perspective from an Outsider: The UN Special Rapporteur?s View on Minority Rights at the UN
FERNAND DE VARENNES
3 The Double
-Edged Sword of External Citizenship and Minority Protection in Post
-Communist Europe
SZABOLCS POGONYI
4 Unstable Orders and Changing Minority Protection: The Effects of Urbanisation
BENGT
-ARNE WICKSTROM
PART II: Migration, New Threats to Minority Identity and the Complexities of Religious Identities
5 Undocumented Migrants, Refugees and Asylum Seekers: Can Minority Rights Law Stabilise the Unsettled Order?
ALEXANDRA XANTHAKI
6 Anti
-immigrant Populism and the Duty of Respectful Engagement
PATTI TAMARA LENARD
7 Minority Identity in Digital Governance and the
Challenges of Online Hate Speech and Content Regulation
KYRIAKI TOPIDI
8 Minority Rights Implications of Changing State Engagement with Religion
DWIGHT NEWMAN
PART III: Distinctive Issues with Indigenous Peoples and Roma
9 An Unsettled Liberal Democratic Order and Indigenous Peoples? Legal Rights
MATTIAS AHREN
10 Roma Participation as a Challenge for Minority Norms
IULIUS ROSTAS
PART IV: Citizenship, Anti
-immigrant Populism and Emergency Contexts
11 American Citizenship and State Abandonment
BRIANA L. McGINNIS
12 The Covid
-19 Factor: How the Virus Shapes Relations Between States, Regions and Minorities in Europe
ATTILA DABIS AND BELA FILEP