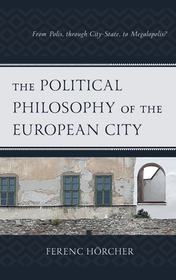 The Political Philosophy of the European City
From Polis, through City-State, to Megalopolis?
Publisher:
Lexington Books
Date of Publication:
3 June 2021
---
Publisher's listprice:
GBP 89.00
Prospero's price:
GBP 85.00
Prospero's price valid:
1 June 2023
Estimated price in HUF:
instead of
38 893
39 002
HUF (37 145
HUF
+ 5% VAT) , save appr.: 1 748 HUF + 5% VAT
Why estimated?
---
35 882 (34 173 HUF + 5% VAT )
discount is: 8% (approx 3 120 HUF off)
---
---
ISBN13:

9781793610829

ISBN10:
1793610827
Binding:
Hardback
No. of pages:

298

pages
Size:
229x159x29 mm
Weight:
631 g
Language:

English

909
Category:
Long description:
The Political Philosophy of the European City is a courageous and wide-ranging panorama of the political life and thought of the European city. Its novel hypothesis is that modern Western political thought, since the time of Hobbes and Locke, underestimated the political significance and value of the community of urban citizens, called ?civitas?, united by local customs, or even a formal or informal urban constitution at a certain location, which had a recognizable countenance, with natural and man-made, architectural marks, called ?urbs?. Recalling the golden age of the European city in ancient Greece and Rome, and offering a detailed description of its turbulent life in the Renaissance Italian city-states, it makes a case for the city not only as a hotbed of modern democracy, but also as a remedy for some of the distortions of political life in the alienated contemporary, centralized, Weberian bureaucratic state. Overcoming the north-south divide, or the core and periphery partition, the book?s material is particularly rich in Central European case studies. All in all, it is an enjoyable read which offers sound arguments to revisit the offer of the small and middle-sized European town, in search of a more sustainable future for Europe.
?Through a skilled analysis of a very rich amount of sources and literature, from the ancient classics to contemporary writers and scholars, Ferenc Hörcher claims that because of the variety of the strong roots of the European cities they could return to be sustainable self-governing communities.?
Table of Contents:
Preface and Acknowledgements
Introduction
Chapter 1. From the ?Reason of the City? to the ?Practical Wisdom of the City?
Chapter 2. The City of The Italian Renaissance and the German City
Chapter 3. The City of Ancient Greece and Christian Europe
Chapter 4. From the Megalopolis to the City of Human Scale
Conclusion: The City as a Work of Art