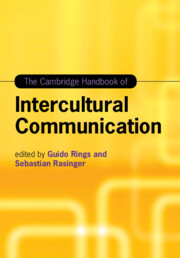 The Cambridge Handbook of Intercultural Communication
Publisher:
Cambridge University Press
Date of Publication:
10 March 2022
---
Publisher's listprice:
GBP 29.99
Estimated price in HUF:
13 760
HUF (13 105
HUF
+ 5% VAT)
Why estimated?
---
12 384 (11 795 HUF + 5% VAT )
discount is: 10% (approx 1 376 HUF off)
---
---
ISBN13:

9781108453103

ISBN10:
1108453104
Binding:
Paperback
No. of pages:

552

pages
Size:
242x168x30 mm
Weight:
950 g
Language:

English

932
Category:
Short description:
A highly interdisciplinary overview of the wide spectrum of current international research in intercultural communication, including discussions of practical applications.
Long description:
A highly interdisciplinary overview of the wide spectrum of current international research and professional practice in intercultural communication, this is a key reference book for students, lecturers and professionals alike. Key examples of contrastive, interactive, imagological and interlingual approaches are discussed, as well as the impact of cultural, economic and socio-political power hierarchies in cultural encounters, essential for contemporary research in critical intercultural communication and postcolonial studies. The Handbook also explores the spectrum of professional applications of that research, from intercultural teaching and training to the management of culturally mixed groups, facilitating use by professionals in related fields. Theories are introduced systematically using ordinary language explanations and examples, providing an engaging approach to readers new to the field. Students and researchers in a wide variety of disciplines, from cultural studies to linguistics, will appreciate this clear yet in-depth approach to an ever-evolving contemporary field.

'Distinguishing itself from an already crowded field of reference resources, The Cambridge Handbook of Intercultural Communication is comprehensive, well organized, and bridges disciplines. With its in-depth examination of theoretical frames germane to this broad field, the handbook will be valuable for scholars in the fields of linguistics, psychology, education, business, and the many other fields in which global connectedness and culture are core concepts ... This handbook will be valuable across the scholarly spectrum.' D. M. Moss, Choice
Table of Contents:
Introduction Guido Rings and Sebastian M. Rasinger; Part I. Introducing Intercultural Communication: 1. What is culture? Werner Delanoy; 2. What is intercultural communication? Jan D. ten Thije; 3. Rethinking intercultural competence J&&&252;rgen Bolten; 4. Interculturality or transculturality? Heinz Antor; Part II. Theoretical Approaches: 5. Critical intercultural communication and the digital environment Thomas K. Nakayama; 6. From shared values to cultural dimensions: a comparative review Elizabeth A. Tuleja and Michael Schachner; 7. Towards integrative intercultural communication Liisa Salo
-Lee; 8. The power of literature Birgit Neumann; 9. Psychoanalytic approaches to memory and intercultural communication Jolanta A. Drzewiecka; 10. Sociological approaches Uttaran Dutta and Judith N. Martin; 11. Introducing intercultural ethics Richard Evanoff; Part III. Methods: 12. Decolonizing gender and intercultural communication in transnational contexts Lara Martin Lengel, Yannick Kluch and Ahmet Atay; 13. Migration in the digital social mediasphere Peter Stockinger; 14. Linguistic politeness Claus Ehrhardt; 15. Contemporary literature and intercultural understanding Gesine Lenore Schiewer; 16. Enhancing intercultural skills through storytelling Stephan Wolting; 17. Cinema as intercultural communication Joanne Leal; 18. Intercultural memory and violence in Jewish literature Verena Dolle; 19. Intercultural communication in social work practice Antonio L&&&243;pez Pel&&&225;ez and Emilio Jos&&&233; G&&&243;mez Ciriano; 20. Intercultural education in study abroad contexts Jane Jackson; 21. Intercultural communication in the courtroom: the doctrine of public policy Bertil Cottier; Part IV. Application: 22. Intercultural communication in the context of the hyper
-mobility of the school population within and outside Europe Emmanuelle le Pichon; 23. Culture and management Marie
-Th&&&233;r&&&232;se Claes; 24. Language and othering in contemporary Europe Anne Ife; 25. Black British writing: Benjamin Zephaniah's didactic poetics Deirdre Osborne; 26. Cultural encounters in contemporary Latin American cinema: intersections of transnationality Sarah Barrow; 27. Religion and intercultural communication Margaret Littler; 28 Irish
-English cultural encounters in the diaspora Bronwen Walter; 29. Intercultural dimensions in academic mobility: South Korea and Spain F. Manuel Montalb&&&225;n, Francisco M. Llorente and Evelina Zurita; Part V. Assessment: 30. Defining, developing and assessing intercultural competence Darla K. Deardorff; 31. Effects of social media use on cultural adaptation Stephen M. Croucher and Ming Li; 32. A constructivist approach to assessing intercultural communication competence Milton J. Bennett.