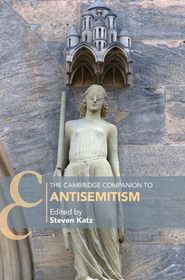 The Cambridge Companion to Antisemitism
Publisher:
Cambridge University Press
Date of Publication:
2 June 2022
---
Publisher's listprice:
GBP 29.99
Estimated price in HUF:
13 760
HUF (13 105
HUF
+ 5% VAT)
Why estimated?
---
11 008 (10 484 HUF + 5% VAT )
discount is: 20% (approx 2 752 HUF off)
Discount is valid until: 30 June 2023
---
---
ISBN13:

9781108714525

ISBN10:
1108714528
Binding:
Paperback
No. of pages:

536

pages
Size:
228x152x25 mm
Weight:
870 g
Language:

English

719
Category:
Short description:
One-volume comprehensive collection of new articles on the history, literature and philosophy of antisemitism, for students and non-experts.
Long description:
A History of Anti-Semitism&&&160;examines the history, culture and literature of antisemitism from antiquity to the present. With contributions from an international team of scholars, whose essays were specially commissioned for this volume, it covers the long history of antisemitism starting with ancient Greece and Egypt, through the anti-Judaism of early Christianity, and the medieval era in both the Christian and Muslim worlds when&&&160;Jews were defined as 'outsiders,' especially in Christian Europe. This portrayal often led to violence, notably pogroms that often accompanied Crusades, as well as to libels against Jews. The volume also explores the roles of Luther and the Reformation, the Enlightenment, the debate over Jewish emancipation, Marxism, and the social disruptions after World War 1 that led to the rise of Nazism and genocide. Finally, it considers current issues, including the dissemination of hate on social media and the internet and questions of definition and method.

'an important resource - though frequently an unsettling read.' Alexander Faludy, Church Times
Table of Contents:
Part I. The Classical Period: 1. Antisemitism in the pagan world Erich Gruen; 2. New Testament origins of Christian anti
-Judaism Adele Reinhartz; 3. Anti
-Judaism in early Christian writings Pierluigi Piovanelli; 4. Church fathers and antisemitism from the second century through Augustine (end of 450 CE) Joshua Garroway; 5. Christians, Jews, and Judaism in the Eastern Mediterranean and Near East, c. 150
-400 CE Andrew Jacobs; 6. Christianizing the Roman Empire: Jews and the law from Constantine to Justinian, 300
-600 CE Andrew Jacobs; 7. Antisemitism in Byzantium, fourth
-seventh centuries Steven Bowman; Part II. Medieval Times: 8. The medieval Islamic world and the Jews Reuven Firestone; 9. Medieval Western Christendom Robert Chazan; 10. Christian theology and papal policy in the Middle Ages Jeremy Cohen;11. Crusades, blood libels, and popular violence Emily Rose; 12. Jews and money: medieval origins of a modern stereotype Julie Mell; 13. Jews and anti
-Judaism in Christian religious literature Miri Rubin; 14. Antisemitism in medieval art Debra Higgs Strickland; Part III. The Modern Era: 15. Martin Luther and the Reformation Debra Kaplan; 16. The enlightenment and its negative consequences Alan Arkush; 17. Modern antisemitism in Western Europe: romantic nationalism, racism, and racial fantasies Shulamit Volkov; 18. Antisemitism in late Imperial Russia and Eastern Europe up to 1920 Laura Engelstein; 19. Marxism, socialism, and antisemitism Jack Jacobs; 20. Antisemitism in modern literature and theatre: 20A. French literature Maurice Samuels; 20B. German literature Michael Mack; 20C. English literature Bryan Cheyette; 21. Antisemitism in America, 1654
-2020 Jonathan Sarna; 22. Antisemitism in the Weimar Republic and the Third Reich Steven T. Katz; 23. New Islamic antisemitism: mid
-nineteenth to the twenty
-first century Esther Webman; 24. Anti
-Zionism as antisemitism Dina Porat; 25. New issues Deborah Lipstadt; 26. Antisemitism in social media and on the Web Mark Weitzman; 27. Theories on the causes of antisemitism Bruno Chaouat.