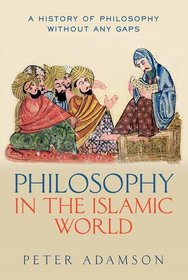 Philosophy in the Islamic World
A history of philosophy without any gaps, Volume 3
Date of Publication:
31 May 2018
---
Publisher's listprice:
GBP 10.99
---
4 538 (4 322 HUF + 5% VAT )
discount is: 10% (approx 504 HUF off)
---
---
ISBN13:

9780198818618

ISBN10:
01988186111
Binding:
Paperback
No. of pages:

544

pages
Size:
235x157x28 mm
Weight:
806 g
Language:

English

810
Category:
Long description:
Table of Contents:
Part I: The Formative Period
The Straight Path: Philosophy and Islam
All for One: The Mu'tazilites
Founded in Translation: From Greek to Syriac to Arabic
Philosopher of the Arabs: al-Kind?
The Chosen Ones: Philosophy and Judaism
Reasoned Belief: Saadia Gaon
High Five: al-R?z?
Aristotelian Society: the Baghdad School
The Second Master: al-F?r?b?
State of Mind: al-F?r?b? on Religion and Politics
Eye of the Beholder: Theories of Vision
Strings Attached: Music and Philosophy
Balancing Acts: Arabic Ethical Literature
Undercover Brothers: Philosophy in the Buyid Age
God Willing: the Ash'arites
The Self-Made Man: Avicenna's Life and Works
By the Time I Get to Phoenix: Avicenna on Existence
By All Means Necessary: Avicenna on God
Into Thin Air: Avicenna on the Soul
Special Delivery: al-Ghaz?l?
Miracle Worker: al-Ghaz?l? against the Philosophers
Part II: Andalusia
Philosophy's Reign in Spain: Andalusia
Laying Down the Law: Ibn ?azm and Islamic Legal Theory
Fantasy Island: Ibn B?jja and Ibn Tufayl
Back to Basics: Averroes on Reason and Religion
Single Minded: Averroes on the Intellect
A Matter of Taste: Ibn 'Arab? and Mysticism
Team Spirit: Ibn Khald?n
Matter over Mind: Ibn Gabirol
Choosing My Religion: Judah Hallevi
Born Under a Bad Sign: Freedom and Astrology in Jewish Philosophy
With All Your Heart: Ethics and Judaism
The Great Eagle: Maimonides
He Moves in Mysterious Ways: Maimonides on Eternity
Burnt Offerings: the Maimonides Controversy
Man and Superman: Gersonides and the Jewish Reception of Averroes
Neither the Time nor the Place: ?asdai Crescas
When Bad Things Happen to Good People: Suffering in Jewish Philosophy
Chariot of Fire: Kabbalah
A Matter of Principles: Joseph Albo and Isaac Abravanel
Part III: The Later Traditions
Golden Ages: The Later Traditions
All Things Considered: Ab? l-Barak?t al-Baghd?d?
For the Sake of Argument: Fakhr al-D?n al-R?z?
Let There Be Light: Suhraward?
Bright Ideas: Illuminationism
A Man for All Seasons: Na??r al-D?n al-??s?
To Be or Not to Be: Debating Avicenna's Metaphysics
Eyes Wide Shut: al-R?m? and Philosophical Sufism
Proof Positive: The Logical Tradition
By the Book: Ibn Taymiyya
Aftermath: Philosophy and Science in the Mongol Age
Family Feud: Philosophy at Sh?r?z
Follow the Leader: Philosophy under the Safavids
To Be, Continued: Mull? ?adr? on Existence
Return to Sender: Mull? ?adr? on Motion and Knowledge
Subcontinental Drift: Philosophy in Islamic India
Turkish Delights: Philosophy under the Ottomans
Blind Alley: Taql?d, Sufism, and Philosophy
The Young Ones: Encounters with European Thought
The Stronger Sex: Women Scholars in the Islamic World
All for One and One for All: Mu?ammad 'Abduh and Mu?ammad Iqb?l
Iran So Far: The Heirs of Mull? ?adr?