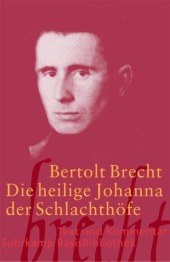 Die heilige Johanna der Schlachthöfe
Edition number:
Erscheinen unbestimmt
Date of Publication:
31 December 2023
---
Publisher's listprice:
EUR 6.50
---
---
ISBN13:

9783518188576

ISBN10:
3518188577
Binding:
Paperback
No. of pages:

220

pages
Size:
0x0x0 mm
Language:

German

0
Category:
Long description:
Brecht zeigt in der Heiligen Johanna der Schlachthöfe eine große Börsenspekulation in Fleisch und Vieh auf dem Hintergrund einer Überproduktionskrise. Er verlegt die Handlung auf die Viehhöfe und an die Fleischbörse Chicagos, wo infolge des weit entwickelten Kapitalismus die Widersprüche der Gesellschaft besonders deutlich werden. Johanna Dark, ein Heilsarmeesoldat, sieht die von den Fleischfabriken ausgesperrten und hungernden Arbeiter und stößt auf der Suche nach den Gründen der Aussperrung auf den Fleischkönig Pierpont Mauler. Vergeblich versucht er, Johanna für seine Sache zu gewinnen. Johanna, schließlich auch von den Armen verstoßen, geht auf den Schlachthöfen zugrunde. In diesem Stück sind ?verwickelte Vorgänge? durchschaubar gemacht. Ihre Gesetzmäßigkeit ist dargestellt und als Mittel benutzt, die Vorgänge zu bewegen.

In der Suhrkamp BasisBibliothek erscheinen literarische Hauptwerke aller Epochen und Gattungen als Arbeitstexte für Schule und Studium. Sie bietet die besten verfügbaren Texte aus den großen Editionen des Suhrkamp Verlages, des Insel Verlages und des Deutschen Klassiker Verlages, ergänzt durch anschaulich geschriebene Kommentare.