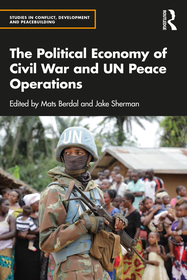 The Political Economy of Civil War and UN Peace Operations
Megjelenés dátuma:
2023. március 31.
---
Kiadói listaár:
GBP 34.99
---
12 844 (12 232 Ft + 5% áfa )
Kedvezmény(ek): 20% (kb. 3 211 Ft)
A kedvezmény érvényes eddig: 2023. december 31.
---
Becsült beszerzési idő: Várható beérkezés: 2024. január vége.
A Prosperónál jelenleg nincsen raktáron.
Nem tudnak pontosabbat?
---
ISBN13:

9781032164441

ISBN10:
1032164441
Kötéstípus:
Puhakötés
Terjedelem:

350

oldal
Méret:
234x156 mm
Súly:
644 g
Nyelv:

angol

Illusztrációk:
7 Tables, black & white
733
Témakör:
Rövid leírás:
This book examines the operational and political challenges facing UN peace operations deployed in countries where civil war and protracted violence have given rise to the complex and distinctive political economies of conflict.
Hosszú leírás:
This book examines the operational and political challenges facing UN peace operations deployed in countries where civil war and protracted violence have given rise to the complex and distinctive political economies of conflict.
The volume explores the nature and impact of such political economies ? informal systems of power and influence formed by the interaction of local, national, and region-wide war economies with the political agendas of conflict actors ? on the course of UN peace operations. It focuses in detail on the UN?s long-running peace operations in the Democratic Republic of Congo, South Sudan, Afghanistan, Sierra Leone, Mali, and Somalia. The book is centrally concerned with the interaction of UN missions with the power structures and local conflict dynamics that shape individual mission settings, and the challenges these pose for mediation, protection of civilians, and other tasks. It also offers a critical assessment of the various ways in which the UN ?system?, from its headquarters in New York to the field, has confronted the policy challenges posed by political economies of conflict-affected states, societies, and regions. It advances a pragmatic set of policy recommendations aimed at improving the UN?s ability to confront predatory and exploitative war economies. At the same time, the volume makes it clear that political and institutional obstacles to more effective UN action are certain to remain profound and are unlikely ever to be fully overcome let alone eradicated. Despite making some progress since the 1990s to better understand the political economy of civil wars, the UN has struggled with how to tackle informal networks of power and their consequences for efforts to end wars.
The book will be of special interest to students of war and conflict studies, statebuilding, political economy of conflict, UN interventionism and peacebuilding, and IR/Security in general.
'An outstanding set of contributors shows how far the UN has to go for its peace operations to take realistic account of the political economy of conflict countries - and how crucial that is if they are to have greater success.'?
Ian Martin, Special Representative of the Secretary-General and Head of the UN Support Mission in Libya (UNSMIL), 2011-2012
'This book performs an invaluable service. It deliberately shifts our attention from the theory of peacekeeping to what happens on the ground. In both the conceptual chapters and the detailed case-studies of a range of contrasting UN operations, it demonstrates how, for better or worse, UN forces necessarily and inevitably become active players in the political and economic environments in which they work at both the local and wider regional levels. It should be required reading for all those studying, or in any way involved in the UN system and its future.'
James Mayall, Emeritus Professor of International Relations, Cambridge University?
'This volume provides a penetrating account of the challenges that contemporary conflict poses for UN peace operations. In a tightly integrated collection of chapters that brings together academics and senior practitioners with extensive UN experience, the authors illuminate the often glaring gap between the realities of local power dynamics and the assumptions and strategies that guide UN peacekeeping. The challenge of resolving civil wars is shown to be complicated by the role of a diverse range of local, national and transnational political actors who often have vested interests in resisting the peace process and maintaining the weakness of the state. Combining thematic insights into the complex nature of civil conflict with in-depth case study research by leading experts, the book is essential reading for academics and practitioners alike.'
Oisin Tansey, Professor of International Relations, King?s College London
'This book offers a timely and necessary analysis of the political economies of conflict in some of the most challenging settings of contemporary UN peace operations - highly recommended reading for the peacebuilding scholar and practitioner alike.'
Jana Krause, Professor of Political Science, University of Oslo
'The Political Economy of Civil War and UN Peace Operations?is an impressive collection of analyses by authoritative peace operations scholars and practitioners. It clarifies how the political economies of war-torn societies impact the policies and performance of UN peace operations and demonstrates how essential it is that the UN comprehend local conflict dynamics as well as their political and economic ramifications. A must-read for all practitioners and observers of international conflict management.'
Thierry Tardy,?Director of the Research Division, NATO Defense College, and Visiting Professor, College of Europe?
'Incisive and original, this book offers crucial and practically important analysis of the interface between peacekeeping operations and political economy in a wide range of countries. The chapters combine hard-hitting analysis with a judicious sense of fairness. This book will be indispensable for those who want to understand the ?real world? context of (mostly) well-meaning external interventions.'?
David Keen, Professor of Conflict Studies, Department of International Development, London School of Economics and Political Science?
'The Political Economy of Civil War and UN Peace Operations provides an essential starting point for taking stock of UN Peace support missions, in theory and in practice ? Emergent competition amongst powers and renewed efforts by the global south to advance their own agendas, this most critical of UN institutions faces an existential moment indeed. For those faced with pondering the continued viability, success or failure of UN peace missions, this work examines key challenges head-on with a clear and sober political economy approach and essential case detail.??
Matthew LeRiche, Director of the Global Leadership Center and Assistant Professor of Global Studies, Ohio University, and author (with Matthew Arnold) of South Sudan from Revolution to Independence.?
'Mats Berdal and Jake Sherman?s edited volume The Political Economy of Civil War and UN Peace Operations makes an important contribution to our understanding of the ability of multinational operations to achieve their aims. Its conclusions should be read and understood by those involved in the mandating and operational conduct of UN peace operations.'
Adrian Johnson, Survival 65(5)
?
?
Tartalomjegyzék:
1. The Political Economy of Civil War and UN Peace Operations Part I: Conceptual and Thematic Issues 2. The Importance of Political Economy 3. Operationalising the ?Primacy of Politics? in UN Peace Operations: Implications of Political Economy Analysis 4. Engaging with Political Elites and Non
-State Armed Groups: A Mission Perspective 5. UN Sanctions, Panels of Experts, and the Political Economy of Intrastate Conflict 6. What Role for Business Actors in UN Peace Operations? 7. Commodities, Commanders, and Corruption: Political Economy in the Evolving Tradecraft of Intelligence and Analysis in UN Peace Operations 8. Confronting Illicit Economies and Criminal Threats in UN Missions: Operating in the "Grey Zone" Part II: Selected Case Studies 9. The UN and Logic of Congo?s Political Economy: Politics is Wealth, Wealth is Power 10. The Unbuilding of a State: UNMISS?s Role in the Lead Up to South Sudan?s Civil War 11. UNAMA Amidst Counter
-terror and Counterinsurgency: No Peace Left to Keep 12. UNAMSIL and the Political Economy of War in Sierra Leone: What is the Price of Peace? 13. MINUSMA and the Political Economy of Mali?s Crises 14. The Political Economy of Peace Operations in Somalia Part III: Conclusions 15. Adopting a Political Economy Lens: Policy Implications for UN Peace Operations