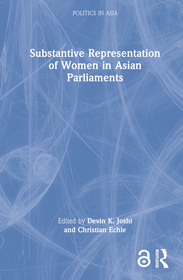 Substantive Representation of Women in Asian Parliaments
Megjelenés dátuma:
2022. augusztus 3.
---
Kiadói listaár:
GBP 130.00
---
53 685 (51 129 Ft + 5% áfa )
Kedvezmény(ek): 10% (kb. 5 965 Ft)
Ez a könyv része a Prospero 29. születésnapi ajánlatának. Ha 2023. október 6-án a születésnapi listában szereplő (zöld lufis logóval megjelölt) könyvet rendel online (az internetes áruházban, kosárbatétel útján, onnan elküldve a könyvet), akkor csakis ezen a napon minden ilyen könyvre 19% kedvezményt adunk.
Sőt, ha legalább három ilyen könyvet rendel, a legalacsonyabb árú könyvre 29% kedvezményt fogunk a rendelés beérkezése után beállítani.
Ha rendelése értéke a legalább három születésnapi könyvből elérné a 100.000 Ft értéket áfa nélkül, akkor nem a legalacsonyabb, hanem a legmagasabb árú könyvre fogjuk beállítani a soha nem látottan magas, 29%-os kedvezményt.
(A 29%-os, különleges engedményt nem fogja látni a kosárban, azt munkatársaink a rendelés beérkezése után állítják be. Fontos, hogy a rendelés október 6-án történjen, sem előtte, sem utána nem fogjuk tudni érvényesíteni a kedvezményt. A kedvezmény csak az 'Értesítés a kedvenc témákról' hírlevelünk címzettjeinek rendeléseire érvényes.)
---
---
ISBN13:

9781032231488

ISBN10:
1032231483
Kötéstípus:
Keménykötés
Terjedelem:

294

oldal
Méret:
234x156 mm
Súly:
453 g
Nyelv:

angol

Illusztrációk:
11 Illustrations, black & white; 1 Halftones, black & white; 10 Line drawings, black & white; 29 Tables, black & white
692
Témakör:
Rövid leírás:
Combining data from nearly 100 interviews with members of parliament from ten Asian countries, the contributors to this book analyse and evaluate the advancement of gender equality in Asia.
Hosszú leírás:
Combining data from nearly 100 interviews with national parliamentarians from ten Asian countries, the contributors to this book analyze and evaluate the advancement of gender equality in Asia.
As of the year 2022, no country in Asia has gender parity in its parliament. Meanwhile, the proportion of national-level women parliamentarians in Asia averages a mere 20%. What is more important than simple descriptive representation, however, is whether outcomes for women are improving. Rather than focusing on numerical representation, the chapters in this book focus on the substantive representation of women. In other words, what do women and men parliamentarians do to advance women?s well-being and gender equality? Using semi-structured interviews, the author of each chapter examines these efforts in the context of a specific Asian country. The case studies include Bangladesh, Indonesia, Japan, Malaysia, Nepal, the Philippines, South Korea, Sri Lanka, Taiwan, and Timor-Leste.
The book is an essential resource for scholars and students of Asian politics and the politics of gender.
"Analyzing an impressive array of countries, "Substantive Representation of Women in Asian Parliaments" fills a considerable gap in the women in politics literature. With findings based on original interviews with leading political experts including parliamentarians this collection goes beyond analyzing women?s numerical presence in legislative bodies to understanding how myriad factors shape women?s substantive representation. This book will be a vital resource for scholars and policy makers alike, and anyone interested in advancing women?s policy representation in Asia and beyond."---Dr. Farida Jalalzai, Professor of Political Science, Virginia Tech
"This edited volume offers a rich collection of ten Asian case studies on women's substantive representation, written by scholars from the region, cognizant of the wide-ranging diversity that can be found in transregional perspective. As such, the book is an important contribution to the global study of gender and politics, more than often dominated by scholars working on Global North case studies and experiences. The authors engage with a variety of factors and thus contribute significantly to our understandings as well as theorizing of women's political participation not only in electoral politics, but zooming into wider, underlying questions of advancing gender equality and suggesting relevant, context-sensitive critical interventions."---Dr. Andrea Fleschenberg, Associate Professor, Humboldt-Universität zu Berlin, Institute of Asian and African Studies
"Joshi and Echle have compiled a must-read book about women?s substantive representation in an understudied world region. The chapters examine how women and men parliamentarians act on women?s interests in East Asia, South Asia, and Southeast Asia. They find that parliamentarians? ideas about men?s and women?s roles are formed through lived experiences and intersectional identities, but that institutions shape whether and how ideas become translated into policy. Their conclusions offer a potent reminder that women?s presence does not always mean women?s power."---Dr. Jennifer M. Piscopo, Associate Professor of Politics, Occidental College
"This book demonstrates how Asian parliamentarians have tackled policy-making for gender equality and to what extent they have achieved their agendas. It interests me specifically because I face the same problems in my everyday practice in Japan?s Upper House. As a woman representative, I have been trying very hard to advance women?s representation and gender equality. Gender equality in politics is no doubt a key to achieving gender equality in society. However, women MPs account for only approximately 14% of the Japanese Parliament, thereby making it difficult for me, as well as my female colleagues, to act for women and social minorities. The book offers abundant knowledge and information about gender equality and parliamentary politics. It encourages me to represent women descriptively as well as substantively. I recommend this book to many more parliamentarians inside and outside Asia, and also to researchers of gender studies globally."---Shizuka Terata, Member of the House of Councilors, Japan
"Having lived in solidarity with victims of gender violence for 20 years, I am sometimes frustrated by the reality that I have to face gender discrimination even after I became a member of the National Assembly. However, with the belief that the lives of future generations must change, I am struggling harder for gender equality today. This book is a record of Asian lawmakers who are making a better tomorrow in their respective positions. I send them my gratitude and respect."---Jung Chounsook, Chairwoman, the National Women's Committee of the Democratic Party of Korea, Former Chairwoman, Gender Equality and Family Committee of the National Assembly of the Republic of Korea

"The conversation on the involvement of women as decision makers in Asia, especially in the field of politics has been long overdue. Women lawmakers and political leaders representing a region that had produced some of the greatest game changers in the history of politics ? from grassroot women community leaders, all the way to female Parliamentarians right up to helming the position of Prime Minister and Presidents, is a clear indication that there is much investment and work to be done to not only shatter glass ceilings but to pave the way and inspire other women to follow suit.

How countries managed this raging pandemic exposed the brittle structures of social justice that some nations neglected to address for years and some for decades. At the same time it is also undeniable that it also revealed the capable supervision, care, command and conduct of women leaders in managing it. This revelation must be a lesson for all, regardless of ethnicity, religion, class or even gender that women lawmakers must have a seat at the table where any decision is made for the good of the nation and people.

In the words of the late Ruth Baider Ginsburg that "women belong in all places decisions are being made" and with the whole world battling this unprecedented COVID pandemic, the movement, the campaign and the evolution of women in politics is no longer met with a question of "how" but of "how many". The presence of a woman leader at the drawing board, in the peace room and even in the war room simply enforces the concept of truly leaving no one behind and must be supported by all institutions and establishments.

The 21st century must be marked by capable, courageous, passionate, driven, honest and righteous women politicians who will rise to the occasion and to act as a catalyst for nations to rise above itself to be defenders and protectors of gender inclusivity and human rights in the region. The time is now."---Kasthuri Patto, Member of Parliament for P46 Batu Kawan, Malaysia
Tartalomjegyzék:
List of Figures
List of Tables
List of Contributors
Preface
Acknowledgements
1 Substantive Representation of Women by Parliamentarians in Asia: A Comparative Study of Ten Countries
Devin K. Joshi
PART I
Cases from East Asia
2 Substantive Representation of Women in Japan: Pursuing Gender Equality in a Gender
-Insensitive Parliament
Mikiko Eto
3 Substantive Representation of Women in South Korea?s National Legislature
Ki
-young Shin
4 Substantive Representation of Women in Taiwan: Why Is 42% Not Enough?
Chang
-Ling Huang
PART II
Cases from Southeast Asia
5 Substantive Representation of Women in Indonesia
Ella S. Prihatini
6 Substantive Representation of Women in Malaysian Legislatures: Parliament (Dewan Rakyat) and State Assemblies
Ummu Atiyah Ahmad Zakuan
7 Filipino Women?s Substantive Representation in Electoral Politics
Jean Encinas
-Franco
8 Timor
-Leste: Substantive Representation of Women Parliamentarians and Gender Equality
Sara Niner and Therese Thi Phuong Tam Nguyen
PART III
Cases From South Asia
9 Women?s Substantive Representation in the Parliament of Bangladesh: Understanding Key Trends and Tensions
Syeda Lasna Kabir
10 Substantive Representation of Women Parliamentarians and Gender Equality in Nepal
Aashiyana Adhikari
11 Toward Advancing Substantive Representation of Women in Parliament: Case Study of Sri Lanka
Ruwanthi Jayasekara
PART IV
Conclusion
12 Conclusion: Comparing Women?s Representation in Asian Parliaments
Devin K. Joshi
Index