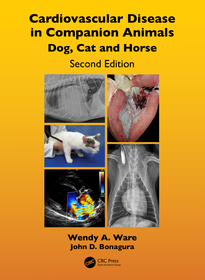 Cardiovascular Disease in Companion Animals
Kiadás sorszáma:
2, New edition
Megjelenés dátuma:
2021. augusztus 12.
---
Kiadói listaár:
GBP 170.00
---
70 204 (66 861 Ft + 5% áfa )
Kedvezmény(ek): 10% (kb. 7 800 Ft)
---
---
ISBN13:

9781482246223

ISBN10:
1482246228
Kötéstípus:
Keménykötés
Terjedelem:

966

oldal
Méret:
280x210 mm
Súly:
1950 g
Nyelv:

angol

Illusztrációk:
364 Illustrations, black & white; 674 Illustrations, color; 110 Tables, black & white
835
Témakör:
Rövid leírás:
This new edition of Cardiovascular Disease in Companion Animals now covers the horse as well as the dog and cat. The comprehensive, superbly illustrated book has been completely revised, expanded into five key sections, and contains a new Summary Formulary at end.
Hosszú leírás:
*Note that the supplementary electronic material for Chapters 26-40 will be available in the Support Material tab soon*
This new edition of Cardiovascular Disease in Companion Animals, authored by two leading experts in the field, now covers the horse as well as the dog and cat. The comprehensive, superbly illustrated book has been completely revised and expanded from the original Cardiovascular Disease in Small Animal Medicine. Five key sections provide clearly written overviews of normal cardiovascular structure and function, pathophysiologic derangements and their manifestations, clinical cardiology testing and interpretation, and extensive guidance for cardiovascular disease diagnosis and management. A broad collection of clinical images, graphics, tables, diagrams, and a Summary Drug Tables for each species enhances the book?s utility as a practical clinical resource. Up-to-date references support the focus on cardiovascular diseases and reflect important developments in veterinary cardiology and practice. A valuable companion website contains videos and additional images to enhance each chapter.
Since first publication in 2007, Dr Ware?s authoritative yet user-friendly guide to cardiovascular diseases in veterinary practice has been widely praised. This book contains even more illustrations of the highest quality. Coverage also includes diagnostic considerations for various clinical problems, procedures and techniques for patient evaluation, and detailed management strategies for congestive heart failure, arrhythmias, and other complications of cardiovascular disease. This second edition is a must-have for veterinary practitioners, students, interns, residents, and others with an in-depth interest in veterinary cardiology.
A very fine addition to the first edition of Dr. Ware's textbook, Cardiovascular Disease in Small Animal Medicine. Over a lengthy period of time, Dr. Ware has significantly revised and added to her original textbook on Cardiovascular Diseases. This edition has been supplemented with a significant amount of new material including diseases in the horse with the assistance of Dr. J. Bonagura as well as producing a text that will be utilized across the spectrum in veterinary medicine. Dr. Brian Scansen has similarly added to the book's usefulness by providing additional excellent illustrative material that fits in very well with the scope of the book. With the additional discussion and explanation, this book will be of use not only to the student, the practicing veterinarian but also to medicine residents and cardiologists who wish to have a detailed understanding of the subject. The table of contents alone shows the breadth of this undertaking. It is hard to look at it without immediately being drawn to any one of the new or expanded chapters. Over the last decade there has not been a significant addition to the cardiovascular literature in the form of a complete book dedicated to this one subject. I am pleased to recommend this book as the latest and most complete tome available to our profession. I believe anyone with even a passing interest in this field will be pleased to have this book as part of their library. It is complete, thorough and very well written along with supportive, clear to understand and extensive illustrations including most importantly current echocardiograms that clearly demonstrate the pathological processes being discussed.
Stephen Ettinger, DVM, DACVIM (SAIM and Cardiology)
This excellent textbook is a must have for all veterinary practitioners, interns, residents and veterinary students. It is complete ? you do not need any other cardiovascular book! It is broken down into 5 sections with an added formulary at the end. New to the book (from the previous edition) are thorough sections on equine cardiovascular disease, diagnosis and treatment and updates on all of the other sections. The book is extremely thorough covering the normal heart (including P-V loops), cardiac imaging (including tons of high quality images and equine thoracic radiographs), echocardiography (including color Doppler and 3D echo), ECG, cardiac catheterization and angiography, and that is just section 1. Section 2 discusses clinical manifestation and is broken up into the common symptoms ? syncope, cough, respiratory distress, etc. This is very helpful, particularly for students and interns or for advanced practitioners working emergency shifts. Section 3 is all about heart failure including treatment options and drug dosages. Section 4 covers all things dysrhythmia with numerous images of dysrhythmias. Section 5 covers all congenital diseases, degenerative, infective, pericardial, thromboembolic, systemic hypertension, pulmonary hypertension and heart worm. This section also has a chapter for each species (dog, cat, horse) on myocardial diseases. The section on thromboembolic disease has up to the minute information on traditional as well as new anticoagulants such as rivaroxaban and dabigatran with a thorough explanation of the current model of coagulation as well as how each of the anticoagulants work.
This textbook is one that practitioners will go to frequently for up to date information on a plethora of cardiovascular disease concepts. I look forward to using this book frequently for teaching and clinical cases.
Maureen McMichael, DVM, M.Ed., DACVECC, Professor of Emergency and Critical Care at Auburn University
Tartalomjegyzék:
Section I: Fundamentals of Clinical Cardiology. Chapter 1 The Normal Cardiovascular System. Chapter 2 Cardiovascular Examination. Chapter 3 Cardiac Radiography. Chapter 4 Echocardiography. Chapter 5 Electrocardiography. Chapter 6 Cardiac Catheterization and Angiocardiography. Section II: Clinical Manifestations of Cardiovascular Disease. Chapter 7 Exercise Intolerance. Chapter 8 Intermittent Collapse and Syncope. Chapter 9 Cough. Chapter 10 Respiratory Distress. Chapter 11 Murmurs and Abnormal Heart Sounds. Chapter 12 Abnormal Heart Rate or Rhythm. Chapter 13 Abnormal mucous membrane color. Chapter 14 Arterial Pulse Abnormalities. Chapter 15 Jugular Venous Distension or Pulsation. Chapter 16 Abdominal Distension. Chapter 17 Subcutaneous Edema. Chapter 18 Cardiomegaly. Chapter 19 Clinical Laboratory Abnormalities. Section III: Heart Failure. Chapter 20 Heart Failure: Pathophysiology and Patient Assessment. Chapter 21 Drugs for the Treatment of Heart Failure. Chapter 22 Management of Heart Failure. Section IV: Heart Rhythm Disturbances. Chapter 23 Arrhythmias: Pathophysiology and Clinical Associations. Chapter 24 Antiarrhythmic Therapies. Chapter 25 Management of Cardiac Arrhythmias. Section V: Cardiovascular Diseases. Chapter 26 Congenital Cardiac Shunts. Chapter 27 Congenital Valvular Malformations. Chapter 28 Other Cardiovascular Malformations. Chapter 29 Degenerative Valvular Disease of the Dog. Chapter 30 Valvular Heart Disease of the Horse. Chapter 31 Infective Endocarditis. Chapter 32 Myocardial Diseases of the Dog. Chapter 33 Myocardial Diseases of the Cat. Chapter 34 Myocardial Diseases of the Horse. Chapter 35 Pericardial Diseases and Cardiac Tumors. Chapter 36 Thromboembolic Disease. Chapter 37 Vascular Diseases. Chapter 38 Systemic Hypertension. Chapter 39 Pulmonary Hypertension. Chapter 40 Heartworm Disease. Summary Formulary. Index.