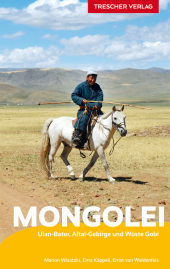 TRESCHER Reiseführer Mongolei
Mit Ulan-Bator, Wüste Gobi, Mongolischem Altai und Khövsgöl-See
Publisher:
Trescher Verlag
Date of Publication:
27 May 2023
Number of Volumes: Klappenbroschur, Klappen mit Übersichtskarten
---
Publisher's listprice:
EUR 24.95
Estimated price in HUF:
10 243
HUF (9 755
HUF
+ 5% VAT)
Why estimated?
---
9 731 (9 267 HUF + 5% VAT )
discount is: 5% (approx 512 HUF off)
---
---
ISBN13:

9783897945500

ISBN10:
3897945509
Binding:
Book
No. of pages:

404

pages
Size:
16x120x19 mm
Weight:
445 g
Language:

German

Illustrations:
243 Farbfotos, 31 Ktn.
758
Category:
Long description:
Der im Trescher Verlag in fünfter Auflage erschienene Reiseführer MONGOLEI stellt alle Regionen des zentralasiatischen Landes von den Gipfeln im Norden bis zur Wüste im Süden vor. Neben der detaillierten Beschreibung traditioneller und auch weniger bekannter Sehenswürdigkeiten hält der Reiseführer zahlreiche Tipps für Inividual-, Abenteuer- und Studienreisende parat.Es ist vor allem die unberührte Natur, die Reisende in die Mongolei zieht. Neben den überraschend vielfältigen Landschaften vom Khövsgöl-See und den Bergen des Altai bis zur Wüste Gobi gibt es in der Mongolei zahlreiche Zeugnisse einer jahrtausendealten Kultur zu entdecken, von Felszeichnungen bis zu wiedererrichteten buddhistischen Klöstern wie dem Kloster Gandan. Und nicht zuletzt machen die Gastfreundschaft der Mongolen, ihre nomadische Kultur und das spannende Nebeneinander von Tradition und Moderne gerade in der Hauptstadt Ulan Bator eine Reise in die Mongolei zu einem unvergesslichen Erlebnis. Der Reiseführer MONGOLEI macht mit vielen Hintergrundinformationen zu Kultur, Geschichte und Gegenwart mit den Besonderheiten des Landes bekannt. Aktuelle praktische Tipps sowie Übersichtskarten und Stadtpläne helfen bei der Reisevorbereitung und vor Ort.>>> Weitere Reiseführer zu Asien finden Sie auf der Website des Trescher Verlags.
Table of Contents:
Vorwort 13Herausragende Sehenswürdigkeiten 14Das Wichtigste in Kürze 16LAND _UND _LEUTE 18Geographie 20Gebirge 21Gewässer 21Großlandschaften 22Klima 28Flora und Fauna 31Tierwelt 34Pflanzenwelt 41Naturschutz 44Geschichte 49Ur
- und Frühgeschichte 49Die Skythen 50Die Xiongnu 51Die türkischen Großreiche 53Die Kitan 53Dschingis Khan 54Die Nachfolger des Dschingis Khan 56Zeit der Wirren 59Herrschaft der Mandschu 60Das Ende der Oiraten 61Triumph des Buddhismus 61Der Niedergang der Mandschuherrschaft 62Die erste Phase der Unabhängigkeit 63Die mongolische Volksrepublik 65Die zweite Phase der mongolischen Volksrepublik 67Der Übergang zur Demokratie 69Die Mongolei seit der demokratischen Wende 70Sieg der Demokraten und steigende Verschuldung 73Außenpolitik 74Wirtschaft 76Ackerbau 77Viehwirtschaft 77Bodenschätze 78Industrie 83Bildung und Wissenschaft 83Bevölkerung und Sprache 84Bevölkerungsentwicklung 84Ethnische Zusammensetzung 85Frauen in der Mongolei 87Sprache 89Schrift 90Religion 92Schamanismus 92Volksglaube 94Buddhismus 96Kultur 102Naadamfest 102Feste, Sitten und Bräuche 105Die Jurte 111Nationalkleidung 114Kunsthandwerk 117Musik und Gesang 120Malerei 123Literatur 124Theater und Oper 128Film 129Mongolische Küche 131ULAN _BATOR 138Die Hauptstadt 140Stadt der Nomaden 140Rasantes Wachstum 140Geschichte 141Orientierung 146Straßennamen 147Städtischer Nahverkehr 147Ein Spaziergang durch die Innenstadt 148Sükhbaatar
-Platz 149Universitätsviertel 152Spaziergang zum Kloster Gandan 153Parks 154Klöster und Museen 155Kloster Gandan 155Bogd
-Khan
-Museum 157Choijin
-Lamyn
-Museum 159Gesar Süm 161Bakula Rinpoche Süm 162Dashchoilin khiid 162Otochmaaramba khiid 162Dambadarjaa khiid 162Zanabazar
-Museum der schönen Künste 163Museum für Naturgeschichte 163Nationalmuseum 164Dschingis
-Khan
-Museum 164Stadtmuseum 164Eisenbahnmuseum 165Schukow
-Museum 165Theatermuseum 165Militärgeschichtliches Museum 165Intelligenzmuseum 165Ulan
-Bator
-Informationen 166Ulan
-Bator
-Informationen 166Allgemeine Informationen 166An
-, Ab
- und Weiterreise 167Unterwegs in Ulan Bator 168Unterkunft 168Gastronomie 173Nachtleben 174Oper und Theater, Galerien 175Einkaufen 176DIE _ZENTRALEN _AIMAGS 178Töv
-Aimag 180Zuunmod 180Manzushiryn khiid 181Bogd Khan uul 182Wanderungen im Bogd Khan uul 183Songino Khairkhan uul 186Dschingis
-Khan
-Statue 186Terelj 187Günjin Süm 188Khan Khentii 189Khustain nuruu 190Övörkhangai
-Aimag 192Arvaikheer 192Elsen Tasarkhai 192Khogno Khan uul 194Kharkhorin 195Karakorum 196Erdene Zuu 200Khujirt 202Orkhon
-Wasserfall 203Tövkhönii khiid 203Shankh khiid 204Khuissin Naiman nuur 204Arkhangai
-Aimag 205Tsetserleg 205Taikhaar chuluu 206Tsenkher 207Khorgo Terkhiin Tsagaan nuur 207Khööshöö tsaidam 209Ögii nuur 210Khar balgas 210DER _NORDEN 212Selenge
-Aimag 214Sükhbaatar 215Dulaankhaan 216Orkhon 217Yöröö Bayan gol 218Amarbayasgalant 220Bayangol 222Darkhan 222Bulgan
-Aimag 226Bulgan
-Stadt 226Uran uul und Khutag Öndör sum 228Im Norden des Bulgan
-Aimags 229Im Süden des Bulgan
-Aimags 229Erdenet 231Khövsgöl
-Aimag 236Mörön 237Südlich von Mörön 240Khövsgöl nuur 241Khar Us 245Khankh 245Khatgal 245Darkhad
-Senke 246Im Osten des Khövsgöl
-Aimags 248DER _OSTEN 252Khentii
-Aimag 254Dsch