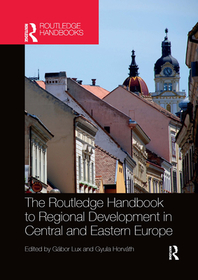 The Routledge Handbook to Regional Development in Central and Eastern Europe
Date of Publication:
30 September 2020
---
Publisher's listprice:
GBP 44.99
Estimated price in HUF:
20 643
HUF (19 660
HUF
+ 5% VAT)
Why estimated?
---
16 514 (15 728 HUF + 5% VAT )
discount is: 20% (approx 4 129 HUF off)
Discount is valid until: 31 December 2023
---
---
ISBN13:

9780367660048

ISBN10:
03676600411
Binding:
Paperback
No. of pages:

340

pages
Size:
246x174 mm
Weight:
625 g
Language:

English

703
Category:
Short description:
Since the fall of state socialism, the East-Central European (ECE) group of countries - Bulgaria, Czechia, Hungary, Poland, Slovakia, Slovenia and Romania - have undergone new processes of socio-economic restructuring, leading to new patterns of regional differentiation and development. Influenced by a combination of inherited and newly emerging
Long description:
Twenty-five years into transformation, Central and Eastern European regions have undergone substantial socio-economic restructuring, integrating into European and global networks and producing new patterns of regional differentiation and development. Yet post-socialist modernisation has not been without its contradictions, manifesting in increasing social and territorial inequalities. Recent studies also suggest there are apparent limits to post-socialist growth models, accompanying a new set of challenges within an increasingly uncertain world.
Aiming to deliver a new synthesis of regional development issues at the crossroads between ?post-socialism? and ?post-transition?, this book identifies the main driving forces of spatial restructuring in Central and Eastern Europe, and charts the different regional development paths which take shape against the backdrop of post-crisis Europe. A comparative approach is used to highlight common development challenges and the underlying patterns of socio-economic differentiation alike. The issues investigated within the Handbook extend to a discussion of the varied economic consequences of transition, the social structures and institutional systems which underpin development processes, and the broadly understood sustainability of Central and Eastern Europe?s current development model.
This book will be of interest to academics and policymakers working in the fields of regional studies, economic geography, development studies and policy.
"The reviewed book represents a reference work summarizing the main characteristics of regional development issues in Central and East European countries, members of the European Union. It is a synthesis of the structural characteristics, differences and common features of regional development with a focus on the socio-economic processes. Among the most effective parts of the book, I would like to mention its synthetic character: the authors managed to provide a comprehensive view on regional development issues in the CEE region. Such a study closes a significant gap in the scientific knowledge of this region. Of particular interest, in my opinion, is the cross-cutting issue, which can be identified across all the chapters of the book, namely, evidencing the role of capital cities and metropolitan regions, which seem to be more integrated into the broader European urban system than within their own hinterland."
- Igor SÎrodoev Ovidius, University of Constanta and University of Bucharest, Romania
Table of Contents:
1. Regional Development Paths in Central and Eastern Europe and the Driving Forces of Restructuring: An Introduction Part I: Economic Transformation Processes Before and Beyond the Crisis 2. Reintegrating Economic Space: The Metropolitan?Provincial Divide 3. Industrial Competitiveness: Beyond Path
-dependence 4. The Role of Business and Finance Services in Central and Eastern Europe 5. The Transformation of Rural Areas in Central and Eastern Europe 6. Factors Influencing Regional Entrepreneurial Activity in Central and Eastern Europe 7. Creativity and Culture in Reproducing Uneven Development Across Central and Eastern Europe Part II: Social Structures and Governance 8. Changing Settlement Networks in Central and Eastern Europe with Special Regard to Urban Networks 9. The Development of Regional Governance in Central and Eastern Europe: Trends and Perspectives 10. Managing Regional Disparities 11. Rebordering Central and Eastern Europe: Cohesion Policy, Cross
-border Cooperation and 'Differential Europeanization' 12. (Ethno)regional Endeavours in Central and Eastern Europe Part III: Challenges in Sustainable Development 13. The Regional Dimension of Migration and Labour Markets in Central and Eastern Europe 14. The Changing Role of Universities and the Innovation Performance of Regions in Central and Eastern Europe 15. Transition and Resilience in Central and Eastern European Regions 16. New Trends in Central and Eastern European Transport Space 17. Nature and Spatial Planning in Central and Eastern Europe Countries 18. Spatial Researches in Central and Eastern Europe 19. Conclusion: An Evolutionary Look at New Development Paths