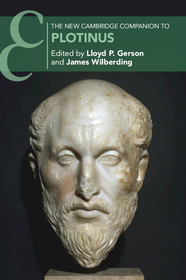 The New Cambridge Companion to Plotinus
Publisher:
Cambridge University Press
Date of Publication:
2 June 2022
---
Publisher's listprice:
GBP 26.99
Estimated price in HUF:
12 384
HUF (11 794
HUF
+ 5% VAT)
Why estimated?
---
9 907 (9 435 HUF + 5% VAT )
discount is: 20% (approx 2 477 HUF off)
Discount is valid until: 30 June 2023
---
---
ISBN13:

9781108726238

ISBN10:
1108726232
Binding:
Paperback
No. of pages:

400

pages
Size:
229x151x26 mm
Weight:
740 g
Language:

English

700
Category:
Short description:
A new Companion offering student-friendly essays on this major figure in the Platonic tradition and in Greek philosophy.
Long description:
Plotinus stands at a crossroads in ancient philosophy, between the more than 600 years of philosophy that came before him and the new Platonic tradition. He was the first and perhaps the greatest systematizer of Plato's thought, and all later students of Plato in the following centuries approached Plato through him. This Companion from a new generation of ancient philosophy scholars reflects the current state of research on Plotinus, with chapters on topics including mathematics, fate and determinism, happiness, the theory of forms, categories of reality, matter and evil, and Plotinus' legacy. The volume offers an accessible overview of the thought of one of the pivotal figures in the history of philosophy, and reveals his importance as a thinker whose impact goes far beyond his importance as an interpreter of Plato.
Table of Contents:
Introduction Lloyd P. Gerson; 1. Plato and Aristotle in the enneads Eric D. Perl; 2. Plotinus, gnosticism, and christianity Sebastian Gertz; 3. From Plotinus to Proclus Marije Martijn; 4. The one as first principle of all Gwena&&&235;lle Aubry; 5. Plotinus and the theory of forms Mauro Bonazzi; 6. Plotinus on number Svetla Slaveva
-Griffin; 7. Plotinus on categories Michael Griffin; 8. Plotinus on knowledge Christian Tornau; 9. The embodied soul Damian Caluori; 10. Self
-knowledge and self
-reflexivity Pauliina Remes; 11. Eternity and time Riccardo Chiaradonna; 12. Composition of sensible bodies D. M. Hutchinson; 13. Nature: Plotinus' fourth hypostasis? James Wilberding; 14. Matter and evil Jan Opsomer; 15. Virtue and happiness Miira Tuominen; 16. Plotinus on providence and fate Christopher Isaac Noble; Bibliography; Index Locorum; General Index.