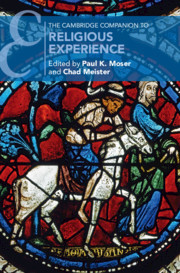 The Cambridge Companion to Religious Experience
Publisher:
Cambridge University Press
Date of Publication:
16 July 2020
---
Publisher's listprice:
GBP 23.99
Estimated price in HUF:
11 007
HUF (10 483
HUF
+ 5% VAT)
Why estimated?
---
8 806 (8 386 HUF + 5% VAT )
discount is: 20% (approx 2 201 HUF off)
Discount is valid until: 31 December 2023
---
---
ISBN13:

9781108459112

ISBN10:
11084591111
Binding:
Paperback
No. of pages:

352

pages
Size:
227x153x19 mm
Weight:
500 g
Language:

English

Illustrations:
3 b/w illus.
502
Category:
Short description:
Offers a state-of-the-art contribution by providing critical analyses of and creative insights to the nature of religious experience.
Long description:
For centuries, theologians and philosophers, among others, have examined the nature of religious experience. Students and scholars unfamiliar with the vast literature face a daunting task in grasping the main issues surrounding the topic of religious experience. The Cambridge Companion to Religious Experience offers an original introduction to its topic. Going beyond an introduction, it is a state-of-the-art overview of the topic, with critical analyses of and creative insights into its subject. Religious experience is discussed from various interdisciplinary perspectives, from religious perspectives inside and outside traditional monotheistic religions, and from various topical perspectives. Written by leading scholars in clear and accessible prose, this book is an ideal resource for undergraduate and graduate students, teachers, and scholars across many disciplines.
Table of Contents:
Part I. Characterizing Religious Experience: Interdisciplinary Approaches: 1. Psychology of religion approaches to the study of religious experience Ann Tayes; 2. Philosophy of religion approaches to the study of religious experience Phillip H. Wiebe; 3. Theology, religious diversity, and religious experience Gwen Griffith
-Dickson; Part II. Religious Experience in Traditional Monotheism: 4. Illumined by meaning: religious experience in classical Judaism Howard Wettstein; 5. Religious experience in early Christianity James D. G. Dunn; 6. Religious experience in traditional Islam William Chittick; Part III. Religious Experience Outside Traditional Monotheism: 7. Religious experience in ancient Confucianism and Daoism Xinzhong Yao; 8. Religious experience in Buddhism David Burton; 9. Ramanuja's eleventh century Hindu theology of religious experience: an informative, performative, transformative discourse Francis X. Clooney; Part IV. Prominent Themes and Challenges: 10. Exploring the nature of mystical experience Steven T. Katz; 11. Miraculous and extraordinary events as religious experience Fiona Bowie; 12. Evil, Suffering, and Religious Experience Michael L. Peterson; 13. Naturalism and religious experience William B. Drees; 14. Meaning and social value in religious experience Mark Owen Webb.