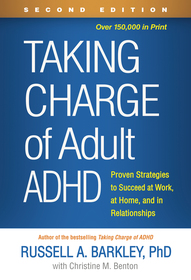 Taking Charge of Adult ADHD, Second Edition
Proven Strategies to Succeed at Work, at Home, and in Relationships
Edition number:
2, New edition
Publisher:
Guilford Press
Date of Publication:
21 December 2021
---
Publisher's listprice:
GBP 14.99
---
6 190 (5 895 HUF + 5% VAT )
discount is: 10% (approx 688 HUF off)
---
---
ISBN13:

9781462546855

ISBN10:
1462546854
Binding:
Paperback
No. of pages:

294

pages
Size:
254x178 mm
Weight:
440 g
Language:

English

890
Category:
Short description:
Now in a revised and updated second edition, this authoritative guide explains what ADHD looks like in adults, how to get an accurate evaluation, and how sufferers can manage symptoms and build the life they want. Readers get hands-on skill-building exercises plus clear answers to frequently asked questions about medications and other treatments.
Long description:
If you&&&39;re among the millions of adults with attention-deficit/hyperactivity disorder (ADHD), you need the latest facts about the disorder and its treatment. You need practical strategies to help develop your strengths and achieve your goals, whether on the job, in family relationships, or in personal pursuits. From renowned ADHD researcher/clinician Russell A. Barkley, this is the book for you. Dr. Barkley takes you through the process of seeking professional help, addresses frequently asked questions about medications and other treatments, and offers a wealth of advice and tips--all science-based. Featuring the latest resources and medication facts, the revised and updated second edition includes new or expanded discussions of mindfulness, emotional self-control, time management, building a successful career, maintaining a healthy lifestyle, and more. Finally, an authoritative one-stop resource to help you take back your life from ADHD.

"Powerful and essential! Your health, happiness, and future have long been a paramount concern to Dr. Barkley. Here he shares step-by-step guidance to get you where you want to be. Dr. Barkley&&&39;s clear, compassionate voice makes you feel like you&&&39;re in a private conversation with him. This updated second edition is worth its weight in gold."--Gina Pera, author of Is It You, Me, or Adult A.D.D.?

"The first edition of this book was excellent; the second edition is even better! Dr. Barkley is a foremost researcher who helps you understand and cope with impairments while also developing your strengths. He provides not only practical guidance about treatment, but also strategies to avoid difficulties in education, work, relationships, money management, and health. Dr. Barkley shares his genuine empathy and personal insights into the challenges ADHD poses. This book is a valuable resource for adults with ADHD and all those who love and care for them."--Thomas E. Brown, PhD, author of Smart but Stuck: Emotions in Teens and Adults with ADHD

"The second edition of this wonderful book offers an insightful, fact-based description of how to obtain an accurate diagnosis and find appropriate help. Information is presented in a clear manner that will be helpful in guiding you through treatment. This book has earned its place as a mainstay reference."--Lenard A. Adler, MD, author of Scattered Minds-Divided into noteworthy sections, and a 'stop anywhere' format, this book is an easy read covering a complex topic?.The book presents up-to-date facts combined with strategies for living successfully with ADHD as an adult?.This book is a valuable tool for the layperson and professional alike. The layout of the book is brilliant, making it easy to read and just what someone who may struggle with ADHD would need. This includes revisiting chapters for a review or providing a reminder of what has just been read. What a clever way to show the author knows his stuff! I encourage everyone to read a copy. It will improve your knowledge of behavior in general.--Doody's Review Service, 02/11/2022??This is a comprehensive and scientifically based yet comprehensible manual for understanding and managing adult ADHD. With this information, adults with ADHD or those close to them can be informed consumers of available treatment options, behavioral strategies, and supplemental support resources. (on the first edition)--Library Journal, 10/01/2010??Barkley knows what works. (on the first edition)--ADDitude, 10/01/2010
Table of Contents:
Introduction
Step One. To Get Started, Get Evaluated
1. Is It Possible That You Have ADHD?
2. Can You Handle the Problem on Your Own?
3. Where Can You Go to Get Help?
4. What Do You Need for the Evaluation?
5. What Will the Evaluation Tell You?
Step Two. Change Your Mindset: Know and Own Your ADHD
6. Know Your ADHD
7. Resisting Impulses: The First Step in Self
-Control
8. Self
-Control: How to Get What You Want
9. Executive Functions: The Abilities That Make Up Self
-Control…and More
10. The Nature of ADHD and How You Can Master It
11. Own Your ADHD
Step Three. Change Your Brain: Medications for Mastering ADHD
12. Why It Makes Sense to Try Medication
13. The Stimulants
14. The Nonstimulants
15. What to Expect from Treatment
Step Four. Change Your Life: Everyday Rules for Success
16. Rule 1: Stop the Action!
17. Rule 2: See the Past…and Then the Future
18. Rule 3: Say the Past…and Then the Future
19. Rule 4: Externalize Key Information
20. Rule 5: Feel the Future
21. Rule 6: Break It Down…and Make It Matter
22. Rule 7: Make Problems External, Physical, and Manual
23. Rule 8: Have a Sense of Humor!
Step Five. Change Your Situation: Mastering ADHD in Specific Areas of Your Life
24. Education
25. Work
26. Money
27. Relationships
28. Driving, Health, and Lifestyle Risks
29. Other Mental and Emotional Problems
30. Drugs and Crime
Appendix: A Closer Look at ADHD Symptoms
Resources
Index