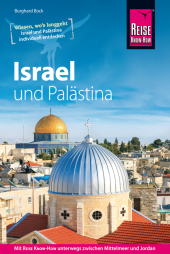 Reise Know-How Reiseführer Israel und Palästina
Publisher:
Reise Know-How Verlag Grundmann
Date of Publication:
1 May 2023
---
Publisher's listprice:
EUR 23.50
---
9 165 (8 729 HUF + 5% VAT )
discount is: 5% (approx 482 HUF off)
---
---
ISBN13:

9783896626714

ISBN10:
389662671X
Binding:
Paperback
No. of pages:

600

pages
Size:
180x120 mm
Weight:
612 g
Language:

German

Illustrations:
280 Farbabb., 70 Ktn.
692
Category:
Long description:
Mit diesem aktuellen Handbuch Israel und Palästina entdecken: Israel und Palästina ziehen mit Ihren kulturellen Schätzen, ihrer wechselvollen, reichen Geschichte und der heutigen vitalen Lebensart der Bewohner zahlreiche Besucher an. Monate würde man brauchen, um all die großen und kleinen Attraktionen zu besuchen - historische Hinterlassenschaften aus Jahrtausenden, christliche, jüdische und moslemische Stätten. Und schließlich soll noch Zeit bleiben zum Baden, Relaxen und um das Flair einer zuweilen exotischen, multikulturellen Gesellschaft zu erleben. Der Reiseführer präsentiert das Land und die Autonomiegebiete ausführlich und dennoch kompakt. Alle interessanten Sehenswürdigkeiten sind jeweils am Kapitelanfang aufgelistet und in vier Kategorien bewertet. Ausführliche Beschreibungen finden sich dann im laufenden Text. Das gewährleistet eine schnelle Orientierung und erlaubt es Schwerpunkte zu setzen. Ob man nun an den endlosen Mittelmeerstränden baden und surfen, Eindrücke der fantastischen Unterwasserwelt im Roten Meer sammeln oder durch die Wüste trecken will, der Führer zeigt, wie man jeweils hinkommt und was man unternehmen kann. Bei allen wichtigen Plätzen erleichtern Pläne, die mit dem Text korrespondieren, das Zurechtfinden. Wenn schließlich der Hunger plagt, zeigt das Buch den Weg zum Restaurant und bietet für die Nacht eine Menge Alternativen, wo man sein müdes Haupt ausruhen kann. Das Buch bietet zusätzlich eine Grundlage zur Auseinandersetzung mit der deutschen Vergangenheit und der israelischen Gegenwart. Denn als Deutscher in Israel - das ist deutsche Geschichte, von der man immer wieder eingeholt wird. Gedenkstätten wie Yad VaShem in Jerusalem wecken das Entsetzen über die Taten der jüngsten Vergangenheit. Nicht minder kritisch muss sich der Besucher mit dem Heute auseinandersetzen, mit der Palästinenserfrage. Auch dabei heißt es, nicht die Augen zu verschließen, sondern die palästinensischen Gebiete zu besuchen und sich ein Bild der Situation vor Ort zu machen. Wege und Möglichkeiten werden aufgezeigt sowie die nötige Hintergrundinformation, damit der Gast ein eigenes Urteil möglichst unbeeinflusst von der israelischen Propaganda fällen kann. Auf 600 Seiten sind alle Sehenswürdigkeiten untergebracht, dazu exakte Weg- und Ortsbeschreibungen, zahlreiche Übernachtungsmöglichkeiten und Restaurantempfehlungen und viele Infos mehr. Das Land wird bis ins Detail erschlossen, so dass die Leser ohne fremde Hilfe problemlos zurechtkommen können.