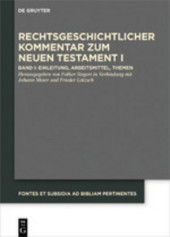 Einleitung. Arbeitsmittel und Voraussetzungen
Band I: Einleitung Arbeitsmittel und Voraussetzungen
Date of Publication:
3 April 2023
---
Publisher's listprice:
EUR 154.99
Estimated price in HUF:
63 631
HUF (60 601
HUF
+ 5% VAT)
Why estimated?
---
60 449 (57 571 HUF + 5% VAT )
discount is: 5% (approx 3 182 HUF off)
---
---
ISBN13:

9783110656060

ISBN10:
311065606X
Binding:
Hardback
No. of pages:

734

pages
Size:
240x170 mm
Language:

German

Illustrations:
8 Tables, black & white
700
Category:
Long description:
Das Neue Testament, meistkommentierter Text der Welt, steckt voller Rechtsfälle und -begriffe, die wider Erwarten noch keine fachkundige Behandlung erfahren haben. Die letzten Gelehrten, die sowohl zum Recht wie im Neuen Testament publizierten, schrieben noch Latein: Hugo Grotius, Samuel Pufendorf und seine Schule. Hermeneutischer Schlüssel ist bei ihnen wie auch hier Luthers Auffassung von der Säkularität des Rechts.
Interdisziplinär und aufgrund heutigen Wissenstandes wird ermittelt, welche Rechtsordnung - aramäisch, hebräisch, griechisch oder römisch - dem Verhalten der Menschen wie auch der Wortwahl der Texte zugrunde liegen. Voraussetzung ist eine hinreichend genaue Zuweisung der Texte und Textteile an eine Zeit und eine konkrete Umwelt; die diesbezüglichen Vorarbeiten werden in Bd. I dargestellt. Außer der Tora und der vorrabbinischen Halacha ist hellenistisches Gewohnheitsrecht (z.B. in "Testament") und das sog. prätorische Recht der frühklassischen (vorhadrianischen) Epoche einschlägig.
In Bd. II-III werden flächendeckend die in den Texten jeweils gültigen Rechtsvorstellungen ermittelt und in antiken Begriffen benannt, ehe auch deren Fortentwicklung bis in heutiges deutsches Recht verfolgt wird.
Daraus ergeben sich historisch wie theologisch ganz neue Konkretionen.
Die Rechtsgeschichte wird um die Analyse zahlreicher Fälle des 1. Jh. bereichert und die Theologie um eine Fülle neuer Gedanken für Predigt und Unterricht.