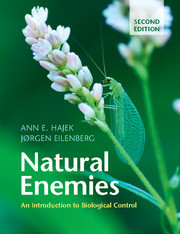 Natural Enemies
An Introduction to Biological Control
Edition number:
2, New edition
Publisher:
Cambridge University Press
Date of Publication:
26 July 2018
---
Publisher's listprice:
GBP 38.99
Estimated price in HUF:
17 890
HUF (17 038
HUF
+ 5% VAT)
Why estimated?
---
14 312 (13 630 HUF + 5% VAT )
discount is: 20% (approx 3 578 HUF off)
Discount is valid until: 30 June 2023
---
---
ISBN13:

9781107668249

ISBN10:
1107668247
Binding:
Paperback
No. of pages:

452

pages
Size:
246x174x21 mm
Weight:
900 g
Language:

English

Illustrations:
136 b/w illus. 25 tables
1265
Category:
Short description:
Presents different strategies for biological control along with their ecological bases, using many examples from a diversity of ecosystems.
Long description:
This second edition of Natural Enemies will give students, professionals, and anyone wishing to learn the basics of biological control a fully updated and thorough introduction. The book discusses the huge diversity of organisms used in the control of pests, weeds and plant pathogens, and compares the many different strategies referred to as 'biological control': the introduction of exotic natural enemies, application of predators, parasitoids, and microorganisms as biopesticides, and manipulation of the environment to enhance natural enemy populations. The authors present the ecological concepts which form the bases of biological control and discuss recent changes to make biological control safe for the environment. Case studies are included throughout, providing in-depth examples of the use of different organisms and strategies in a variety of ecosystems. A new chapter covers the current challenges; the impact of climate change, the problem of invasive species, and how biological control can aid sustainability.

'This second edition of Natural Enemies has been skillfully updated to cover advances in biological control since 2004 which is sure to reinstate it as the standard introduction to the subject for undergraduates and other interested readers. Written by leading international experts, the text is both authoritative and easy to read, and is richly illustrated with fascinating examples of biological control applications from around the world. The expertise of the authors is readily apparent throughout the book and the breadth of coverage of all aspects of biological control is excellent. I highly recommend this text to anyone seeking to develop a course or workshop on the subject due to its comprehensive coverage, accessibility without need for specialist knowledge, and engaging style. It is reassuring to know that a new generation of biological control practitioners will be inspired by this well informed and enthusiastic introduction to the subject.' Nicholas J. Mills, University of California, Berkeley
Table of Contents:
Preface; Acknowledgements; Part I. Introduction: 1. Why use natural enemies?; 2. Introduction to biological control; Part II. Strategies for Using Natural Enemies: 3. Classical biological control; 4. Augmentation: inundative and inoculative biological control; 5. Conservation and enhancement of natural enemies; Part III. Biological Control of Invertebrate and Vertebrate Pests: 6. Ecological basis for use of predators, parasitoids, and pathogens to control pests; 7. Predators; 8. Insect parasitoids: attack by aliens; 9. Parasitic nematodes; Part IV. Microbial Pathogens of Invertebrates and Vertebrates: 10. Bacterial pathogens of invertebrates; 11. Viral pathogens of invertebrates and vertebrates; 12. Fungal pathogens of invertebrates; Part V. Biological Control of Weeds: 13. Biology and ecology of herbivores used for biological control of weeds; 14. Phytophagous invertebrates and vertebrates; 15. Plant pathogens for controlling weeds; Part VI. Biological Control of Plant Pathogens and Plant Parasitic Nematodes: 16. Biology and ecology of microorganisms for control of plant diseases; 17. Microbial antagonists combating plant pathogens and plant parasitic nematodes; Part VII. Biological Control: Concerns, Changes and Challenges: 18. Making biological control safe; 19. Biological control as part of integrated pest management; 20. Our changing world: moving forward; Glossary; References; Index.