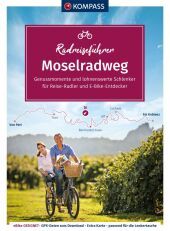 KOMPASS Radreiseführer Moselradweg
von Perl bis Koblenz - 250 km, mit Extra-Tourenkarte, Reiseführer und exakter Streckenbeschreibung
Edition number:
1. Auflage
Publisher:
Kompass-Karten
Date of Publication:
7 March 2023
Number of Volumes: Spiralbindung
---
Publisher's listprice:
EUR 16.95
---
6 610 (6 296 HUF + 5% VAT )
discount is: 5% (approx 348 HUF off)
---
---
ISBN13:

9783991216056

ISBN10:
3991216051
Binding:
Paperback
No. of pages:

144

pages
Size:
182x135x22 mm
Weight:
275 g
Language:

German

676
Category:
Long description:
Die perfekte Kombination aus Reiseführer und Radführer für dein unvergessliches Erlebnis auf diesem Radfernweg. Vorfreude: Der Auftakt zeigt warum sich jeder Kilometer lohnt und bietet wertvolle Informationen zur Radwegbeschilderung und -qualität. Reiseführer: Wissenswertes, Highlights am Wegesrand und Lohnenswerte Schlenker sind sorgfältig recherchiert und charmant beschrieben. So lernt man bereits vor der eigentlichen Tour Land und Leute, Natur und Kultur kennen - die Auszeit beginnt. Radführer: Los gehts - eine genaue Wegbeschreibung hilft gemeinsam mit den Detailkarten des Roadbooks (1:50.000) alles im Blick zu behalten. Den nötigen Überblick bekommt man mit der extra Faltkarte (1:200.000) und wer will mit dem GPX-Track.
Die Mosel - Mosella, die "kleine Maas" - so nannten die Römer den 554 Kilometer langen Fluss zwischen den Vogesen und dem Rheintal. Moselle heißt er in Frankreich noch heute, Mosel an seinem 250Kilometer langen, tief zwischen dem Hunsrück und der Eifel eingeschnittenen deutschen Unterlauf.Die wohl genussvollste Möglichkeit, die historischen Orte, Burgen und Weinberge an diesen Flussabschnitt zu erleben, bietet das Rad.
Schengen ist wohl einer der bekanntesten Orte der Europäischen Union. Aber nicht alle ihrer Bürgerinnen und Bürger wissen, wo er zu finden ist: Auf der luxemburgischen Seite des Moseltals, gegenüber von Perl, dem Startpunkt des 250 Kilometer langen Moselradwegs. Wer dort in die Pedale tritt, hat einen seiner schönsten Abschnitte vor sich und ein ganz besonderes Ziel: Die Stadt Trier, die schon vor 2.000 Jahren als Augusta Treverorum bestand und mit der Porta Nigra das besterhaltene römische Stadttor nördlich der Alpen besitzt.
Vom Dom zu Trier in die gründerzeitliche Kurstadt Traben-Trarbach - das bedeutet nicht nur sportliches Radvergnügen, sondern auch kulturelle und kulinarische Überraschungen am Fluss. So gilt etwa Neumagen als der älteste Weinort Deutschlands und Bernkastel-Kues als die "internationale Stadt der Rebe und des Weines". Weiter talauswärts durchfährt man die berühmteste der zahlreichen Moselschleifen, den Zeller Hamm, bevor man das malerische Winzerdorf Ediger-Eller und damit auch die steilste Weinlage der Region erreicht.
Sesselbahn statt Sattel? In Cochem, der "Perle der Mosel", empfiehlt sich das auf jeden Fall, denn am Pinnerkreuz hoch über der Altstadt genießt man ein grandioses Panorama. Auch die weiter flussabwärts gelegene Burg Eltz, eine der am besten erhaltenen mittelalterlichen Wehranlagen Deutschlands, rechtfertigt eine längere Besichtigungspause, ebenso wie der weiße "Moseldom" in Treis-Karden oder Kobern-Gondorf mit seinen vier Burgen. Am "Deutschen Eck", wo die Mosel bei Koblenz in den Rhein mündet, endet die Radreise - viel zu früh!
Table of Contents:
GPX
-Track zum Download
extra Faltkarte zum Herausnehmen
detaillierte Karten im Maßstab 1:50.000