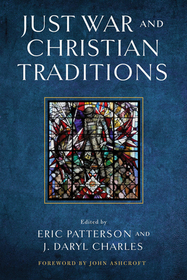 Just War and Christian Traditions
Publisher:
University of Notre Dame Press
Date of Publication:
15 December 2022
Number of Volumes: Print PDF
---
Publisher's listprice:
GBP 112.00
Estimated price in HUF:
51 391
HUF (48 944
HUF
+ 5% VAT)
Why estimated?
---
46 252 (44 050 HUF + 5% VAT )
discount is: 10% (approx 5 139 HUF off)
---
---
ISBN13:

9780268203818

ISBN10:
0268203814
Binding:
Hardback
No. of pages:

346

pages
Size:
229x152x21 mm
Weight:
658 g
Language:

English

Illustrations:
1 Tables, black & white
629
Category:
Short description:
Just War and Christian Traditions introduces readers ? lay persons and clergy alike ? to classical Christian thinking across denominational lines on the tradition of just war thinking. Representing a two-millennia-old conversation in our wider cultural tradition, just war thinking (often going by the misnomer ?just war theory?) is rooted in biblical texts from the Old and New Testaments, historic Christian thinkers such as Ambrose, Augustine, Aquinas, Luther, Vitoria, Suárez, and Grotius, ethical principles such as the ?Golden Rule? and neighbor-love, as well as natural law principles embedded in Greco-Roman and Judeo-Christian thought. As such, it is a shared tradition that unites the vast majority of the world?s Christians across denominational and theological divides.
Long description:
This much-needed anthology contains historically informed insights and analysis about Christian just war thinking and its application to contemporary conflicts.
Recent Christian reflection on war has largely ignored questions of whether and how war can be just. The contributors to Just War and Christian Traditions provide a clear overview of the history and parameters of just war thinking and a much-needed and original evaluation of how Christian traditions and denominations may employ this thinking today.
The introduction examines the historical development of Christian just war thinking, differences between just war thinking and the alternatives of pacifism and holy war, distinctions among Christian thinkers on issues such as the role of the state and ?lesser evil? politics, and shared Christian theological commitments with public policy ramifications (for example, the priority of peace). The chapters that follow outline?from Catholic, Orthodox, Lutheran, Reformed, Anglican, Methodist, Baptist, and Anabaptist denominational perspectives?the positions of major church traditions on the ethics of warfare. The contributors include philosophers, military strategists, political scientists, and historians who seek to engage various and distinctive denominational approaches to the issues of church and state, war, peace, diplomacy, statecraft, and security over two thousand years of Christian history. Just War and Christian Traditions presents an essential resource for understanding the Judeo-Christian roots and denominational frameworks undergirding the moral structure for statesmanship and policy referred to as just war thinking. This practical guide will interest students, pastors, and lay people interested in issues of peace and security, military history, and military ethics.
Contributors: John Ashcroft, Eric Patterson, J. Daryl Charles, Joseph E. Capizzi, Darrell Cole, H. David Baer, Keith J. Pavlischek, Daniel Strand, Nigel Biggar, Mark Tooley, and Timothy J. Demy.
?This book is a superb resource that documents the many Christian roots of the just war tradition?s thought and practice. It is much needed now to remind us of how God?s people have sought best to meet each age?s spiritual and temporal challenges. Just War and Christian Traditions deserves a central place of reference and influence in debates on this topic.? ?Mark A. Jumper, co-editor of The Holy Spirit and the Reformation Legacy
Publicity
? Long run of 4/c bound galleys to pre-pub reviewers, major book reviews, and influential monthlies.
? Extensive review list to same, including military history and military ethics journals.
? Major print reviews and features
? Online publicity campaign
? Social Media campaign (twitter, facebook, instagram, pinterest)
Table of Contents:
Contributors
Foreword: The Honorable John Ashcroft
1. Christian Approaches to Just War, Peace, & Security, Eric Patterson and J. Daryl Charles
2. Catholic Just War Thinking, Joseph Capizzi
3. The Orthodox Church on Just War, Darrel Cole
4. Luther?s Political Thought and Its Contribution to the Just War Tradition, H. David Baer
5. John Calvin and the Reformed View of War, Resistance, and Political Duty, Keith Pavlischek
6. Anglican Thought on Just War, Daniel Strand and Nigel Biggar
7. Methodism and War: Mark Tooley
8. Praying for Peace but Preparing for War: Baptists and the Just War Tradition, Timothy Demy
9. Anabaptists and the Sword, J. Daryl Charles