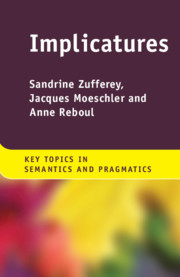 Implicatures
Publisher:
Cambridge University Press
Date of Publication:
7 October 2021
---
Publisher's listprice:
GBP 24.99
Estimated price in HUF:
11 466
HUF (10 920
HUF
+ 5% VAT)
Why estimated?
---
9 173 (8 736 HUF + 5% VAT )
discount is: 20% (approx 2 293 HUF off)
Discount is valid until: 30 June 2023
---
---
ISBN13:

9781107565234

ISBN10:
1107565235
Binding:
Paperback
No. of pages:

263

pages
Size:
215x140x15 mm
Weight:
340 g
Language:

English

Illustrations:
21 b/w illus. 6 tables
1315
Category:
Short description:
Offers an accessible and thorough introduction to implicatures in pragmatics, and its interfaces with language and cognition.
Long description:
An accessible and thorough introduction to implicatures, a key topic in all frameworks of pragmatics. Starting with a definition of the various types of implicatures in Gricean, neo-Gricean and post-Gricean pragmatics, the book covers many important questions for current pragmatic theories, namely: the distinction between explicit and implicit forms of pragmatic enrichment, the criteria for drawing a line between semantic and pragmatic meaning, the relations between the structure of language (syntax) and its use (pragmatics), the social and cognitive factors underlying the use of implicatures by native speakers, and the factors influencing their acquisition for children and second language learners. Written in non-technical language, Implicatures will appeal to students and teachers in linguistics, applied linguistics, psychology and sociology, who are interested in how language is used for communication, and how children and learners develop pragmatic skills.

'... will be indispensable for those focussing on implicatures in teaching or research. Most helpful is its consideration of implicatures from within the three different frameworks. I commend the authors for this useful contribution to the field of pragmatics.' Todd A. Scacewater, Journal of Language, Culture, and Religion
Table of Contents:
Part I. Theoretical Foundations: 1. Ordinary language philosophy and the birth of pragmatics; 2. Linguistic theory and pragmatics; 3. Relevance theory and the broadening of pragmatics to explicit meaning; Part II. Types of Implicatures: 4. Particularized Conversational Implicatures: why there are conversational implicatures; 5. Conventional implicature and presupposition: formal semantics and pragmatics; 6. Generalized conversational implicatures: Gricean, neo
-Gricean and post
-Gricean pragmatics; Part III. Empirical Evidence: 7. Implicatures and language processing; 8. The acquisition of implicatures in the course of first language development; 9. Implicatures and second language acquisition; Conclusion.