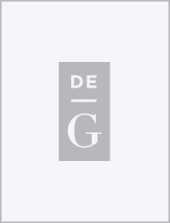 Early Christian Scripture and the Samaritan Pentateuch
A Study in Hexaplaric Manuscript Activity
Date of Publication:
14 August 2023
---
Publisher's listprice:
EUR 103.99
Estimated price in HUF:
42 693
HUF (40 660
HUF
+ 5% VAT)
Why estimated?
---
40 558 (38 627 HUF + 5% VAT )
discount is: 5% (approx 2 135 HUF off)
---
---
ISBN13:

9783110760699

ISBN10:
311076069X
Binding:
Hardback
No. of pages:

320

pages
Size:
230x155 mm
Language:

English

Illustrations:
5 Illustrations, color; 10 Illustrations, black & white; 4 Tables, color
0
Category:
Short description:
The series Studia Samaritana is a collection of volumes from the entire field of research on the Samaritans from antiquity to the present-day Samaritan community and its traditions. Special emphasis is placed on the history, culture, literature, religion and ethnography of the Samaritans. The series is published jointly with the Société d'Études Samaritaines and is bibliographically integrated into the series Studia Judaica (with separate numbering of the volumes in the two series).
Long description:
Early Christian Scripture and the Samaritan Pentateuch is a study exploring Christian interaction with the Samaritan Pentateuch as evinced by hexaplaric sources. The manuscript evidence for the Samaritan Pentateuch in Greek attests two distinct, textually unrelated groups of readings: a s mi-type (i.e., the Samareitikon) and a mi ni ni-type. Only the latter, the subject of the present study, is hexaplarically derived and predates, considerably, any evidence for the former. The extant hexaplaric colophons and scholia found in the books of Exodus, Numbers, and Deuteronomy reveal that at some point the Caesarean library acquired a copy of the Samaritan Hebrew Pentateuch. This copy was then collated, quantitatively, against the hexaplaric Septuagint. Since the Samaritan text is often longer than the Septuagint due to a number of "expansions", taken from various pre-existing passages of the Pentateuch, the Caesarean critics "translated" these expansions into Greek with the aid of the Septuagint. No evidence was found that the so-called Samareitikon (i.e., Samaritans' own Greek translation) was either known to or used by the Caesarean critic. These "translations" bear no trace of Samaritan exegesis. It is hypothesized here, that the collation and "translation" was made possible through the use of the multi-columned Hexapla as a kind of analytical lexicon. Taking the results of this effort, the responsible party added these data to the margins of the Caesarean Septuagint edition. These passages were later translated into Syriac and were even adopted by some later Christian scribes as legitimate biblical readings. It is posited that Eusebius-not Origen, as has been commonly supposed-was the one responsible for this work. The study explores these data diachronically from inception to integration. The findings and analysis are relevant for the fields of biblical studies, Samaritan studies, and the study of Bible production and the praxis of textual research in early Christianity.