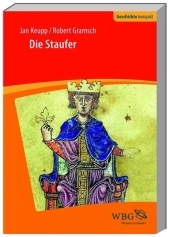 Die Staufer
Date of Publication:
15 September 2023
---
Publisher's listprice:
EUR 22.00
---
---
ISBN13:

9783534158614

ISBN10:
353415861X
Binding:
Paperback
No. of pages:

144

pages
Size:
0x0x0 mm
Language:

German

Illustrations:
1 Ktn.
0
Category:
Short description:
Vom südwestdeutschen Grafengeschlecht bis zur hochmittelalterlichen Universalmonarchie Friedrich Barbarossas und Friedrichs II., die auf Italien ausgriff, reicht das Spektrum der bekanntesten deutschen Herrscherdynastie. Unvoreingenommen zeichnen die beiden Autoren die wechselvolle Geschichte der Staufer auf modernstem Kenntnisstand nach.
Long description:
Die Staufer haben im deutschen Geschichtsbild ein besondere und hoch ambivalente Stellung: Waren sie schöpferische Reichslenker oder illusionäre Tyrannen? Jan Keupp und Robert Gramsch zeichnen unvoreingenommen und auf modernstem Kenntnisstand die Geschicke dieser großen Dynastie nach und verbinden Reichsgeschichte mit kulturhistorischen Ansätzen. Sie problematisieren Perspektive und Herangehensweisen, skizzieren die bescheidenen Anfänge des Grafengeschlechts um dann die die Darstellung zur großen Reichsgeschichte unter Friedrich Barbarossa, Heinrich VI. und Friedrich II. auszudehnen, die machtbewusst nach Italien ausgriffen. Die im wesentlichen chronologische Einführung zeigt dabei immer klar die wesentlichen Linien auf und wird duch Zitate an die Quellen rückgebunden. Eine umfassende und einleuchtende Darstellung, die alle grundlegenden Aspekte des Staufertums für Studenten wie Laien erklärt.