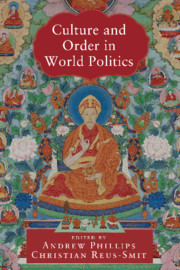 Culture and Order in World Politics
Diversity and its Discontents
Publisher:
Cambridge University Press
Date of Publication:
9 January 2020
---
Publisher's listprice:
GBP 26.99
Estimated price in HUF:
12 214
HUF (11 632
HUF
+ 5% VAT)
Why estimated?
---
10 992 (10 469 HUF + 5% VAT )
discount is: 10% (approx 1 221 HUF off)
---
---
ISBN13:

9781108718936

ISBN10:
11087189311
Binding:
Paperback
No. of pages:

440

pages
Size:
230x153x25 mm
Weight:
600 g
Language:

English

Illustrations:
Provides a new framework for re-conceptualizing the historical and contemporary relationship between cultural diversity, political authority, and international order.
686
Category:
Short description:
Provides a new framework for reconceptualizing the historical and contemporary relationship between cultural diversity, political authority, and international order.
Long description:
Understanding how cultural diversity relates to international order is an urgent contemporary challenge. Building on ideas first advanced in Reus-Smit's On Cultural Diversity (2018), this groundbreaking book advances a new framework for understanding the nexus between culture and order in world politics. Through a pioneering interdisciplinary collaboration between leading historians, international lawyers, sociologists and international relations scholars, it argues that cultural diversity in social life is ubiquitous rather than exceptional, and demonstrates that the organization of cultural diversity has been inextricably tied to the constitution and legitimation of political authority in diverse international orders, from Warring States China, through early modern Europe and the Ottoman and Qing Empires, to today's global liberal order. It highlights the successive 'diversity regimes' that have been constructed to govern cultural difference since the nineteenth century, traces the exclusions and resistances these projects have engendered and considers contemporary global vulnerabilities and axes of contestation.

'The second volume of a trilogy, this brilliantly conceived and executed book draws on multiple disciplines (sociology, law, history, and political theory) to develop its central argument. Cultural diversity is patterned by diversity regimes (Ottoman, Chinese, Westphalian) and traceable in a large number of variegated domains (such as religion, gender, law, and global cultural heritage). The compelling results are a wake-up call for much IR scholarship. Culture nap time is over.' Peter J. Katzenstein, Walter S. Carpenter, Jr. Professor of International Studies, Cornell University, New York
Table of Contents:
Part I. Introduction: 1. Introduction Andrew Phillips and Christian Reus-Smit; 2. Culture and order in world politics Andrew Phillip and Christian Reus-Smit; Part II. Historical Orders: 3. The Ottomans and diversity Ayse Zarakol; 4. Qing and twentieth century Chinese diversity regimes James Millward; 5. Cultural diversity and coercive homogenization in Chinese history Victoria Tin-bor Hui; Part III. The Modern 'Liberal' Order: 6. Cultural diversity with global international society Andrew Hurrell; 7. Liberal internationalism and cultural diversity G. John Ikenberry; 8. When liberal states bite back: the micro-politics of culture Ellen Berrey; 9. Global institutional imaginaries Ann Swidler; Part IV. Constitution and Contestation: 10. Universal and European: cultural diversity in international law Arnulf Becker-Lorca; 11. The Jewish problem in international society Michael Barnett; 12. Recognizing diversity: establishing religious difference in Pakistan and Israel Maria Birnbaum; 13. Gender, nation, and the generation of cultural difference across 'the West' Ann Towns; 14. Governing culture 'credibly': contestation in the world heritage regime Elif Kalaycioglu; 15. Conclusion Andrew Phillips and Christian Reus-Smit; References; Index.