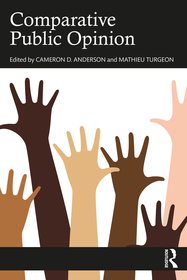 Comparative Public Opinion
Date of Publication:
22 July 2022
---
Publisher's listprice:
GBP 34.99
Estimated price in HUF:
16 055
HUF (15 290
HUF
+ 5% VAT)
Why estimated?
---
12 844 (12 232 HUF + 5% VAT )
discount is: 20% (approx 3 211 HUF off)
Discount is valid until: 31 December 2023
---
---
ISBN13:

9780367640606

ISBN10:
03676406011
Binding:
Paperback
No. of pages:

386

pages
Size:
246x174 mm
Weight:
1160 g
Language:

English

Illustrations:
87 Illustrations, black & white; 87 Line drawings, black & white; 27 Tables, black & white
654
Category:
Short description:
This book presents a comprehensive examination of public opinion in the democratic world.
Long description:
This book presents a comprehensive examination of public opinion in the democratic world.
Built around chapters that highlight key explanatory frameworks used in understanding public opinion, the book presents a coherent study of the subject in a comparative perspective, emphasizing and interrogating immigration as a key issue of high concern to most mass publics in the democratic world.
Key features of the book include:


Covers several theoretical issues and determinants of opinion such as the effects of personality, age and life cycle, ideology, social class, partisanship, gender, religion, ethnicity, language, and media, highlighting over time the effects of political, social, and economic contexts.


Each chapter explores the theoretical rationale, mechanisms of effect, and use in the scholarly literature on public opinion before applying these to the issue of immigration comparatively and in specific places or regions.


Widely comparative using a nine-country sample (Australia, Canada, France, Germany, Italy, Portugal, Switzerland, the United Kingdom, and the United States of America) in the analysis of individual-level determinants of public opinion about immigration and extending to other countries like Belgium, Brazil, and Japan when evaluating contextual factors.
This edited volume will be essential reading for students, scholars, and practitioners interested in public opinion, political behaviour, voting behaviour, politics of the media, immigration, political communication, and, more generally, democracy and comparative politics.
"Comparative Public Opinion provides a comprehensive and modern coverage of one of the major areas of political science research. It brings together leading authors in the field and takes a very broad and rigorous view of public opinion. The textbook provides a priceless insight into the field."
Ignacio Lago, Universitat Pompeu Fabra, Barcelona, Spain.
Table of Contents:
Part 1: Public opinion in a comparative perspective 1. Introduction 2. Defining and Measuring Public Opinion Part 2: The Individual
-Level Determinants of Public Opinion 3. Public Opinion about Immigration and Immigrants 4. Age and Public Opinion 5. Gender and Public Opinion 6. Immigration Status and Public Opinion 7. Class and Public Opinion 8. Religion and Public Opinion 9. Personality and Public Opinion 10. Ideology and Public Opinion 11. Partisanship and Public Opinion Part 3: The contextual
-level determinants of public opinion 12. Immigration and Public Opinion in Brazil: Taking Stock of New Waves of Migration and Polarization 13. The Inflow of Immigrants and Natives? Attitudes toward Immigration in Japan 14. The Impact of Labour Market Vulnerability: Explaining Attitudes toward Immigration in Europe 15. Linguistic Cleavages in Public Opinion 16. News Media Organizations and Public Opinion on Political Issues 17. Racial Attitudes and Opposition to Immigration 18. Conclusion