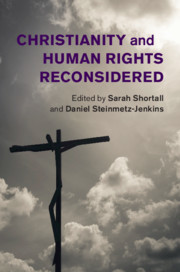 Christianity and Human Rights Reconsidered
Publisher:
Cambridge University Press
Date of Publication:
24 September 2020
---
Publisher's listprice:
GBP 79.99
Estimated price in HUF:
36 703
HUF (34 955
HUF
+ 5% VAT)
Why estimated?
---
33 032 (31 460 HUF + 5% VAT )
discount is: 10% (approx 3 670 HUF off)
---
---
ISBN13:

9781108424707

ISBN10:
1108424708
Binding:
Hardback
No. of pages:

300

pages
Size:
160x235x20 mm
Weight:
580 g
Language:

English

692
Category:
Short description:
Offers the first global examination of the historical relationship between Christianity and human rights in the twentieth century.
Long description:
This is the first global examination of the historical relationship between Christianity and human rights in the twentieth century. Leading historians, anthropologists, political theorists, legal scholars, and scholars of religion develop fresh approaches to issues such as human dignity, personalism, religious freedom, the role of ecumenical and transatlantic networks, and the relationship between Christian and liberal rights theories. In doing so they move well beyond the temporal and geographical limits of the existing scholarship, exploring the connection between Christianity and human rights, not only in Europe and the United States, but also in Africa, Latin America, and China. They offer alternative chronologies and bring to light overlooked aspects of this history, including the role of race, gender, decolonization, and interreligious dialogue. Above all, these essays foreground the complicated relationship between global rights discourses - whether Christian, liberal, or otherwise - and the local contexts in which they are developed and implemented.

'This wisely edited volume brings together the latest work of a remarkable cohort of young scholars based throughout the globe who are rewriting the histories of both human rights and Christianity in the twentieth century. Catholic and Protestant engagements with human rights are shown to be even more different than widely supposed.' David Hollinger, University of California, Berkeley
Table of Contents:
Preface Samuel Moyn; Introduction Sarah Shortall and Daniel Steinmetz
-Jenkins; Part I. General reflections: 1. The last christian settlement: a defense and critique, in debate with Samuel Moyn and John Milbank; 2. The alpine climb between Paris and Rome Julian Bourg; Part II. European catholicism and human rights: 3. Explaining the catholic turn to rights in the 1930s James Chappel; 4. Catholic social doctrine and human rights: from rejection to endorsement? Carlo Invernizzi Accetti; 5. Radical orthodoxy and the rebirth of christian opposition to human rights Udi Greenberg; 6. The biopolitics of dignity Camille Robcis; Part III. American protestant trajectories: 7. William ernest hocking and the liberal protestant origins of human rights Gene Zubovich; 8. Inside the cauldron: rawls and the stirrings of personalism at wartime princeton P. MacKenzie Bok; 9. The dignity of Paul Robeson Vincent Lloyd; Part IV. Beyond Europe and North America: 10. On chinese rites and rights Albert Wu; 11. 'Expert in humanity': an African vision for the catholic church Elizabeth Foster; 12. Neoliberalism, human rights, and the theology of liberation in Latin America David Lantigua; 13. Two Sudans, human rights, and the afterlives of St. Josephine Bakhita Christopher Tounsel; Index.