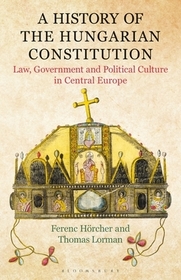 A History of the Hungarian Constitution
Law, Government and Political Culture in Central Europe
Publisher:
Bloomsbury Academic
Date of Publication:
25 June 2020
Number of Volumes: Paperback
---
Publisher's listprice:
GBP 31.99
Estimated price in HUF:
14 678
HUF (13 979
HUF
+ 5% VAT)
Why estimated?
---
11 742 (11 183 HUF + 5% VAT )
discount is: 20% (approx 2 936 HUF off)
Discount is valid until: 30 June 2023
---
---
ISBN13:

9781350170186

ISBN10:
1350170186
Binding:
Paperback
No. of pages:

384

pages
Size:
216x135 mm
Weight:
449 g
Language:

English

Illustrations:
2 bw illus
2407
Category:
Long description:
The new Hungarian Basic Law, which was ratified on 1 January 2012, provoked domestic and international controversy. Of particular concern was the constitutional text's explicit claim that it was situated within a reinvigorated Hungarian legal tradition that had allegedly developed over centuries before its violent interruption during World War II by German invaders, and later, by Soviet occupation.

To explore the context and validity of this claim, and the legal traditions which have informed the stormy centuries of Hungary's constitutional development, this book brings together a group of leading historians, political scientists and legal scholars to produce a comprehensive history of Hungarian constitutional thought. Ranging in scope from an overview of Hungarian medieval jurisprudence to an assessment of the various criticisms levelled at the new Hungarian Basic Law of 2012, contributors assess the constitutions, their impacts and their legacies, as well as the social and cultural contexts within which they were drafted. The historical analysis is accompanied by a selection of original source materials, many translated here for the first time. This is the only book in English on the subject and is essential reading for all those interested in Hungary's history, political culture and constitution.
Table of Contents:
List of Illustrations
List of Contributors
1. Introduction, Philip Barker and Thomas Lorman
2. Law and the Ancient Constitution in Medieval and Early Modern Hungary, Martyn Rady
3. The Birth of the Constitution in Eighteenth-Century Hungarian Political Thought, István M. Szijártó
4. Resurrecting the Past, Reshaping the Future: The Rise of the 'Ancient Constitution' at the Diet of 1790/1, Philip Barker
5. Reforming or Replacing the Historical Constitution: Lajos Kossuth and the April Laws of 1848, Ferenc Hörcher
6. Reform Fever and Disillusionment: Constitutional Codification Fiascos of the Hungarian Liberals after the Settlement of 1867, András Cieger
7. The Use and Abuse of Flexibility: Hungary's Historical Constitution, 1867-1919, Thomas Lorman
8. Law I of 1920 and the Historical Constitution, István Szabó
9. Law I of 1946 and Law XX of 1949: Continuity or Discontinuity in Traditional Hungarian Constitutionalism? Balázs Fekete
10. Is a Revival Possible?: Theoretical Reflections on the Historical Constitution, Kálmán Pócza
11. Epilogue: On the Future(s) of the Historical Constitution, Ferenc Hörcher and Kálmán Pócza
Appendix I: Primary Sources on Hungarian Constitutional History: The Golden Bull of 1222
Appendix II: The Rákos Declaration (1505)
Appendix III: Extracts from Stephen Werboczy's Tripartitum (1517)
Appendix IV: The Laws of 1687
Appendix V: The Laws of 1790/1
Appendix VI: Robert Townson's Translation of Law XXVI of 1790/1
Appendix VII: The 'April Laws' of 1848
Appendix VIII: Law XII of 1867
Appendix IX: The Declaration of the First Hungarian Republic (November 1918)
Appendix X: The Preamble to the Constitution of the Hungarian Socialist Federal Republic of Councils (1919)
Appendix XI: The Preamble to Law I of 1920
Appendix XII: The Preamble to Law I of 1946: On the form of Government of Hungary
Appendix XIII: The Constitution of the Hungarian People's Republic (1949): Constitution of the Hungarian People's Republic
Appendix XIV: The Fundamental Law of Hungary: God bless the Hungarians
Bibliography
Index