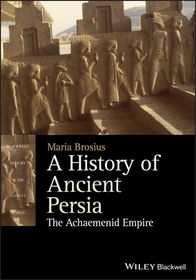 A History of Ancient Persia ? The Achaemenid Empire
Publisher:
John Wiley & Sons
Date of Publication:
30 November 2020
---
Publisher's listprice:
GBP 41.00
Estimated price in HUF:
18 812
HUF (17 917
HUF
+ 5% VAT)
Why estimated?
---
16 932 (16 125 HUF + 5% VAT )
discount is: 10% (approx 1 881 HUF off)
---
---
ISBN13:

9781444350920

ISBN10:
1444350927
Binding:
Paperback
No. of pages:

288

pages
Size:
254x178x16 mm
Weight:
537 g
Language:

English

698
Category:
Long description:
An innovative approach to the history of the First Persian Empire, offering an accessible historical narrative for students and general readers alike

A History of the Achaemenid Empire considers archaeological and written sources to provide an expansive, source-based introduction to the diverse and culturally rich world of ancient Achaemenid Persia. Assuming no prior background, this accessible textbook follows the dynastic line from the establishment and expansion of the empire under the early Achaemenid kings to its collapse in 330 BCE. The text integrates the latest research, key primary sources, and archaeological data to offer readers deep insights into the empire, its kings, and its people.

Chronologically organized chapters contain written, archaeological, and visual sources that highlight key learning points, stimulate discussion, and encourage readers to evaluate specific pieces of evidence. Throughout the text, author Maria Brosius emphasizes the necessity to critically assess Greek sources--highlighting how their narrative of Achaemenid political history often depicted stereotypical images of the Persians rather than historical reality. Topics include the establishment of empire under Cyrus the Great, Greek-Persian relations, the creation of a Persian ruling class, the bureaucracy and operation of the empire, Persian diplomacy and foreign policy, and the reign of Darius III. This innovative textbook:
* Offers a unique approach to Achaemenid history, considering both archaeological and literary sources
* Places primary Persian and Near Eastern sources in their cultural, political, and historical context
* Examines material rarely covered in non-specialist texts, such as royal inscriptions, Aramaic documents, and recent archaeological finds
* Features a comprehensive introduction to Achaemenid geography, Greek historiography, and modern scholarship on the Persian War

Part of the acclaimed Blackwell History of the Ancient World series, A History of the Achaemenid Empire is a perfect primary textbook for courses in Ancient History, Near Eastern Studies, and Classical Civilizations, as well as an invaluable resource for general readers with interest in the history of empires, particularly the first Persian empire or Iranian civilization.