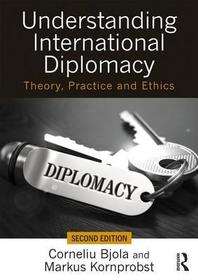 Understanding International Diplomacy
Theory, Practice and Ethics
Edition number:
2, New edition
Date of Publication:
28 February 2018
---
Publisher's listprice:
GBP 39.99
Estimated price in HUF:
18 349
HUF (17 475
HUF
+ 5% VAT)
Why estimated?
---
14 679 (13 980 HUF + 5% VAT )
discount is: 20% (approx 3 670 HUF off)
Discount is valid until: 31 December 2023
---
---
ISBN13:

9781138717343

ISBN10:
1138717347
Binding:
Paperback
No. of pages:

304

pages
Size:
246x174 mm
Weight:
520 g
Language:

English

Illustrations:
2 Line drawings, black & white; 5 Tables, black & white
1074
Category:
Short description:
This book provides a comprehensive new introduction to the study of international diplomacy, covering both theory and practice. The second edition has been updated and revised throughout.
Long description:
This book provides a comprehensive introduction to the study of international diplomacy, covering both theory and practice. This second edition has been revised and updated, with new material on such key contemporary issues as Syria, Ukraine, migration and the South China Sea.
The text summarizes and discusses the major trends in the field of diplomacy, providing an innovative theoretical approach to understanding diplomacy not as a collection of practices or a set of historical traditions, but as a form of institutionalized communication through which authorized representatives produce, manage and distribute public goods. The book:


Traces the evolution of diplomacy from its beginnings in ancient Egypt, Greece and China to our current age of global diplomacy.


Examines theoretical explanations about how diplomats take decisions, make relations and shape the world.


Discusses normative approaches to how diplomacy ought to adapt itself to the twenty-first century, help re-make states and assist the peaceful evolution of international order.
In sum, Understanding International Diplomacy provides an up-to-date, accessible and authoritative overview of how diplomacy works and, indeed, ought to work in a globalized world.
This textbook will be essential reading for students of international diplomacy, and is highly recommended for students of crisis negotiation, international organizations, foreign policy and IR in general.
Praise for the Second Edition:
?Writing with clarity, authority and insight Bjola and Kornprobst deliver the essential introduction to the study and practice of diplomacy. The welcome second edition includes new scholarship and tackles the emerging issues that are defining our time including migration and the crises in Syria and Ukraine. No less significantly, the volume also considers new techniques of diplomacy from social media to the emergence of cities as foreign policy actors. This book is an invaluable guide to a vital field.?-- Nicholas J. Cull, Professor of Public Diplomacy, University of Southern California.
'In many ways superior to the original, the revised edition updates the evolution and transformation of diplomacy, more balanced in theory and practice, wide in scope and succinct in narration, a rich menu for both students and practitioners of diplomacy.' -- Zhang Qingmin, Professor and Chair, Department of Diplomacy Peking University
'Adopting a broad understanding of diplomacy and taking us on an exciting tour ? from foreign policy implementation to ethics, from bilateral engagements to plurilateral and paradiplomatic ones, from traditional channels to new forms of diplomatic communication ??Understanding International Diplomacy?is a welcome and valuable addition to the expanding field of diplomatic studies. It provides an excellent introduction and essential textbook for both the reflexive practitioner and the intellectually curious student of diplomacy.'--Costas M. Constantinou, Professor of International Relations, University of Cyprus
Praise for the First Edition:
'An invaluable volume for all those studying the critical endeavour of diplomacy in today's changing world.'--Javier Solana, former NATO Secretary General, ex-European Union High Representative for Common Foreign and Security Policy
'In this fascinating book, Bjola and Kornprobst offer a fresh perspective on the study of diplomacy as a form of institutionalized communication. Drawing insight from multiple disciplines, it presents a sophisticated overview of both the history and contemporary practice of diplomacy. The cases studies add texture to a theory-driven account of what remains a critically important dimension of international life.' -- Ian Johnstone, Fletcher School of Law and Diplomacy, Tufts University, USA
'Understanding International Diplomacy: Theory, Practice and Ethics deserves a prominent place on the bookshelf of every serious student of diplomacy. Corneliu Bjola and Markus Kornprobst have produced a study that is simultaneously sophisticated and accessible. Their conception of diplomacy as institutionalised communication captures its similarities to, but also its differences from, other forms of transnational dialogue, and allows them to explore changes in the character of diplomacy in the contemporary world in a richly-textured fashion. Scholars and practitioners alike will draw on the authors' insights for years to come.' -- William Maley, Director, Asia-Pacific College of Diplomacy, The Australian National University
'Bjola and Kornprobst have done the academic and diplomatic communities the great service of producing a clear text which deals not only with what diplomacy and diplomats do, but with how they contribute to making the international world as it is and as it ought to be.' -- Paul Sharp, University of Minnesota, USA
'All those concerned with the study or teaching of diplomacy and foreign policy will want to consult this excellent book, which comprehensively discusses the most relevant and topical aspects of the subject; a precious teaching tool as well as a valuable handbook.'-- Basil Germond, Lancaster University, UK
'Understanding International Diplomacy: Theory, Practice and Ethics fills in gap in the study of diplomacy and will be a useful addition for those interested in the conduct of international relations.' -- Nabil Ayad, Director, London Academy of Diplomacy, University of East Anglia, UK
Table of Contents:
PART I: Introduction
1. Why and how to study diplomacy
PART II: TRACING DIPLOMACY
2. Historical evolution
3. Woodrow Wilson and the new diplomacy after World War I
4. Multiplicities of global diplomacy
PART III: MAPPING THE DIPLOMATIC FIELD
5. Contexts of global diplomacy
6. Tasks of global diplomacy
PART IV: EXPLAINING DIPLOMACY
7. The making of decisions
8. The making of relations
9. The making of the world
Part IV: DISCUSSING NORMATIVE APPROACHES
10. Re
-making the diplomat
11. Re
-making domestic institutions
12. The peaceful re
-making of the world
PART V: Conclusion
13. Quo Vadis diplomacy?