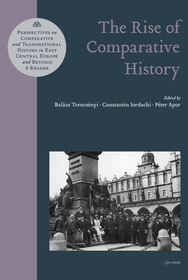 The Rise of Comparative History
Edition number and title: 1
Publisher:
Central European University Press
Date of Publication:
30 May 2021
---
Publisher's listprice:
GBP 125.00
Estimated price in HUF:
57 356
HUF (54 625
HUF
+ 5% VAT)
Why estimated?
---
52 768 (50 255 HUF + 5% VAT )
discount is: 8% (approx 4 588 HUF off)
---
---
ISBN13:

9789633863619

ISBN10:
9633863619
Binding:
Hardback
No. of pages:

418

pages
Size:
234x158 mm
Weight:
731 g
Language:

English

789
Category:
Long description:
This book?the first of a three-volume overview of comparative and transnational historiography in Europe?focuses on the complex engagement of various comparative methodological approaches with different transnational and supranational frameworks. It considers scales from universal history to meso-regional (i.e. Balkans, Central Europe, etc.) perspectives. In the form of a reader, it displays 18 historical studies written between 1900 and 1943. The collection starts with the French and German methodological discussions around the turn of the twentieth century, stemming from the effort to integrate history with other emerging social sciences on a comparative methodological basis. The volume then turns to the question of structural and institutional comparisons, revisiting various historiographical ventures that tried to sketch out a broader (regional or European-level) interpretative framework to assess the legal systems, patterns of agrarian production, and the common ethnographic and sociocultural features. 
In the third part, a number of texts are presented, which put forward a supra-national research framework as an antidote to national exclusivism. While in Western Europe the most obvious such framework was pan-European, in East Central Europe the agenda of comparison was linked usually to a meso-regional framework.
The studies are accompanied by short contextual introductions including biographical information on the respective authors.
"This book contains key texts on the comparative approaches to the history of East Central Europe. Transcending the national paradigm and highlighting cross-border entanglements, the 'Rise of Comparative History' is indispensable for all students of European history."?Arnd Bauerkämper
"Because of its manifold internal and external entanglements, the comparative history of East Central Europe presents a particularly fiendish challenge for historians. The strong analytical and methodological bent of this volume will make it an insightful read not only for specialists of this region, but for all those interested in exploring the benefits and pitfalls of comparative history."?Stefan Berger
"This volume's introduction is a masterful history of comparative history that should be required reading on the subject. Selected readings are in three sections. The first introduces the reader to the canonical West European scholars and works before and after the First World War. The other two introduce their East Central European contemporaries. Focusing on their divided region, their discipline paid greater attention to comparative history. Their debates on institutional structure reveal a growing distinction between Eastern and Western Europe replacing the earlier North-South division. Then we see interwar scholars already searching for a transnational framework to overcome the divisive national narratives stirred again by the wars of Yugoslavia's dissolution."?John R. Lampe
Table of Contents:
Introduction
Balázs Trencsényi, Constantin Iordachi, Péter Apor
Comparisons, Transfers, Entanglements: A View from East Central Europe

Part 1. Defining the Comparative Method
Kurt Breysig: Cultural History of the Modern Era
Louis Davillé: Comparison and the Comparative Method, Particularly in Historical Studies
Henri Pirenne: On the Comparative Method in History
Henri Sée: Historical Science and Philosophy of History
Marc Bloch: A Contribution Towards a Comparative History of European Societies

Part 2. Structures and Institutions
Otto Hintze: The Preconditions of Representative Government in the Context of World History
Jovan Cvijić: The Balkan Peninsula
Nicolae Iorga: The Common Character of Southeast European Institutions
Jan Rutkowski: The Genesis of the Corvée System in Central Europe since the End of the Middle Ages
Gheorghe I. Brătianu: Serfdom of the Glebe and Fiscal Regime: A Romanian, Slavic, and Byzantine Comparative Historical Essay
István Hajnal: On the Working Group of the Historiography of Small Nations

Part 3. Beyond the National Grand Narratives
Marceli Handelsman: The Development of Nationalities in Central
-Eastern Europe
Oskar Halecki: What Is Eastern Europe?
Charles Seignobos: An Attempt at a Comparative History of the Peoples of Europe
Milan Budimir and Petar Skok: Aim and Significance of Balkan Studies
David Mitrany: The Effect of the War in Southeastern Europe
Victor Papacostea: The Balkan Peninsula and the Problem of Comparative Studies
Fritz Valjavec: Southeast Europe and the Balkans

About the Editors
Index