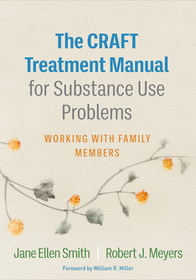 The CRAFT Treatment Manual for Substance Use Problems
Working with Family Members
Publisher:
Guilford Press
Date of Publication:
20 February 2023
---
Publisher's listprice:
GBP 30.99
Estimated price in HUF:
14 219
HUF (13 542
HUF
+ 5% VAT)
Why estimated?
---
11 375 (10 834 HUF + 5% VAT )
discount is: 20% (approx 2 844 HUF off)
Discount is valid until: 31 December 2023
---
---
ISBN13:

9781462551101

ISBN10:
1462551106
Binding:
Paperback
No. of pages:

276

pages
Size:
254x178 mm
Weight:
540 g
Language:

English

732
Category:
Short description:
Packed with practical tools, this authoritative manual offers a complete guide to implementing the evidence-based Community Reinforcement and Family Training (CRAFT) program. The authors have spent decades developing and refining their approach for helping concerned significant others (CSOs) of treatment-refusing individuals with substance use problems. Structured yet flexible, CRAFT teaches loved ones to change their behavior with the identified patient to encourage treatment entry and enhance their own well-being. The volume features step-by-step implementation guidelines, case examples, sample dialogues, troubleshooting tips, and reproducible/downloadable forms, handouts, and checklists.

Long description:
Packed with practical tools, this authoritative manual offers a complete guide to implementing the evidence-based Community Reinforcement and Family Training (CRAFT) program. Jane Ellen Smith and Robert J. Meyers have spent decades developing and refining their approach for helping concerned significant others (CSOs) of treatment-refusing individuals with substance use problems. Structured yet flexible, CRAFT teaches loved ones to change their behavior with the identified patient to encourage treatment entry and enhance their own well-being. The volume features step-by-step implementation guidelines, case examples, sample dialogues, troubleshooting tips, and 28 reproducible forms and handouts that can be downloaded and printed in a convenient 8 1/2" x 11" size.


"CRAFT is menu-driven but flexible and client centered. It offers a tailored approach to reducing the stress and self-blame of CSOs and helping them communicate and interact more effectively with their loved one. Smith and Meyers provide a host of tools and strategies, as well as realistic therapist-client dialogues that highlight key concepts. This manual will be very useful for any practitioner who works with family and friends of individuals experiencing substance use disorders. It provides a complete picture of the science and practice of this well-established, innovative approach. Trainers and educators of practitioners could use the manual and the rich clinical examples to help students understand CSOs&&&39; concerns and conflicts. "--Carlo C. DiClemente, PhD, ABPP, Department of Psychology (Emeritus), University of Maryland, Baltimore County

"In this era of tragic overdose deaths, families need more than knowledge and boundaries. They need skills to help their loved one seek treatment, to reduce the loved one's substance use, and to improve their own quality of life. Smith and Meyers harness decades of research in a practical and easy-to-apply format, designed to uplift concerned families everywhere to become a part of the solution."--Joseph Lee, MD, President and CEO, Hazelden Betty Ford Foundation

"A crucial addition to the addiction treatment toolkit. CRAFT provides evidence-based skills for CSOs to cope with their loved one's substance use and to help the loved one initiate treatment. All of the tools needed for implementing the approach are embedded in this manual. The sample dialogues in every chapter are unusually helpful; they are informative and easy to absorb, and contain masterful clinician material. The reproducible informational handouts, worksheets, and therapy fidelity checklists also will be very useful for everyone from clinicians-in-training to seasoned therapists."--Elizabeth Epstein, PhD, Department of Psychiatry, University of Massachusetts Chan Medical School

"What you have in this volume from Bob Meyers and Jane Ellen Smith is seasoned professional advice from the very psychologists who have grown and tested the CRAFT approach, based on their decades of clinical experience and research. CRAFT has been successfully delivered in individual, group, and even self-directed formats. The procedures are specific and learnable, offering hope and change for distressed families who are wondering what to do. It is also very rewarding work, with some of the most motivated clients you will ever see--the CSOs themselves. We who go into helping professions hope that we can contribute to the alleviation of suffering in the world, and here is a very practical and effective way to do it."--from the Foreword by William R. Miller, PhD, Emeritus Distinguished Professor of Psychology and Psychiatry, The University of New Mexico-
Table of Contents:
Foreword, William R. Miller
1. What Is CRAFT?
2. Informing and Motivating the Concerned Significant Other
3. Functional Analysis of a Loved One's Drinking or Using Behavior
4. Improving Concerned Significant Others' Communication Skills
5. Rewarding Non
-Using Behavior
6. Functional Analysis of a Loved One's Fun, Healthy Behavior
7. Withdrawing Rewards for Using Behavior
8. Allowing for Natural, Negative Consequences of Use
9. Problem Solving
10. Helping Concerned Significant Others Enrich Their Own Lives
11. Inviting the Identified Patient to Enter Treatment
12. Using the Community Reinforcement Approach with the Identified Patient
13. Scientific Support for CRAFT
References
Index