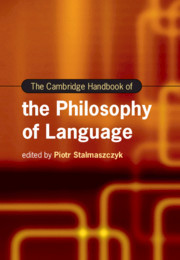 The Cambridge Handbook of the Philosophy of Language
Publisher:
Cambridge University Press
Date of Publication:
2 December 2021
---
Publisher's listprice:
GBP 125.00
Estimated price in HUF:
57 356
HUF (54 625
HUF
+ 5% VAT)
Why estimated?
---
51 621 (49 163 HUF + 5% VAT )
discount is: 10% (approx 5 736 HUF off)
---
---
ISBN13:

9781108492386

ISBN10:
110849238X
Binding:
Hardback
No. of pages:

828

pages
Size:
250x176x51 mm
Weight:
1570 g
Language:

English

845
Category:
Short description:
A comprehensive guide to contemporary investigations into the relationship between language, philosophy, and linguistics.
Long description:
The philosophy of language is central to the concerns of those working across semantics, pragmatics and cognition, as well as the philosophy of mind and ideas. Bringing together an international team of leading scholars, this handbook provides a comprehensive guide to contemporary investigations into the relationship between language, philosophy, and linguistics. Chapters are grouped into thematic areas and cover a wide range of topics, from key philosophical notions, such as meaning, truth, reference, names and propositions, to characteristics of the most recent research in the field, including logicality of language, vagueness in natural language, value judgments, slurs, deception, proximization in discourse, argumentation theory and linguistic relativity. It also includes chapters that explore selected linguistic theories and their philosophical implications, providing a much-needed interdisciplinary perspective. Showcasing the cutting-edge in research in the field, this book is essential reading for philosophers interested in language and linguistics, and linguists interested in philosophical analyses.
Table of Contents:
1. Philosophy of Language: Definitions, Disciplines and Approaches Piotr Stalmaszczyk; Part I. The Past, Present, and Future of Philosophy of Language: 2. The History of the Philosophy of Language Before Frege Michael Losonsky; 3. How the Philosophy of Language Grew out of Analytic Philosophy Daniel W. Harris; 4. Philosophy of Language for the Twenty
-First Century Scott Soames; Part II. Some Foundational Issues: 5. Philosophy of Language, Ontology and Logic Chris Fox; 6. Frege's Legacy in the Philosophy of Language and Mind Eros Corazza; 7. Metasemantics and Metapragmatics: Philosophical Foundations of Meaning Kasia M. Jaszczolt; 8. Internalist Perspectives on Language John Collins; 9. Semantic Content and Utterance Context: A Spectrum of Approaches Emma Borg and Sarah A. Fisher; 10. Semantic Minimalism and Contextualism in Light of the Logicality of Language Guillermo Del Pinal; Part III. From Truth to Vagueness: 11. Truth and Theories of Truth Panu Raatikainen; 12. Reference and Theories of Reference Genoveva Mart&&&237;; 13. Names in Philosophy Andr&&&233; Bazzoni; 14. Indexicals and Contextual Involvement Katarzyna Kijania
-Placek; 15. Natural Kind Terms Luis Fern&&&225;ndez Moreno; 16. Vagueness in Natural Language Joanna Odrow&&&261;&&&380;
-Sypniewska; Part IV. Issues in Semantics and Pragmatics: 17. Entailment, Presupposition, Implicature Roberta Colonna Dahlman; 18. Speech Acts, Actions, and Events Brian Ball; 19. Propositions, Predication, and Assertion Peter Hanks; 20. Events in Semantics Alexander Williams; 21. Semantics and Generative Grammar Jaros&&&322;aw Jakielaszek; 22. Metasemantics: A Normative Perspective (and the Case of Mood) Manuel Garc&&&237;a
-Carpintero; 23. The Normativity of Meaning and Content Alexander Miller; 24. The Semantics and Pragmatics of Value Judgments Andr&&&233;s Soria Ruiz, Bianca Cepollaro and Isidora Stojanovic; 25. Slurs: Semantic and Pragmatic Theories of Meaning Leopold Hess; Part V. Philosophical Implications and Linguistic Theories: 26. Philosophical Implications of Generative Grammar Peter Ludlow; 27. Conceptual Semantics and its Implications for Philosophy of Language Ray Jackendoff; 28. Relevance Theory and the Philosophy of Language Robyn Carston; 29. Mental Files Fran&&&231;ois Recanati; 30. Contemporary Discourse Studies and Philosophy of Language Piotr Cap; Part VI. Some Extensions: 31. The Philosophy of Argument Jean H. M. Wagemans; 32. Negation and Denial Stephen Mumford; 33. Deception: Lying and Beyond Marta Dynel; 34. Types and Definitions of Irony Eleni Kapogianni; 35. Philosophy of Language and Metaphor Esther Romero and Bel&&&233;n Soria; 36. Analytic Philosophy of Literature Jukka Mikkonen; 37. The Many Facets of Linguistic Relativity Antonio Blanco Salgueiro.