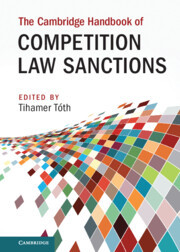 The Cambridge Handbook of Competition Law Sanctions
Publisher:
Cambridge University Press
Date of Publication:
23 June 2022
---
Publisher's listprice:
GBP 190.00
Estimated price in HUF:
87 181
HUF (83 030
HUF
+ 5% VAT)
Why estimated?
---
78 463 (74 727 HUF + 5% VAT )
discount is: 10% (approx 8 718 HUF off)
---
---
ISBN13:

9781108831710

ISBN10:
11088317111
Binding:
Hardback
No. of pages:

400

pages
Size:
263x185x43 mm
Weight:
1600 g
Language:

English

956
Category:
Short description:
A unique comparison of the theory and practice of corporate and individual sanctions applied in competition law across five continents.
Long description:
This handbook brings together an international roster of competition law scholars and practitioners to address the issue of sanctions in competition law from all angles. Covering nineteen jurisdictions around the world, the book analyzes the theoretical foundations and practice of sanctioning competition law infringements and, most importantly, cartels. Contributors include a range of experts drawing on criminal law, company law, labor law, human rights, and law and economics, to determine what sanctions are available as a matter of positive law against corporations and individuals, including fines and other criminal, administrative, and civil law sanctions; whether law enforcers are using these sanctions effectively; and if new sanctions - including individual sanctions - should be introduced.

'A sophisticated look at one of the most important issues in competition law.' Spencer Weber Waller, John Paul Stevens Chair in Competition Law, Loyola University of Chicago School of Law
Table of Contents:
1. The quest for creating an effective set of competition law sanctions: converging goals with a divergent tools Tihamer Toth; 2. The role of fines in the toolkit of competition agencies Andr&&&225;s T&&&243;th; 3. Sanctions on legal persons
-an economic analysis &&&193;kos Szalai; 4. The effectiveness of European antitrust fines Cento Veljanovski; 5. Corporate governance and competition law sanctions D&&&225;vid S&&&243;bor; 6. Antitrust criminalization as a legitimate deterrent Peter Whelan; 7. Criminalization of anti
-competitive conducts: a real deterrence or a 'Paper Tiger' in practice? &&&193;d&&&225;m B&&&233;k&&&233;s; 8. Consensus based sanctions and commitments Darren Bush; 9. Effectiveness of commitment decisions
- a review of selected practice by the European Commission Surd Kov&&&225;ts; 10. Compliance policies and sanctions
- the US, EU and UK perspectives Peter S&&&252;k&&&246;sd; 11. The role of administrative courts in the effective enforcement of competition law sanctions Andr&&&225;s Kov&&&225;cs; 12. Civil sanctions in antitrust public enforcement Max Huffman; 13. What role for private enforcement in EU competition law? A religion in quest of founder Csongor I. Nagy; 14. The insights of labor law: how can we prevent infringements by rouge employees? Tam&&&225;s Gyulav&&&225;ri; 15. Human rights jurisprudence and the effectiveness of competition law sanction P&&&225;l Szil&&&225;gyi; 16. Catholic teaching on just punishment, especially in connection with financial matters Peter Artner; 17. Austria Arno Scharf; 18. Belgium Juliana Oliveira Domingues and Eduardo M. Gaban; 19. China Wang Xianlin and Fang Xiang; 20. EU Viktor Bottka; 21. Germany Carsten K&&&246;nig and Fernanda Luisa Bremenkamp; 22. Hungary Andr&&&225;s P&&&252;nk&&&246;sty; 23. Indonesia and ASEAN countries Sih Yuliana Wahyuningtyas; 24. Italy Michele Carpagnano; 25. Japan Tadashi Shiarishi; 26. Kenya and East
-Africa Vellah Kedogo Kigwiru; 27. Netherlands Johan van de Gronden and Marc Veenbrink; 28. Poland &&&321;ukasz Grzejdziak; 29. Portugal Nuno Castro Marques; 30. Spain Jer&&&243;nimo Maillo Gonz&&&225;lez; 31. Sweden Helene Andersson; 32. Turkey Cem Kerem; 33. UK Andreas Stephan.