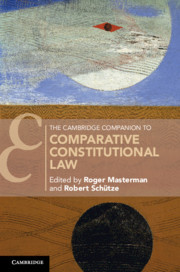 The Cambridge Companion to Comparative Constitutional Law
Publisher:
Cambridge University Press
Date of Publication:
3 October 2019
---
Publisher's listprice:
GBP 31.99
Estimated price in HUF:
14 678
HUF (13 979
HUF
+ 5% VAT)
Why estimated?
---
13 210 (12 581 HUF + 5% VAT )
discount is: 10% (approx 1 468 HUF off)
---
---
ISBN13:

9781316618172

ISBN10:
131661817X
Binding:
Paperback
No. of pages:

646

pages
Size:
228x153x35 mm
Weight:
930 g
Language:

English

Illustrations:
1 b/w illus. 4 tables
1368
Category:
Short description:
Provides a succinct yet wide-ranging companion to a modern comparative constitutional law course.
Long description:
What is the purpose of comparative constitutional law? Comparing constitutions allows us to consider the similarities and differences in forms of government, and the normative philosophies behind constitutional choices. Constitutional comparisons offer 'hermeneutic' help: they enable us to see 'our' own constitution with different eyes and to locate its structural and normative choices by references to alternatives evident in other constitutional orders. This Cambridge Companion presents readers with a succinct yet wide-ranging companion to a modern comparative constitutional law course, offering a wide-ranging yet concise introduction to the subject. Its twenty-two chapters are arranged into five thematic parts: starting with an exploration of the 'theoretical foundations' (Part I) and some important 'historical experiences' (Part II), it moves on to a discussion of the core 'constitutional principles' (Part III) and 'state institutions' (Part IV); finally it analyses forms of 'transnational' constitutionalism (Part V) that have emerged in our 'global' times.

'This collection of analytic essays on topics ranging from institutions of governance to concepts central to constitutionalism provides a fine introduction to the state of the field.' Mark Tushnet, William Nelson Cromwell Professor of Law, Harvard University
Table of Contents:
Part I. Theoretical Foundations: 1. Comparative methodologies Ran Hirschl; 2. Constitutionalism(s) Robert Sch&&&252;tze; Part II. Historical Experiences: 3. The United Kingdom constitution Mark Elliott; 4. French constitutional law Denis Baranger; 5. US constitutional law Vicki C. Jackson; 6. The constitution of the Republic of India Anashri Pillay; 7. The constitution of China Qianfan Zhang; Part III. Constitutional Principles: 8. Democracy Paul Craig; 9. Separation of powers Christoph M&&&246;llers; 10. The rule of law Andr&&&225;s Saj&&&243;; 11. Human rights law Conor Gearty; 12. Federalism Raffaele Bifulco; Part IV. State Institutions: 13. Parliaments Nicola Lupo; 14. Governments Philipp Dann; 15. Administration Susan Rose
-Ackerman; 16. Courts with constitutional jurisdiction Cheryl Saunders; 17. Independent fiscal institutions Cal Viney and Thomas Poole; Part V. Transnational Constitutionalism: 18. Multi
-layered constitutions Roger Masterman; 19. International constitutionalism Jan Klabbers; 20. European constitutionalism Kaarlo Tuori; 21. A new Commonwealth constitutionalism? Claudia Geiringer; 22. Constitutional transplants G&&&225;bor Halmai.