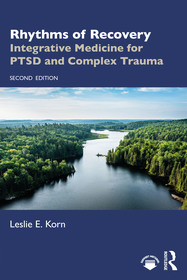 Rhythms of Recovery
Integrative Medicine for PTSD and Complex Trauma
Date of Publication:
12 June 2023
---
Publisher's listprice:
GBP 29.99
Estimated price in HUF:
13 760
HUF (13 105
HUF
+ 5% VAT)
Why estimated?
---
11 008 (10 484 HUF + 5% VAT )
discount is: 20% (approx 2 752 HUF off)
Discount is valid until: 31 December 2023
---
---
ISBN13:

9781032139104

ISBN10:
1032139102
Binding:
Paperback
No. of pages:

368

pages
Size:
229x152 mm
Weight:
494 g
Language:

English

Illustrations:
22 Illustrations, black & white; 15 Halftones, black & white; 7 Line drawings, black & white; 1 Tables, black & white
763
Category:
Short description:
Rhythm is one of the most important components of our survival and well-being. It governs our moods, sleep, respiration, and digestion, and is profoundly tied to our relationships with friends and family. But what happens when these rhythms are disrupted by traumatic events? How can balance be restored in ways that integrate the complex needs of mind, body, and spirit? What insights do eastern, natural, and modern western healing traditions have to offer, and how can practitioners put these lessons to use? Clients walk through the door with chronic physical and mental health problems as a result of complex traumatic events?how can clinicians make a quick and skillful connection with their clients? needs and offer integrative mind/body methods they can rely upon?
Rhythms of Recovery answers these questions and provides clinicians with effective, time-tested tools for alleviating the destabilizing effects of traumatic events. In the new edition, readers will find practical methods, illuminated by clinical vignettes, for integrating psychotherapies with somatics and bodywork, yoga, nutrition, herbs, psychedelic medicines, and more. The new edition also draws out the ways in which culture, social justice, and feminism intersect with the integrative medicine revolution in mental health. For mental health practitioners and students interested in integrating the art and science of complementary and integrative health, this deeply appealing book provides a comprehensive guide.
Long description:
1. The Rhythms of Life 2. Paradigms of Dis-ease and Diagnosis 3. Soma and Psyche 4. Dissociation 5. Integrative Assessment 6. Somatic Empathy: The Template of Touch 7. Transforming Trauma With Integrative Medicine 8. Culture, Ritual, and Resilience 9. Nutrition 10. Botanical Medicines 11. Detoxification 12. Spirit Molecules: Entheogens and Psychedelic Medicine
"This comprehensive guide is beautifully written and infused with wisdom, compassion, and spirit. Dr. Korn has mastered the balance of the science of healing with the hope of recovery. A true guide for both nourishing the brain and nurturing the mind."
James Greenblatt, MD, medical director, Psychiatry Redefined
"Rhythms of Recovery is a masterful manual for recovering from trauma. Dr. Korn is one of the few people I know who combines practical integrative tools with a deep understanding about the psychological complexity of trauma. She covers a comprehensive range of treatments that includes everything from diet and nutrition to herbs to psychedelics. I strongly recommend this book as part of the path to healing and true health."
Scott Shannon, MD, psychiatrist and principal investigator, MAPS "MDMA-Assisted Therapy for Treatment of Severe PTSD" study
"Dr. Leslie Korn provides us with a powerful and useful clinical guide for the treatment of persons suffering from traumatic experiences. Rhythms of Recovery is as comprehensive guide for clinicians and others seeking health information, one that integrates the art and science across diverse clinical disciplines. Dr. Korn?s book is an important reference work that details how to treat complex trauma by integrating nutritional, herbal, and other transformative strategies along with psychotherapies. Readers will be inspired by Dr. Korn?s case examples, exercises, and protocols."
Uma Naidoo, MD, nutritional psychiatrist, professional chef, and author, This Is Your Brain on Food
"Dr. Korn, a healer, feminist, and researcher, is a pioneer in the field of trauma therapy. Her profound perspectives are an important part of trauma treatment today. She brings to life the value of a multimodal approach to healing trauma and provides an in-depth explanation of the ways in which the rhythms of nature are part of understanding how to work with the traumatized person?s spirit, mind, and body. The trauma model of recovery proposed here assists each of us in learning to tune in and be perceptive."
Judith Pentz, MD, associate professor in psychiatry, University of New Mexico; author of Cleanse Your Body, Reveal Your Soul
" . . . A must read for ALL clinicians, not just those in the psychiatric or mental health specialties. Dr. Leslie Korn has a unique worldview of trauma. Her vast knowledge and experience across cultures intertwine with her clinical expertise in incorporating holistic modalities. This wisdom culminates in a comprehensive treatment plan for traumatic stress and complex trauma."
Mary Ann Osborne, DNP, FNP, integrative nurse practitioner
"In this phenomenal book, Leslie Korn explores ever-more important processes of self-regulation and offers insights of great practical and philosophical value. The multidisciplinary nature of this book is rooted in that rare combination of solid research, diverse clinical experience, and a profound understanding of the natural processes underpinning well-being. It performs a valuable service in dispelling outdated perceptions of mind-body separation and demonstrates the validity and necessity of integrative multimodal approaches to complex and chronic traumatic conditions."
Leon Chaitow, DO, founder of the Journal of Bodywork and Movement Therapies and Sasha Chaitow, PhD, series editor, The Leon Chaitow Library of Bodywork and Movement Therapies
"In Rhythms of Recovery, Leslie Korn draws on her experiences in the jungles of Mexico and work with indigenous healers, expertly weaving together storytelling, mythology, traditional wisdom, history, and the latest scientific research to convey a holistic view of the relationship between trauma and the body. Rhythms of Recovery is a must read for trauma therapists and anyone interested in a deeper understanding of trauma."
Marlene Seven Bremner, author of Hermetic Philosophy and Creative Alchemy: The Emerald Tablet, the Corpus Hermeticum, and the Journey Through the Seven Spheres
"We experience our world through the power of rhythm. The way our parents coo to us, our experience of day and night?these all calibrate our system. Leslie Korn does a tremendous job connecting the ways in which those outside factors create consistency and stability within our daily lives and affect how our nervous systems function. When challenging life events disrupt those rhythms, we need tools to recalibrate and realign those systems. This book provides these tools."
Andrew Pleener, MD, founder and director of
Table of Contents:
Leslie E. Korn, PhD, MPH, has worked for over 45 years in private practice and public health, integrating psychotherapy with somatic therapies and complementary and alternative medicine to treat traumatic stress, complex trauma, and chronic physical illness. She was a Fulbright scholar in traditional indigenous medicine and an NIH
-funded scientist in mind
-body medicine.