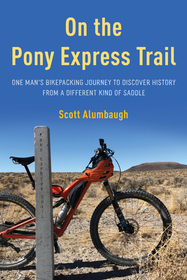 On the Pony Express Trail
One Man's Bikepacking Journey to Discover History from a Different Kind of Saddle
Date of Publication:
1 August 2023
---
Publisher's listprice:
GBP 18.99
---
8 016 (7 634 HUF + 5% VAT )
discount is: 8% (approx 697 HUF off)
---
---
ISBN13:

9781493068692

ISBN10:
1493068695
Binding:
Paperback
No. of pages:

314

pages
Size:
224x153x17 mm
Weight:
413 g
Language:

English

Illustrations:
7 Illustrations, unspecified; 15 Maps
692
Category:
Long description:
The Pony Express has a hold on the American imagination wildly out of proportion to its actual contribution to the history and development of the West. It lasted less than eighteen months?about the amount of time it took author Scott Alumbaugh to plan and ride the route?and utterly failed by every measure of success attributed to it. The only reason it did not fade out of public consciousness, as did the far more successful Butterfield mail, is publicity. In the Pony?s case, a thirty-year campaign of publicity mounted by Buffalo Bill Cody, who mislead the public by claiming to have been a Pony Express rider, and lied outright by claiming to have made the longest Pony Express run. More than anyone, Buffalo Bill kept the legend alive by including a Pony Express segment throughout the run of his Wild West show.
But while the Pony Express may be among the least significant developments of its era, it is the most iconic. One can?t really understand the Pony Express?what it stood for, what it accomplished, why it came about at all?without understanding the far more interesting historical milieu from which it grew: Three wars (Mexican, Utah, and Paiute); two gold rushes (California and Pike?s Peak); the overland emigration of hundreds of thousands to Oregon and California; the exodus of tens of thousands of Mormons to Utah.
On the Pony Express Trail: One Man's Bikepacking Journey to Discover History from a Different Kind of Saddle recounts the author?s experience bikepacking the Pony Express Trail over five weeks during June and July 2021, and uses the trail as a prism through which to survey a wide spectrum of mid-1800s historical events. Sixty-two-year-old Alumbaugh rode the Pony Express Bikepacking Route from St. Joseph, MO to Salt Lake City, UT, over 1,400 miles, mostly off-road, sometimes through very remote territory. The narrative follows his day-to-day experiences and impressions: the challenges, the sites he visited, the country he rode through, and interactions with the people he met.