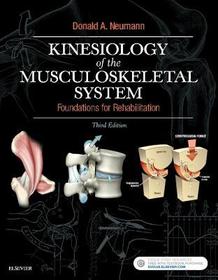 Kinesiology of the Musculoskeletal System
Foundations for Rehabilitation
Date of Publication:
14 November 2016
---
Publisher's listprice:
EUR 115.99
Estimated price in HUF:
47 619
HUF (45 352
HUF
+ 5% VAT)
Why estimated?
---
38 096 (36 282 HUF + 5% VAT )
discount is: 20% (approx 9 524 HUF off)
Discount is valid until: 31 December 2023
---
---
ISBN13:

9780323287531

ISBN10:
03232875311
Binding:
Hardback
No. of pages:

784

pages
Size:
281x222 mm
Weight:
2330 g
Language:

English

Illustrations:
920 illustrations (920 in full color)
390
Category:
Long description:
With its focus on the normal and abnormal mechanical interactions between the muscles and joints of the body, Kinesiology of the Musculoskeletal System: Foundations for Rehabilitation, 3rd Edition provides a foundation for the practice of physical rehabilitation. This comprehensive, research-based core text presents kinesiology as it relates to physical rehabilitation in a clinically relevant and accessible manner. It provides students and clinicians with the language of human movement - and acts as a bridge between basic science and clinical management. Full-color anatomic and kinesiologic illustrations clearly demonstrate the anatomy, functional movement, and biomechanical principles underlying movement; and dynamic new video clips help you interpret new concepts with visual demonstration.

Table of Contents:
Section I: Essential Topics of Kinesiology
1. Getting Started
2. Basic Structure and Function of Human Joints
3. Muscle: The Ultimate Force Generator in the Body
4. Biomechanical Principles
App I: Trigonometry Review and Additional Biomechanical Problems
Section II: Upper Extremity
5. Shoulder Complex
6. Elbow and Forearm
7. The Wrist
8. The Hand
App II: Reference Materials for Muscle Attachments and Innervation of the Upper Extremity
Section III: Axial Skeleton
9. Axial Skeleton: Osteology and Arthrology
10. Axial Skeleton: Muscle and Joint Interactions
11. Miscellaneous Topics in Kinesiology (tentative title
- will include mastication, ventilation, and pelvic floor)
App III: Reference Materials for Muscle Attachments and Innervation of the Axial Skeleton
Section IV: Lower Extremity
12. Hip
13. Knee
14. Ankle and Foot
15. Kinesiology of Walking
16. NEW! Kinesiology of Running
App IV: Reference Materials for Muscle Attachments and Innervation of the Lower Extremity