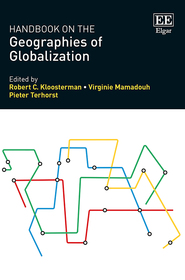 Handbook on the Geographies of Globalization
Date of Publication:
13 July 2020
---
Publisher's listprice:
GBP 49.95
Estimated price in HUF:
22 919
HUF (21 828
HUF
+ 5% VAT)
Why estimated?
---
18 336 (17 462 HUF + 5% VAT )
discount is: 20% (approx 4 584 HUF off)
Discount is valid until: 31 December 2023
---
---
ISBN13:

9781800372399

ISBN10:
1800372396
Binding:
Paperback
No. of pages:

480

pages
Size:
244x169x26 mm
Weight:
800 g
Language:

English

1261
Category:
Long description:
Processes of globalization have changed the world in many, often fundamental, ways. Increasingly these processes are being debated and contested. This Handbook offers a timely, rich and critical panorama of these multifaceted developments from a geographical perspective.
This Handbook explores the myriad of ways in which differing cross-border flows - of people, goods, services, capital, information, pollution and cultures - have (re)shaped concrete places across the globe and how these places, in turn, shape those flows. With original contributions from worldwide leading scholars, the Handbook positions globalization in a broader historical perspective, presenting a variety of geographical examples so that readers can better understand these processes.
Regional studies and economic and human geography scholars will find this an invaluable resource for exploring the key topics of the geographies of globalization. Lecturers and advanced students will also find the detailed case studies useful to help explain the fundamental concepts outlined in the book.
Contributors include: P.C. Adams, A.-L. Amilhat Szary, D. Arnold, D. Bassens, S. Choo, K.R. Cox, E. Currid-Halkett, S. Dalby, E. dell'Agnese, B. Derudder, T. Fogelman, C. Gaffney, J. Gupta, M. Hesse, R. Horner, S. Huang, A. Isaksen, A.E.G. Jonas, A. Jones, J.M. Kleibert, R.C. Kloosterman, R. Koetsenruijter, T. Lam, J. Luukkonen, V. Mamadouh, V. Mazzucato, E. McDonough, B. Miller, S. Moisio, M. Müller, B. Oomen, S. Park, M.W. Rosenberg, J.W. Scott, M. Sparke, P. Terhorst, K. Terlouw, F. Tödtling, M. Trippl, M. van Meeteren, P. Vries, L. Wagner, Y.-f. Wu, H.-g. Xu, T. Yamazaki, B.S.A. Yeoh

Processes of globalization have changed the world in many, often fundamental, ways. Increasingly these processes are being debated and contested. This Handbook offers a timely, rich as well as critical panorama of these multifaceted processes with up-to-date chapters by renowned specialists from many countries. It comprises chapters on the historical background of globalization, different geographical perspectives (including world systems analysis and geopolitics), the geographies of flows (of people, goods and services, and capital), and the geographies of places (including global cities, clusters, port cities and the impact of climate change).

'This book delivers clearly, thoroughly and powerfully on its promise to explore how myriad cross-border flows have reshaped nearly every part of the globe and to highlight how these places, in turn, have shaped those flows. In the Introduction and a synthesizing chapter, Kloosterman and colleagues crystalize how economic geographers understand these issues and leading authors address a broad range of topics in 31 more chapters packed with erudition and insight. Essential reading for those who seek a comprehensive introduction to the topic.'
--John Mollenkopf, City University of New York, The Graduate Center, US
'This is a fine addition to the vast literature on globalization, that once-celebrated process, now at best treated with ambivalence. The volume helpfully situates globalization within a broader historical context, offering insights into both continuities and ruptures with the past. It covers a wide-ranging set of processes relating to cross-border flows and linkages, from capital to goods and services to people and cultures, information and pollution. There is something in it for nearly every student studying globalization, whether it is to learn something about migrant flows, media flows, environmental transboundary issues, or the mobility of capital and more. An accessible read.'
--Lily Kong, Singapore Management University