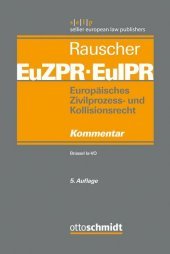 Europäisches Zivilprozess- und Kollisionsrecht EuZPR/EuIPR, Band I
Publisher:
Schmidt (Otto), Köln
Date of Publication:
16 December 2020
---
Publisher's listprice:
EUR 290.00
Estimated price in HUF:
119 059
HUF (113 390
HUF
+ 5% VAT)
Why estimated?
---
---
ISBN13:

9783504472085

ISBN10:
3504472081
Binding:
Hardback
No. of pages:

1408

pages
Size:
56x182x245 mm
Weight:
1846 g
Language:

German

1234
Category:
Long description:
Band I der 5. Auflage des Großkommentars zum Europäischen Zivillprozess- und Kollisionsrecht (EuZPR/EuIPR) bringt die Kommentierung des Internationalen Zuständigkeits- und Anerkennungsrechts in Zivilsachen auf den aktuellen Stand der reichhaltigen Rechtsprechung des EuGH und nationaler Gerichte zahlreicher Mitgliedstaaten, die seit der letzten Auflage zur Brüssel Ia-Verordnung ergangen ist. Insbesondere die wichtigen Verbraucher-, Versicherungs- und Arbeitsvertragsgerichtsstände bedürfen einer ständig voranschreitenden Präzisierung im Detail.
Praktisch: Das Lugano-Übereinkommmen 2007, das noch ohne erneute Anpassung weiterhin dem Stand der vorherigen Brüssel I-VO entspricht, wird in den wesentlichen Abweichungen zur Brüssel Ia-VO kommentiert.
Zusammen mit den Bänden II (Besondere Verfahrensarten, Zustellung, Beweisaufnahme sowie Internationales Insolvenzrecht) und III (Rom I- und Rom II-Verordnung) des "Rauscher" ergibt sich ein umfassendes Kompendium des gesamten EU-rechtlichen Verfahrens- und Kollisionsrechts in allgemeinen Zivil- und Handelssachen.
Rezension zur Vorauflage: "Der gesamte Kommentar ist für den im internationalen Zivilprozess- und Privatrecht tätigen Juristen ein großer Gewinn." BWNotZ 2016, 140