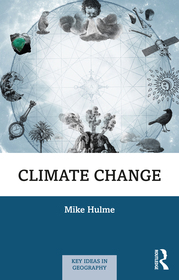 Climate Change
Date of Publication:
27 July 2021
---
Publisher's listprice:
GBP 34.99
Estimated price in HUF:
16 055
HUF (15 290
HUF
+ 5% VAT)
Why estimated?
---
12 844 (12 232 HUF + 5% VAT )
discount is: 20% (approx 3 211 HUF off)
Discount is valid until: 31 December 2023
---
---
ISBN13:

9780367422035

ISBN10:
0367422034
Binding:
Paperback
No. of pages:

328

pages
Size:
216x138 mm
Weight:
381 g
Language:

English

Illustrations:
38 Illustrations, black & white; 16 Halftones, black & white; 22 Line drawings, black & white; 6 Tables, black & white
785
Category:
Short description:
Written by a leading geographer of climate, this book offers a unique guide to students and general readers alike for making sense of this profound, far-reaching and contested idea. It presents climate change as an idea with a past, a present and a future.
Long description:
Written by a leading geographer of climate, this book offers a unique guide to students and general readers alike for making sense of this profound, far-reaching, and contested idea. It presents climate change as an idea with a past, a present, and a future.
In ten carefully crafted chapters, Climate Change offers a synoptic and inter-disciplinary understanding of the idea of climate change from its varied historical and cultural origins; to its construction more recently through scientific endeavour; to the multiple ways in which political, social, and cultural movements in today?s world seek to make sense of and act upon it; to the possible futures of climate, however it may be governed and imagined. The central claim of the book is that the full breadth and power of the idea of climate change can only be grasped from a vantage point that embraces the social sciences, humanities, and natural sciences. This vantage point is what the book offers, written from the perspective of a geographer whose career work on climate change has drawn across the full range of academic disciplines. The book highlights the work of leading geographers in relation to climate change; examples, illustrations, and case study boxes are drawn from different cultures around the world, and questions are posed for use in class discussions.
The book is written as a student text, suitable for disciplinary and inter-disciplinary undergraduate and graduate courses that embrace climate change from within social science and humanities disciplines. Science students studying climate change on inter-disciplinary programmes will also benefit from reading it, as too will the general reader looking for a fresh and distinctive account of climate change.
"As with Mike Hulme?s career, this book ranges between the natural sciences, the social sciences, and the humanities. In doing so, it offers an interdisciplinary - and explicitly geographical - perspective on the ?key idea? of climate change. In 10 thoughtful chapters, Hulme opens up and extends understanding of the ways in which the idea of climate change is mediated through culture and politics. Selected key readings, provocative questions and scholar portraits increase the book?s usability. I look forward to using it in my teaching practice."
Saffron O?Neill, Associate Professor, Department of Geography, University of Exeter, UK
"Is there a more contemporary ?key idea? than climate change? In this compelling overview, Hulme tracks how ideas of climate change have varied in space and time, and across cultural groups. From art to religion, from scepticism to cli-fi, he contextualises (and challenges) the matter-of-factness of a scientific view of climate change. Whether new to the topic or in need of a refresh, both students and senior scholars will find much of value here."
Lesley Head, Redmond Barry Distinguished Professor, University of Melbourne, Australia
"There is no one better qualified than Mike Hulme to explain the past, present and future of climate change in just ten chapters. In clear and engaging prose, Hulme leads us through the many facets of climate change: as a scientific concept, a locus of political debate, and a catalyst for imagined futures."
Rebecca Lave, Professor and Chair, Department of Geography, Indiana University, USA
"Mike Hulme?s ground breaking writings have been the must-read texts on the social meaning of climate from theories of human difference, markers of place (those salubrious climates!) to science and technology studies. His work illuminates the conflicts, meanings, impacts and politics of climate change. By placing the understanding of climate as a socio-cultural as well as a scientific project, Dr. Hulme?s work, always warm, generous and clearly written, has defined what it means to be an interdisciplinary, engaged scholar on a hyper-controversial topic. This magisterial book integrates climate questions through multiple discourses and controversies. Since it is hard to imagine a future without imagining climate change, this volume recasts and clarifies the nature of the debates. I think it is an essential volume for understanding atmospheric disorder, in all the meanings of the term."
Susanna B Hecht, Professor, Luskin School of Public Affairs, and Institute of the Environment, University of California, Los Angeles, USA and Professor, International History, Graduate Institute for Development Studies, Geneva, Switzerland
"This powerful and important book cogently demonstrates the need to take our ideas about climate change very seriously. Hulme shows the importance of recognizing climate change as a cultural predicament to be addressed through the explicitly performative mobilisation of different and competing values, ideologies, and narratives rather than a problem to be solved through more and better science and technology alone. An essential read."
John Robinson, Professor, Munk School of Global Affairs and Public Policy, University of Toronto, Canada
"This is a unique book with a truly interdisciplinary and comprehensive approach to the key ideas of climate change, and an all-in-one but concise reading of various ideas about climate change from social sciences, humanities and natural sciences. It is suitable for students and general readers trying to understand the profound climate changes. An innovative contribution of a human geographer to climate change studies!"
Weidong Liu, Professor in Economic Geography, Chinese Academy of Sciences, People's Republic of China
"What does climate change really mean for diverse communities? In this marvellous book, Mike Hulme explores the multitude of our human experiences of a changing climate. As a leading climate scientist, Hulme takes the reader beyond the science in a confronting, and profoundly enriching way. Building on a lifetime of climate research and the insights of marginalised voices, including indigenous, feminist, artistic, and religious insights, Hulme help us understand what it really means to be alive in a changing climate ? to resist, struggle and imagine new futures, expanding our imagination in politically powerful ways."
Bronwyn Hayward, Professor of Political Science, University of Canterbury, New Zealand
"This book offers the most complete collection of key debates and examples from around the world that epitomizes the multifaceted nature of climate change. Reading it was for me an intellectually stimulating learning curve as Mike Hulme inspiringly reflects upon our personal and social bonds with the matter and idea of climate. Beautifully written, thought-provoking and easily accessible, Climate Change is the ultimate companion, and indeed a profoundly rewarding journey, for scholars of all disciplines."
Chaya Vaddhanaphuti, Lecturer, Department of Geography, Chiang Mai University, Thailand
Table of Contents:
Section 1: Climate Histories, Geographies, and Knowledges 1. Climate and Culture Through History: climate change historicised 2. Climate Change and Science: climate change quantified Section 2: Finding the Meanings of Climate Change 3. Reformed Modernism: climate change assimilated 4. Sceptical Contrarianism: climate change contested 5. Transformative Radicalism: climate change mobilised 6. Subaltern Voices: climate change supplanted 7. Artistic Creativities: climate change reimagined 8. Religious Engagements: climate change transcended Section 3: Climate Change to Come 9. Governing Climate: climate change governed 10. Climate Imaginaries: climate change forever