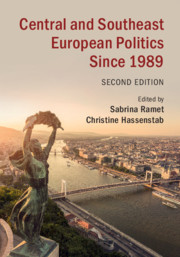 Central and Southeast European Politics since 1989
Publisher:
Cambridge University Press
Date of Publication:
3 October 2019
---
Publisher's listprice:
GBP 32.99
Estimated price in HUF:
15 137
HUF (14 416
HUF
+ 5% VAT)
Why estimated?
---
12 109 (11 533 HUF + 5% VAT )
discount is: 20% (approx 3 027 HUF off)
Discount is valid until: 30 June 2023
---
---
ISBN13:

9781108718660

ISBN10:
1108718663
Binding:
Paperback
No. of pages:

638

pages
Size:
246x175x30 mm
Weight:
1280 g
Language:

English

Illustrations:
1 b/w illus. 2 maps 19 tables
894
Category:
Short description:
Describes the post-communist trajectory of the states of Central and Southeastern Europe, encompassing democratization, privatization, corruption, and war.
Long description:
The collapse of the communist monopoly across Central and Southeastern Europe in 1989/1990 initiated a process of rapid political, economic, and cultural change. While Bosnia-Herzegovina, Croatia, and Serbia went on to suffer three and a half years of war, all the states of the region have confronted challenges as they dismantled communist institutions and drafted new laws, in some cases ignoring their own laws. Indeed, in certain countries, local politicians have done their best to corrupt the media and the economy, with recent years seeing some states move in an illiberal direction. Throughout the region, however, there has been a strong interest in enjoying the benefits of membership of the European Union and NATO. In this updated second edition, regional specialists comprehensively analyze the post-communist trajectories of the states of Central and Southeastern Europe, encompassing democratization, privatization, corruption, and war. It will appeal to students and scholars, whether they have a specific interest in the region, or are studying European politics more generally.

'The second edition of this useful collection of essays provides context for the persistent challenges to what in 1989 was advertised as the 'transition' of Central and Eastern Europe from Communism to liberal democracy and European integration. Contributors take a sober view of populism and the stubborn corrosive of corruption and provide specific suggestions on how governments, activists, and European institutions might overcome the disorientation that has afflicted them since at least the financial crisis of 2008. It helps the reader understand that 'progress' is only one of multiple plausible futures for the region.' David Kanin, The Johns Hopkins University
Table of Contents:
Part I. Introduction: 1. The challenge of transformation since 1989: an introduction Sabrina P. Ramet and Christine M. Hassenstab; 2. Post
-socialist models of rule in Central and Southeastern Europe Sabrina P. Ramet and F. Peter Wagner; Part II. Issues: 3. Media, journalism, and the third wave of democratization in former Communist countries Peter Gross; 4. Economic reforms and the burdens of transition Karl Kaser; 5. The war of Yugoslav succession Marko Attila Hoare; Part III. Central Europe: 6. Poland since 1989: muddling through, wall to wall Konstanty Gebert; 7. Building democratic values in the Czech Republic since 1989 Carol Skalnik Leff; 8. Slovakia since 1989 Erika Harris and Karen Henderson; 9. Two faces of Hungary: from democratization to democratic backsliding Andr&&&225;s Boz&&&243;ki and Eszter Simon; Part IV. Yugoslav Successor States: 10. Slovenia since 1989 Danica Fink
-Hafner; 11. Politics in Croatia since 1990 Sabrina P. Ramet and Ivo Goldstein; 12. Serbia and Montenegro since 1989 Sabrina P. Ramet; 13. Bosnia and Herzegovina since 1991 Florian Bieber; 14. Macedonia/North Macedonia since 1989 Zachary T. Irwin; 15. Kosova: from resisting expulsion to building on independence Frances Trix; Part V. Southeastern Europe: 16. Romania: in the shadow of the past Lavinia Stan; 17. Bulgaria since 1989 Maria Spirova and Radostina Sharenkova
-Toshkova; 18. Albania since 1989: the Hoxhaist Legacy Bernd J. Fischer; Part VI. Present and Future Challenges: 19. Regional security and regional relations Rick Fawn; 20. The European Union and democratization in Central and Southeastern Europe since 1989 Ulrich Sedelmeier; 21. Conclusion
- adapting to the twenty
-first century: lessons, progress, and regression Aurel Braun.