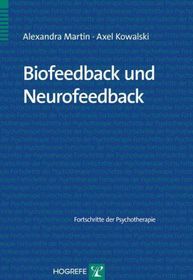 Biofeedback und Neurofeedback
Publisher:
Hogrefe Verlag
Date of Publication:
30 April 2023
Number of Volumes: Großformatiges Paperback. Klappenbroschur
---
Publisher's listprice:
EUR 19.95
---
---
ISBN13:

9783801722296

ISBN10:
3801722295
Binding:
Paperback
No. of pages:

95

pages
Size:
240xx mm
Language:

German

700
Category:
Short description:
Das Buch gibt einen Überblick über die wichtigsten Aspekte der Biofeedback-Methode und ihre spezielle Variante, das Neurofeedback. Es informiert über die zugrunde liegenden Wirkmechanismen und bietet einen Überblick über den klassischen Behandlungsaufbau und Standardprotokolle bei verschiedenen psychischen und verhaltensmedizinischen Störungen.
Long description:
Biofeedback beschreibt eine technikbasierte verhaltenstherapeutische Methode, bei der objektiv messbare Biosignale erfasst und an Patientinnen und Patienten zurückgemeldet werden, um sie zur Selbstregulation von Krankheitssymptomen zu befähigen. Eingesetzt werden kann die Methode bei verschiedenen somatischen und psychischen Störungen, z. B. zur Verringerung muskulärer Verspannungen bei Schmerzstörungen, zur Verengung von Blutgefäßen bei Migräne, zur Steigerung der mit Aufmerksamkeit assoziierten Gehirnaktivität bei ADHS oder zur Verbesserung der allgemeinen Entspannungsfähigkeit.Dieses Buch beschreibt die wissenschaftlichen und psychophysiologischen Hintergründe von Biofeedback und der spezifischen Variante des Neurofeedback, welches auf der Messung der Gehirnaktivität beruht. Neben den angenommenen Wirkmechanismen und vielfältigen Varianten des Biofeedbacks auf Basis unterschiedlicher Biosignale und Körpersysteme, z. B. Herz-Kreislauf-System, Muskelsystem, autonomes und zentrales Nervensystem, wird die zugrunde liegende Messtechnik erklärt. Zusätzlich werden der typische Aufbau von Biofeedback-Sitzungen, die zugehörige Diagnostik sowie Standardprotokolle dargestellt. Das Vorgehen wird anhand von Fallbeispielen verschiedener Störungsbilder veranschaulicht. Erläuterungen zu typischen Anwendungsproblemen sollen ebenso zum Einsatz dieser vielseitigen Methode in der therapeutischen Praxis motivieren, wie der ausführliche Überblick über die aktuelle Evidenz für Biofeedback. Das Buch ist damit eine Bereicherung für therapeutisch arbeitende Personen, die dieses auf objektiven Messungen basierende Verfahren einsetzen wollen, um ihr Behandlungsspektrum zu erweitern.