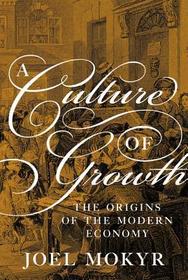 Culture of Growth
The Origins of the Modern Economy
Publisher:
Princeton University Press
Date of Publication:
29 June 2018
Number of Volumes: Print PDF
---
Publisher's listprice:
GBP 18.99
---
7 842 (7 468 HUF + 5% VAT )
discount is: 10% (approx 871 HUF off)
---
---
ISBN13:

9780691180960

ISBN10:
0691180962
Binding:
Paperback
No. of pages:

424

pages
Size:
203x140x28 mm
Weight:
350 g
Language:

English

Illustrations:
1 b&w illus.
1158
Category:
Short description:
"Many great minds have written many great books about why Europe spearheaded technological progress and economic growth in the past three centuries. Joel Mokyr has joined their ranks with admirable verve, erudition, and originality. In his account, a change in the beliefs, values, and preferences of Europeans drove them to accumulate, share, and apply knowledge as it had never been done before. Agree or disagree with Mokyr's thesis, you definitely need to take it seriously."--Margaret Jacob, University of California, Los Angeles
"A Culture of Growthis an insightful quest into the economic history of the last five centuries. Mokyr's historical laboratory is early modern Europe, when a small mass of highly skilled artisans, entrepreneurs, financiers and merchants laid the roots of what was to become the Industrial Revolution."--Angus Deaton, 2015 Nobel Laureate in Economics
"Mokyr's new masterpiece is a virtuoso display of how new thinking in economics can bring a deeper understanding of one of the most important events in human history.A Culture of Growthdocuments the cultural shifts that permitted the interrogation of nature that then flowered into scientific advances. This book offers us an optimistic vision: a great expansion of communication preceded our modern prosperity, and we can expect this to happen again."--Robert E. Lucas Jr., 1995 Nobel Laureate in Economics
"In this immensely learned book, Mokyr argues that a specific culture of growth anchored in the Republic of Letters, spread through the enlightened circuits beginning with Britain, and made the Industrial Revolution happen. Written by America's leading economic historian,A Culture of Growthis magisterial and long overdue."Margaret Jacob, University of California, Los Angeles
"A giant among the masters of economic history, Mokyr has written a brilliant, persuasive, humane, penetrating, and sensationally good book. Mokyr looks at the immensely powerful idea of a progressive Baconian science, which stepped down from theory to enrich the modern world. The range of scholarship is astonishing and this major work will become a standard in the literature on economic growth."--Daron Acemoglu, coauthor ofWhy Nations Fail
"[Mokyr] reminds us that the skirmishing of philosophers and their ideas, the preoccupation of popular historians, is in many ways a sideshow--that the revolution that gave Europe dominance was, above all, scientific, and that the scientific revolution was, above all, an artisanal revolution."--Diane Coyle,Financial Times
"One has to admire the depth of knowledge and the subtlety of Mokyr's argument?. For serious students of the Enlightenment itself, Mokyr's magnum opus will be required reading for a long time to come."--Arnold Kling,Econlib
Long description:
During the late eighteenth century, innovations in Europe triggered the Industrial Revolution and the sustained economic progress that spread across the globe. While much has been made of the details of the Industrial Revolution, what remains a mystery is why it took place at all. Why did this revolution begin in the West and not elsewhere, and why did it continue, leading to today's unprecedented prosperity? In this groundbreaking book, celebrated economic historian Joel Mokyr argues that a culture of growth specific to early modern Europe and the European Enlightenment laid the foundations for the scientific advances and pioneering inventions that would instigate explosive technological and economic development. Bringing together economics, the history of science and technology, and models of cultural evolution, Mokyr demonstrates that culture- the beliefs, values, and preferences in society that are capable of changing behavior- was a deciding factor in societal transformations.