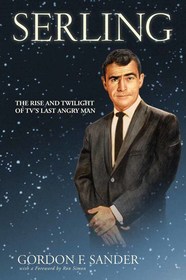 Serling ? The Rise and Twilight of TV`s Last Angry Man
The Rise and Twilight of TV's Last Angry Man
Publisher:
MB ? Cornell University Press
Date of Publication:
12 September 2023
---
Publisher's listprice:
GBP 17.99
---
7 429 (7 075 HUF + 5% VAT )
discount is: 10% (approx 825 HUF off)
---
---
ISBN13:

9780801477300

ISBN10:
0801477301
Binding:
Paperback
No. of pages:

328

pages
Size:
229x152x18 mm
Weight:
666 g
Language:

English

Illustrations:
26 black&white illus.
678
Category:
Short description:
"Serling's complex life was very like an extended episode of 'The Twilight Zone', and Gordon F. Sander uniquely captures all the twists and ironies of a talented man struggling against the conventions of society and the insecurities of self. Sander's haunting portrait is of a writer indeed caught between light and shadow" ? from the Foreword by Ron Simon

Gordon F. Sander's acclaimed biography of Rod Serling is at once a portrait of a prodigiously talented writer and a history of the first-quarter century of television. A former paratrooper in World War II, Serling rose to fame in the 1950s with his hard-hitting plays Patterns and Requiem for a Heavyweight during the "golden age" of live television in New York City. In 1959, excited by the prospect of writing and producing his own dramatic anthology show, the angry young man of television followed his fortune ? and the burgeoning video medium ? to Hollywood.

Serling's anthology show, of course, was the landmark "The Twilight Zone". Still considered one of the greatest television shows ever produced, Serling's surreal video showcase ran for five seasons, adding to Serling's record clutch of Emmys, and continues to be a cult favorite today. Meanwhile Serling also tried his hand at writing for movies, turning out the screenplays for "Seven Days in May and Planet of the Apes" before his death in 1975 at age fifty.

Sander's historical biography ? for which he interviewed more than two hundred of Serling's friends, family members, and colleagues, including Robert Redford, Sydney Pollack, Kim Hunter, and William Shatner ? follows the video bard's odyssey from Binghamton, the small upstate city that served as the template for some of the best-remembered episodes of "The Twilight Zone" to his searing and equally influential wartime experiences in the South Pacific; from his apprenticeship as a Midwestern radio and television writer to his successes in New York and Hollywood, before he himself was consumed by the commercialism of the medium he had helped create.
Long description:
"Sander has fashioned a vivid and fascinating portrait of this complex innovator from television's Golden Age" ? Library Journal

"The story of Serling's career doubles as a history of the television industry itself, and Sander vividly depicts the heady early days of live TV, when the highest artistic achievement seemed attainable. Highly recommended" ? Booklist

"Sander's strong, straightforward portrait of Serling as an industry goad who confronted his corporate bosses forms the most unexpected and powerful part of the book. Rod Serling merited this fine book" ? Philadelphia Inquirer