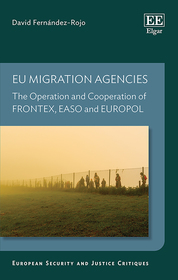 EU Migration Agencies
The Operation and Cooperation of FRONTEX, EASO and EUROPOL
Publisher:
Edward Elgar Publishing
Date of Publication:
22 January 2021
---
Publisher's listprice:
GBP 95.00
Estimated price in HUF:
43 590
HUF (41 515
HUF
+ 5% VAT)
Why estimated?
---
34 873 (33 212 HUF + 5% VAT )
discount is: 20% (approx 8 718 HUF off)
Discount is valid until: 31 December 2023
---
---
ISBN13:

9781839109331

ISBN10:
1839109335
Binding:
Hardback
No. of pages:

272

pages
Size:
234x156 mm
Weight:
552 g
Language:

English

734
Category:
Long description:
This insightful book analyzes the evolution of the operational tasks and cooperation of the European Border and Coast Guard Agency (FRONTEX), the European Asylum Support Office (EASO) and the European Union Agency for Law Enforcement Cooperation (EUROPOL). Exploring the recent expansion of the legal mandates of these decentralized EU agencies and the activities they undertake in practice, David Fernández-Rojo offers a critical assessment of the EU migration agencies.
The book identifies two key trends in the administration of the European Area of Freedom, Security and Justice. Fernández-Rojo discusses how on one hand the new legal frameworks of FRONTEX, EASO and EUROPOL stress that their operational roles are limited to providing national authorities with technical assistance, while on the other hand these agencies are increasingly involved in guaranteeing the enforcement of EU migration, asylum and border management measures. The book expertly illustrates how FRONTEX, EASO and EUROPOL establish an effective and uniform national implementation of laws and policies, with a focus on their multilateral cooperation in the hotspots established in the aftermath of the refugee crisis.
Examining the de jure and de facto operational powers and cooperation of EU migration agencies, this book will be critical reading for academics and students of law, international relations and political science. Its assessment of the effectiveness of policy implementation will also be beneficial for legal practitioners, policy makers and NGOs.


This insightful book analyzes the evolution of the operational tasks and cooperation of the European Border and Coast Guard Agency (FRONTEX), the European Asylum Support Office (EASO) and the European Union Agency for Law Enforcement Cooperation (EUROPOL). Exploring the recent expansion of the legal mandates of these decentralized EU agencies and the activities they undertake in practice, David Fernández-Rojo offers a critical assessment of the EU migration agencies.

?This book offers an insightful analysis of the de jure and de facto operational powers and cooperation of FRONTEX, EASO and EUROPOL. It evidences a thorough and detailed mapping of the developing role of these agencies in a complex and highly sensitive political context, as well as the legal and other issues this entails. It is therefore a great addition to the library of any scholar interested in EU agencies in the field of migration, asylum and border management and
Table of Contents:
Content: 1. Introduction to Frontex, EASO and Europol as Operational Decentralized Agencies 2. The Establishment and Initial Operational Role of Frontex, EASO and Europol 3. The Reinforced Operational Tasks of Frontex, EASO and Europol and the Impact of their Activities on the Ground 4. Bilateral and Multilateral Operational Cooperation among Frontex, EASO and Europol 5. Limitations to the Reinforced Operational Tasks and Cooperation of Frontex, EASO and Europol 6. Conclusions and Perspectives: An Integrated Administration of Border Management, Migration and Asylum Matters in the EU Bibliography Index