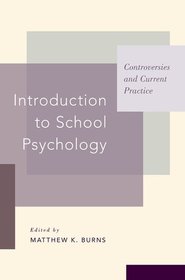 Introduction to School Psychology
Controversies and Current Practice
Megjelenés dátuma:
2019. július 18.
---
Kiadói listaár:
GBP 38.99
---
14 738 (14 036 Ft + 5% áfa )
Kedvezmény(ek): 10% (kb. 1 638 Ft)
---
Becsült beszerzési idő: 2-3 hét általában, de jelenleg a járványhelyzet miatt kissé bizonytalan.
A Prosperónál jelenleg nincsen raktáron.
Nem tudnak pontosabbat?
---
ISBN13:

9780190619329

ISBN10:
0190619325
Kötéstípus:
Puhakötés
Terjedelem:

552

oldal
Méret:
234x154x33 mm
Súly:
820 g
Nyelv:

angol

779
Témakör:
Rövid leírás:
This book serves as an introduction to the field of school psychology. School psychology has evolved over the course of its existence due to several controversies, and how researchers and practitioners responded to those controversies. This text presents those debates and provides needed historical context to explain the field and facilitate deeper understanding in students.
Hosszú leírás:
The discipline of school psychology has been shaped over the course of its existence by a series of professional and scientific controversies, and by how researchers and practitioners have responded to those controversies. Should there be an entry-level degree requirement for school psychologists? What should a school psychologist's role be with regard to student mental health? Should school psychologists work outside of school settings?

Designed for students entering school psychology training programs, Introduction to School Psychology: Controversies and Current Practice examines the debates that have influenced the nature and scope of the profession, and that continue to do so today. This edited textbook is divided into five sections, the first of which describes current practices. The second offers coverage of ethics and relevant legal concerns for school psychologists; cultural competence; and consultation. The
third section provides readers with the theoretical foundations of practice and includes a brief chapter on theoretical orientations. The fourth and largest section of the book examines the controversies that shape practice, presenting chapters on idiographic and nomothetic approaches; diagnostic frameworks;
assessment and treatment of behavioral disorders; and much more. The final section of the book focuses on contexts and the future of the profession, with chapters on practice in urban and rural communities, technology, and the Futures Conferences.

A unique and refreshing way to introduce students to the profession of School Psychology. In this comprehensive text, Burns has pulled together leaders in the profession to provide concise perspectives on important issues and controversies. This is in addition to providing basic information about the profession, its history, ethical considerations, alternative roles, etc. Time is not wasted on provision of information on specific content domains that will be covered
in other graduate courses. A easy reading, very interesting and informative introduction to the excitement of this profession.
Tartalomjegyzék:
1. Introduction to School Psychology: Controversies and Current Practice
Matthew K. Burns
SECTION 1 - CURRENT PRACTICE
2. Laws, Rules, Regulations, and Ethical Standards that Affect Current Practice
Dawn M. Decker
3. Culturally Competent Practice
Scott L. Graves Jr.
4. Giving Expertise Away through School Consultation: A Framework for School Psychology
Daniel S. Newman and Julie Q. Morrison
SECTION 2 - PROFESSIONAL ASSOCIATIONS
5. APA Division 16 - School Psychology
James Diperna
6. The National Association of School Psychologists and Its Influence on the Field of School Psychology
Todd A. Savage and Leslie Z. Paige
7. Society for the Study of School Psychology
Elaine Clark, Stacy Overstreet, Robert J. Volpe, Karen C. Stoiber, and Margaret Semrud-Clikeman
8. Council for Exceptional Children
Antonis Katsiyannis, Robin P. Ennis, and Rebecca Leary
9. International School Psychology Association (ISPA)
Bonnie K. Nastasi
SECTION 3 - THEORETICAL FOUNDATIONS
10. Theory, Conceptual Frameworks, and Practice in School Psychology
Matthew K. Burns, Julia Baker, Victoria Erhardt, Elyse M. Farnsworth, Anna Genchanok, Elena Kwong, and Brittany VanHove
11. Prediction versus Control: Influences of Applied Behavior Analysis on School Psychology Practice
Brian K. Martens and Michael P. Mullane
12. Neuroscience for School Psychologists
J. W. Kalat
13. Influence of Cognitive Psychology on School Psychology
Sashank Varma, Allyson J. Kiss, and Robin S. Codding
14. Applications of Social Psychology Theory and Research to School Psychology Practice
Frederic J. Medway
15. Prevention Science: An Approach to Inform the Future of School Psychology
Keith C. Herman, Wendy M. Reinke, and Aaron M. Thompson
SECTION 4 - CONTROVERSIES THAT SHAPE PRACTICE
16. Idiographic vs. Nomothetic History: The First Debate in School Psychology
Dan Florell
17. Ph. D. vs. Ed. S.: The on-going entry-level credentialing debate
David M. Hulac
18. Current Practice: Schools vs. Alternative Settings
Jennifer A. Mautone, Genery D. Booster, and Tamique J. Ridgard
19. Integrating Diagnostic Systems in School Psychology: DSM-5, IDEA, and ICD-10
Steven R. Shaw and Mark-Damyan Edwards
20. Structural Analysis vs. Functional Analysis of Behavior
Stephen P. Kilgus and T. Chris Riley-Tillman
21. Differentiating Emotional Disturbance from Social Maladjustment: A Futile Search for a Red Herring
Frank M. Gresham, Rachel Olinger Steeves, and Sarah Metallo
22. The Identification of Learning Disabilities: PSW vs. RTI Methods
Jeremy Miciak and Jack M. Fletcher
23. Improving Student Behavior and Mental Health: School-based Therapies vs Functional Approaches to Behavior Intervention
Nicole Skaar
24. Arguments For and Against the Use of Psychotropic Medication within School-Aged Populations
John S. Carlson and Adrianna E. Crossing
25. Remediating Student Learning Problems: Aptitude-by-Treatment Interaction vs. Skill-by-Treatment Interaction
Randy G. Floyd and John H. Kranzler
Section 5 - CURRENT CONTEXT AND THE FUTURE OF THE FIELD
26. School Psychology in an Urban Setting
Anthony M. Adamowski
27. Challenges Unique to Rural School Psychology
Kari A. Oyen
28. Technology and the Future of School Psychology
Jack A. Cummings, Dan Florell, William Pfohl, and Susan Jarmuz-Smith
29. Futures Conferences
Samuel Y. Song, Jack Cummings, Patti Harrison, and Susan Jarmuz-Smith
30. Future Issues and Controversies that Will Shape School Psychology
Amanda M. VanDerHeyden, Amy M. Briesch, Shannon Suldo, Andrew Roach, Amanda Sullivan, Jessica A. Hoffman, S. Andrew Garbacz, Lisa M. Hagermoser Sanetti, and Robin S. Codding