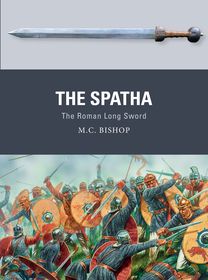 The Spatha
Publisher:
Osprey Publishing
Date of Publication:
23 January 2020
Number of Volumes: Paperback
---
Publisher's listprice:
GBP 13.99
---
5 584 (5 318 HUF + 5% VAT )
discount is: 13% (approx 834 HUF off)
---
---
ISBN13:

9781472832399

ISBN10:
1472832396
Binding:
Paperback
No. of pages:

80

pages
Size:
248x184 mm
Weight:
264 g
Language:

English

0
Category:
Long description:
Adopted from the Celts in the 1st century BC, the spatha, a lethal and formidable chopping blade, became the primary sword of the Roman soldier in the Later Empire. Over the following centuries, the blade, its scabbard, and its system of carriage underwent a series of developments, until by the 3rd century AD it was the universal sidearm of both infantry and cavalry.

Thanks to its long reach, the spatha was the ideal cavalry weapon, replacing the long gladius hispaniensis in the later Republican period. As the manner in which Roman infantrymen fought evolved, styles of hand-to-hand combat changed so much that the gladius was superseded by the longer spatha during the 2nd century AD. Like the gladius, the spatha was technologically advanced, with a carefully controlled use of steel. Easy maintenance was key to its success and the spatha was designed to be easily repaired in the field where access to a forge may have been limited. It remained the main Roman sword into the Late Roman period and its influence survived into the Dark Ages with Byzantine, Carolingian and Viking blades.

Drawing together historical accounts, excavated artefacts and the results of the latest scientific analyses of the blades, renowned authority M.C. Bishop reveals the full history of the development, technology, training and use of the spatha: the sword that defended an empire.
Table of Contents:
Introduction
Development: Changing function
Use: The cut and thrust
Impact: The sword that defended an empire
Conclusion
Bibliography
Index